Ozzi Cat – Australian National Cat Magazine – Issue 10 | SUMMER (Christmas) 2014
Best Christmas Gift For Cat Lover – Ozzi Cat Magazine (Christmas Summer Issue #10)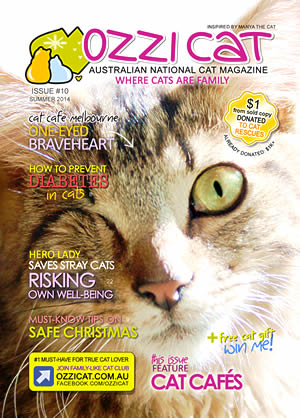 "All I want for Christmas is You!", says the famous song and we can say the same about this amazing Christmas cat magazine. With the issue's theme topic "Cat Cafes" you will travel trough several countries and get an insider's peek at the most amazing places – cat cafes. You will want to hug a lady who cares for community cats despite her physical challenges. Your heart will melt from an admiration when you meet a hero kitty, who along with other pets in the family alerts his human mum on epilepsy seizures. We guarantee you will absolutely LOVE this Christmas issue as much as we did preparing it! What's Inside This Issue?
Ozzi Cat helps and donates money to rescue cats in need. $1 from your magazine copy is donated to a cat rescue to cover vet bills, for food, bedding, and toys for cats. Help kitties in need to live a happy life – just read our national Ozzi Cat Magazine and we will donate money on your behalf! Purchase your copy below.
Ozzi Cat Magazine Issue #10 (Printed Copy) – (SOLD OUT)
(SOLD OUT) For a Cat Lover! Cat stories, cat health and care, cat products and giveaways. Supports Australian cat rescue groups. ISSUE THEME: CAT CAFES
Ozzi Cat Magazine Issue #10 (Digital Copy)
(PDF, 13Mb) You will get a download link by email. You will need Adobe Reader or any other software to open the file.
What's Inside This Issue?
OZZI CAT MAGAZINE – CONTENTS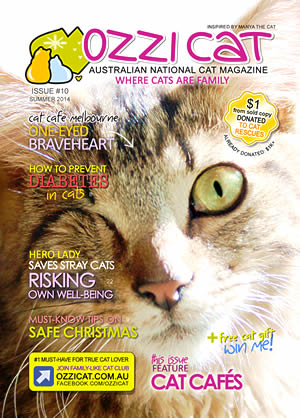 CAT NEWS
+ AIKO CAT GIFTS FOR CAT LOVERS
COVER CAT
BRAVEHEART: ONE-EYED RESIDENT CAT AT CAT CAFE MELBOURNE (by Anita Loughran, Cat Cafe Melbourne)
HEALTH & CARE
DIABETES MELLITUS IN CATS (by Laura Gartlan)
TIPS ON SAFE MEOWY CHRISTMAS (by Laura Gartlan)
LOVE LETTER
DEAREST LEO: LOVE LETTER TO LEO FOR HIS 11TH BIRTHDAY (by Kristie Theobald)
CAT BLOG
LOVE & LIFE BY CHESTER THE CAT (by Chester The Cat)
CAT CAFÉS
LONDON: LADY DINAH'S CAT EMPORIUM (by Carla Francis, Pet-Friendly Accommodation on Australia's East Coast)
JAPAN: NYAFE MELANGE (by Carla Francis, Pet-Friendly Accommodation on Australia's East Coast)
AUSTRALIA: CAT CAFE MELBOURNE (by Anita Loughran)
AUSTRALIA: HOBART CAT CAFE (by Adam Honeyman)
AUSTRALIA: PAWS & CLAWS ADOPTIONS CAT CAFE ADELAIDE
CAT THEMED FOOD
YAWAHADA'S MARSHMALLOW CATS
SPOTLIGHT
FERGUSON PLARRE BAKEHOUSES: CAT PARENTS ON THE TEAM (by Jezey Taylor)
MAKING DIFFERENCE
FERAL COLONIES: HERO LADY CARES FOR COMMUNITY CATS DESPITE OWN PHYSICAL CHALLENGES (by Maria Dischiavo)
OZZI CAT FAMILY
YOUR FUR BABIES & CAT FRIENDS (Featuring: Slash of Azusa Dixon, Greebo of Jane Mudge)
HERO CATS ALERT HUMAN EPILEPSY SEIZURE (Anansi of Jen Fidan)
ADOPT MEOW
FIV+ CATS: NOTHING TO FEAR!
SQUISHY: SPECIAL EARS, LOTS OF LOVE
PAWS OF LOVE ANIMAL RESCUE
PETS WITHOUT PARTNERS ANIMAL RESCUE
MANEKI NEKO CAT RESCUE
HELP SAVE THE FURRY ONES
PRODUCTS
+ Discount Offers
Click to Purchase Your Copy
Purchased This Issue? Next Step: Get Annual Subscription
Share with cat owners and cat lovers: