In Media
Ozzi Cat Supports Trap-Neuter-Return (TNR)
Cats are not guilty of ending up in the streets. We believe us, humans, are the only one responsible for the consequences. In support to Trap-Neuter-Return (TNR), when street and feral cats get caught, vet checked, vaccinated, desexed and released if there is no chance to re-home them, we published an article "From Loved Companions To Vilified Killers: Falsely Accused Feral Cats Receive Death Sentence (What TNR Is And How You Can Help)" written by a fantastic cat protection organisation Alley Cat Rescue well-known in USA, to raise awareness about the Australia's Minister Hunt's plan to eradicate cats. Our special thanks to Alley Cat Rescue for the invaluable work they do to protect cats on various levels and for mentioning the Ozzi Cat Magazine in the Alley Cat Rescue magazine. Special thanks to Maggie Funkhouser for the article. Special thanks to the gorgeous cat loving lady Ludmila Dorthy Smith from USA who send us a copy of the Alley Cat Rescue magazine's page.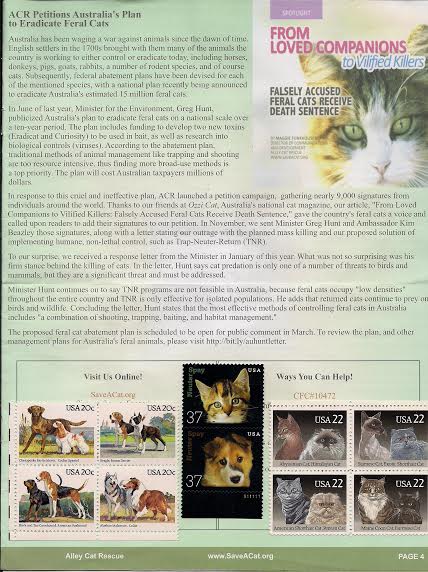 Articles
Some articles we wrote or participated in:
Share With Cat Parents and Cat Lovers!