Ozzi Cat – Australian National Cat Magazine – Issue 8 | WINTER 2014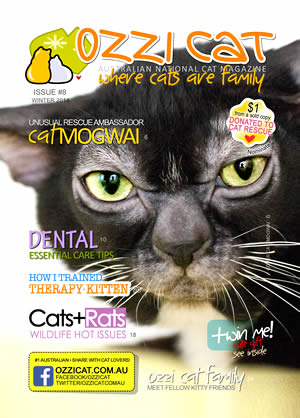 What's Inside?
$1 from each sold copy is donated to a cat rescue and helps cats in need.
To nominate a specific cat rescue, add its name to the "Note to Seller" field in the PayPal payment page (it will be below your shipping address).
Contact us if need help or to specify after the purchase.
Purchase Ozzi Cat Magazine – Winter Issue 8
Ozzi Cat Magazine Issue #8 (Printed Copy)
For a Cat Lover! Cat stories, cat health and care, cat products and giveaways. Supports Australian cat rescue groups.
Available Qty: 9
Ozzi Cat Magazine Issue #8 (Digital Copy)
(PDF, 13Mb) You will get a download link by email. You will need Adobe Reader or any other software to open the file.
What's Inside This Issue?
OZZI CAT MAGAZINE CONTENTS
WIN: GIFT FOR CAT LOVERS
CUTE METAL CAT TIN PENCIL CASE

CAT NEWS
CAT CAFE IN MELBOURNE
CAT CAFE IN ADELAIDE
CAT HAVEN WA – CAT SHELTER CAR NUMBER PLATES
MORRIS & CHAMPY from NSW – Unusual friendship between a cat and a horse
ALL THINGS CAT
SAKURA WARREN KIMBLE CAT ON RUG FOLK ART PLATES (order on ebay)
KAY DEE DESIGNS COTTON POTHOLDER
CAT APRON – MOODY CATS
CAT-ULA
CAT LICENSE PLATES (order on ebay)
COVER CAT
MOGWAI – CAT HAVEN WA STAR (by Alma Sarhan – www.almasarhanphotography.com; Trisha Hazell; Chandra Woodley – CAT HAVEN WA – www.cathaven.com.au)
HEALTH & CARE
DENTAL HEALTH & DISEASE – How to keep your cat's teeth healthy (by Laura Gartlan)
HEARTWARMING CAT STORY
NINA, THE PRETTY BALERINA (by Phil Summers)
MY CAT LUCKY, ESCAPE FROM CAVITY (by Julie Proietto)
HOW BLANCAT PRODUCT WAS BORN (by Haii and Amit Millin, Johannah Truppin)
LILY, COVER GIRL OF CAT BOOK (by Ann Walker)
SPECAL NEEDS CAT
JULIETTE, DEFORMED LEGS DEAF KITTY (by Kerry Bashir)
SPOTLIGHT
CATS+RATS, NATIVE RATS & CAT FACTOR – Hot topic. How to be a responsible cat owner. (by Rebekah Blackwolf)
THERAPY CAT
TRAINING A THERAPY KITTEN (by Steph Hackworhy)
CAT ART
BLACK CAT STUDIO PET PORTRAITS (by Trish Davis)
ADOPT MEOW (Featuring rescue cats from the shelters & cat rescues: Looking for a loving home + senior & special needs)
PORT MACQUARIE ANIMAL WELFARE SERVICE INC
GREYHOUND ANGELS OF WESTERN AUSTRALIA
MORNINGTON PENINSULA COMMUNITY ANIMAL SHELTER
SECOND CHANCE SMALL ANIMAL SHELTER
ARMADALE COMMUNITY ANIMAL RESCUE GROUP
BAST CAT CLUB
PETS WITHOUT PARTNERS ANIMAL RESCUE INC
VICTORIAN DOG RESCUE
OZZI CAT FAMILY
YOUR FUR BABIES & CAT FRIENDS – Featuring cats:
Cat Stanley of Valerie Hutcheon
Fur babies of Kate Kelly
Lil Princess Bunny – a tripod kitty from South Africa
Fur baby of Jen Berry
Cat Stephen from Philippines, of Dino Amparo and Felix
Kitty and Daisy of Rebekah McFadden
Edward Scissorpaws from Tampa Florida USA
The sleepy beauty of Heather Fairall
Teddy of Linda Ellery Jones
The scary man of Tash Hall
Blizzard, the cat l met in Frankston VIC
CAT PRODUCTS
+ DISCOUNT OFFERS EXCLUSIVE TO OZZI CAT READERS
ORDER THIS ISSUE NOW
Purchased This Issue? Next Step: Get Annual Subscription
Share with cat owners and cat lovers: