Ozzi Cat – Australian National Cat Magazine – Issue 9 | SPRING 2014
Ozzi Cat Turns 2 Years with This Spring Issue!!
Celebrate by purchasing your copy
as a $1 donation from your copy goes to cat rescues and helps more kitties! Thank You! xox
UPDATE: Thanks to our readers and separate kind donations this issue will already be donating $200 to cat rescues! Help to make this help bigger!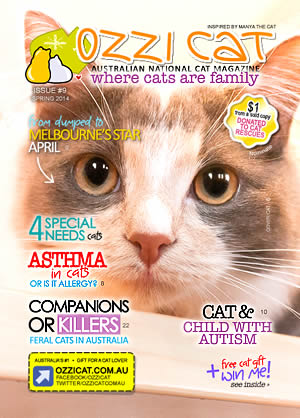 What's Inside?
$1 from each sold copy is donated to a cat rescue and helps cats in need.
Want to nominate a specific cat rescue?
To nominate a specific cat rescue, add its name to the "Note to Seller" field in the PayPal payment page (it will be below your shipping address).
Contact us if you need help or to specify the cat rescue name after the purchase.
Don't forget to Sign Up for our free newsletter to be notified when the next magazine comes out (and read other inspiring cat stories).
CONTINUE TO PURCHASE THE ISSUE BELOW:
Purchase Ozzi Cat Magazine – Spring Issue 9
Ozzi Cat Magazine Issue #9 (Printed Copy) – (SOLD OUT)
(SOLD OUT) For a Cat Lover! Cat stories, cat health and care, cat products and giveaways. Supports Australian cat rescue groups.
Ozzi Cat Magazine Issue #9 (Digital Copy)
(PDF, 13Mb) You will get a download link by email. You will need Adobe Reader or any other software to open the file.
What's Inside This Issue?
SPRING OZZI CAT MAGAZINE OVERVIEW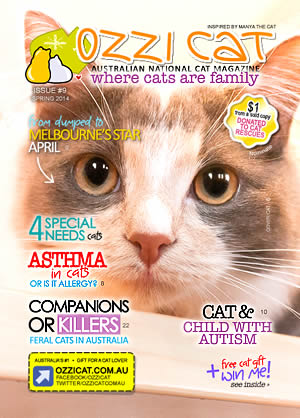 A sneak peek at what's in the Spring Ozzi Cat Magazine:
Cover Cat: Adorable April The Cat. Being dumped on a road in a closed carrier, how she became a local star that warms everyone's heart. One Melbourne suburb's vet clinic cat.
Asthma in cats. Or is that an allergy? Turns out it can be something different! Learn what that is PLUS easy-to-folow everyday steps to prevent that.
WIN ME! Our regular giveaway of a cute free gift. It is so simple to participate and get one. Don't miss out!
Cute cat-themed product finds for true cat loving souls – good as gifts to pamper yourself or somebody you love.
Hot Topic: Feral cats in Australia – Companions or Killers? Maggie, Director of Communications and Development at Alley Cat Rescue, urges you to read the latest on what is going on in Australia. Follow her one simple advice to make a difference for cats today!
Special & Special Needs Cats: Salem The Cat, Frosty The Frozen Kitten, Joey Roo with no front legs, and Happy Feet! Lovely fur babies are making your heart smile.
Unusual friendship – Meet a cat who rides a horse! Morris and Champy are Aussie stars. Read about their life and how it all has started.
Custom cat cake tops for your kitty party! Ozzi Cat's Editor and a cat mum Natalie shows how you can turn your party into an amazing kitty day with fantastic cat cakes! (And it's very easy to do!)
PLUS MORE…
Purchase Your Copy Now
Did you know that every annual subscriber (Paper Copy subscriptions only)
receives an additional FREE cute cat-themed gift with every magazine issue?
Purchase Your Annual Subscription Here »
FULL CONTENTS
CUTE GIFTS FOR CAT LOVERS
Standing Cat Greeting Card
Adorable Toread Notebook
CAT NEWS
Cat Cafe Opened in Melbourne
Purr-fect Stories – Cardinia Library's Cat Day for Kids
COVER CAT
April: Hoppers Crossing Vet Clinic Star Cat
HEALTH & CARE
Upper Respiratory Infections: Is It Asthma Or Allergy?
CATS-HELPERS
Maine Coon Kitten And A Child With Autism
CAT STORY
Morris & Champy: Unusual Friendship Of Cat And Horse
Salem The Cat
SPECIAL NEEDS CATS
Joey Roo: Born Without Front Legs
Frosty: The Frozen Kitten Saved By Miracle
Lieutenant Dan: Tales Of A Paralysed Kitten
Happy Feet: Twisted Legs
SPOTLIGHT
From Loved Companions To Vilified Killers: Falsely Accused Feral Cats Receive Death Sentence (What TNR Is And How You Can Help)
OZZI CAT FAMILY
Your Fur Babies & Cat Friends
ADOPT MEOW
Port Macquarie Animal Welfare Service Inc.
Greyhound Angels Of Western Australia.
Mornington Peninsula Community Animal Shelter.
Second Chance Small Animal Shelter.
Armadale Community Animal Rescue Group.
Bast Cat Club.
Pets Without Partners Animal Rescue Inc.
Victorian Dog Rescue.
PRODUCTS
+ Discount Offers
Click to Purchase Your Copy
Purchased This Issue? Next Step: Get Annual Subscription
Share With Cat Parents and Cat Lovers!