Ozzi Cat – Australian National Cat Magazine – Issue 13 | SPRING 2015
#1 Australia's Cat Magazine – Must-Read For Caring Cat Parent – Ozzi Cat Magazine Issue #13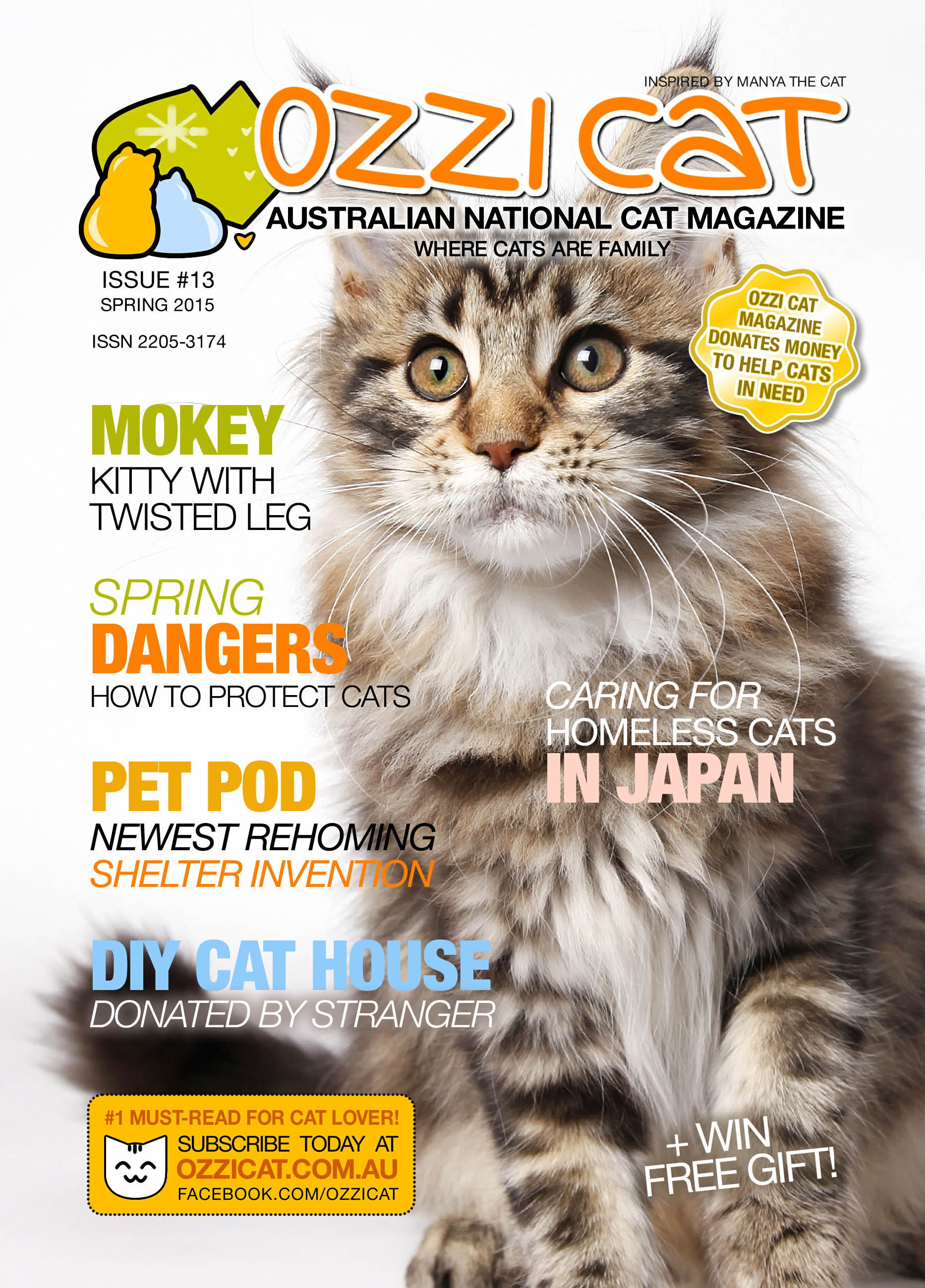 Ozzi Cat helps and donates money to rescue cats in need. $1 from your magazine copy is donated to a cat rescue to cover vet bills, for food, bedding, and toys for cats. Help kitties in need to live a happy life – just read our national Ozzi Cat Magazine to learn more about cats and awesome cat people, and we will donate money on your behalf! Purchase your copy below.
Ozzi Cat Magazine Issue #13 (Printed Copy) – (SOLD OUT)
#1 Australia's Must-Read Cat Magazine for Caring Cat Parents. Get inspired by cat stories and cat lovers making difference. Be empowered on cat health, care, DIY, cat products. Win a giveaway! Your copy supports Australian cat rescue groups. THIS ISSUE'S FEATURE: CARING FOR HOMELESS CATS IN JAPAN: BEAUTIFUL CATS OF PHILOSOPHER'S WALK.
Ozzi Cat Magazine Issue #13 (Digital Copy)
(PDF, 13Mb) You will get a download link by email. You will need Adobe Reader or any other software to open the file.
What's Inside This Issue?
OZZI CAT MAGAZINE – CONTENTS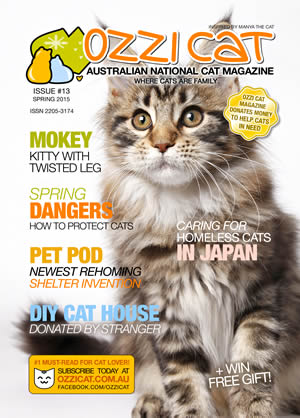 GIVEAWAY: WIN ME!
GIFT: CAT STAMPS PRIZE PACK
(COURTESY OF AUSTRALIA POST; SPECIAL THANKS TO JOHN LINK)
CAT NEWS
CAT MORNING! CAT EGG MOLD
AWLQ: POP-UP ADOPTION SHOP IN QLD
CAT RESCUE 901: ANNUAL SUBSIDISED DESEXING
SPOTTED IN MELBOURNE
CAT WALL ART IN FITZROY, MELBOURNE
(BY SHARON EDWARDS, INSTAGRAM.COM/POPPYSOIR)
COVER CAT
MAINE COON SWEETIE
(OWNER: VICKI HODSON; PHOTO BY MELANIE WHITTEN, ANIMALEYES PHOTOGRAPHY, WWW.ANIMALEYES.COM.AU; SPECIAL THANKS TO MARK BROADHEAD, AUSTRALIA POST)
HEALTH & CARE
PROTECT CATS: DANGERS OF SPRING
(BY NATALIE KROTOVA, OZZICAT.COM.AU)
CAT PRODUCTS FOR SPRING
SPECIAL NEEDS CAT
MY SWEET MOKEY: KITTY WITH A TWISTED LEG
(BY KATHY TAN, INSTAGRAM.COM/SWEET_MOKEY)
CAT STORY
MISSY: HOW LOVE AND UNDERSTANDING SAVED DISTRESSED BLACK CAT
(BY PHIL SUMMERS)
CUTE FINDS
SEWINTHEMOMENT SOCK DOLLS
(Handmade by Miriam (Mim) Ollis from Sydney, NSW. Shop: bit.ly/EtsySewInTheMoment)
CAT TRAVELS
CARING FOR HOMELESS CATS IN JAPAN: BEAUTIFUL CATS OF PHILOSOPHER'S WALK
(BY LINDA BACHRACH, LINDABACHRACH.COM)
DIY PROJECT
CAT HOUSE DONATED BY KIND STRANGER TO THE MARK'S ARK RESCUE
(BY JAMES and RACHEL, THE MARK'S ARK RESCUE, FACEBOOK.COM/THEMARKSARK)
MAKING DIFFERENCE
PET POD: NEWEST REHOMING TOOL OF ANIMAL WELFARE LEAGUE QLD
(SPECIAL THANKS TO BROOKE WHITNEY, WWW.AWLQLD.COM.AU; PHOTO BY RIVER HAZEL, HAZELANDHERB.COM)
OZZI CAT FAMILY
SUMMER AND WINTER – CATS OF LUDMILA SMITH
OZZI CAT'S FRIENDS ON INSTAGRAM
(@chester_wacky_cat, @audrey_the_adventuress, @catsivemet)
ADOPT MEOW – SPECIAL NEEDS CATS
ADORABLE FIV+ CATS FROM INGRID'S HAVEN (INGRIDSHAVEN.NET.AU)
COLOUR MEW
UNIQUE ADORABLE CAT COLOURING PAGE – COLOURMEOW.COM
Click to Purchase Your Copy
Purchased This Issue? Next Step: Get Annual Subscription
To Automatically Receive The Next Upcoming Ozzi Cat Magazine:
(Starts from the next upcoming issue)
Looking for a gift for a cat lover?
You found the best option! Ozzi Cat Magazine Gift Subscription in now available!
Share With Cat Parents and Cat Lovers!