Ozzi Cat – Australian National Cat Magazine – Issue 14 | SUMMER 2015
#1 Australia's Cat Magazine – Must-Read For Caring Cat Parent – Ozzi Cat Magazine Issue #14
Ozzi Cat helps and donates money to rescue cats in need. $1 from your magazine copy is donated to a cat rescue to cover vet bills, for food, bedding, and toys for cats. Help kitties in need to live a happy life – just read our national Ozzi Cat Magazine to learn more about cats and awesome cat people, and we will donate money on your behalf! Purchase your copy below.
Ozzi Cat Magazine Issue #14 (Printed Copy) – (SOLD OUT)
#1 Australia's Must-Read Cat Magazine for Caring Cat Parents. Get inspired by cat stories and cat lovers making difference. Be empowered on cat health, care, DIY, cat products. Win a giveaway! Your copy supports Australian cat rescue groups. THIS ISSUE'S FEATURE: CATIO BUILT BY CAT MUMS! Must see!
Ozzi Cat Magazine Issue #14 (Digital Copy)
(PDF, 13Mb) You will get a download link by email. You will need Adobe Reader or any other software to open the file.
What's Inside This Issue?
OZZI CAT MAGAZINE – CONTENTS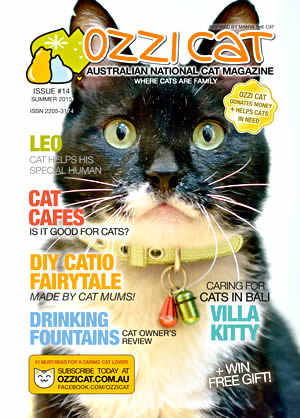 GIVEAWAY: WIN ME!
GIFT: Purrlybox – Alternative cat litter and litter box solution
(COURTESY OF PURRLY, purrlycat.com.au)
GIFT: "Cats Revealed: Collection" – Cat behaviour explained – Books from the "Cat Vet" Dr Kim Kendall
(COURTESY OF THE CHATSWOOD CAT PALACE, thecatpalace.com.au)
CAT NEWS
COVER CAT
NYAAMI
(BY SAYO, INSTAGRAM.COM/PSAYOPSAYO)
SPOTTED
PAINTING OF CHARLIE CRITTER
(BY ANDREA MULLER, VILLA-MIEZE-MAU.DE; SPECIAL THANKS TO AMANDA ANDREWS, INSTAGRAM.COM/CHARLIE_CRITTER, FACEBOOK.COM/CHARLIECRITTER)
HEALTH & CARE
IT'S GETTING HOT. PREVENT HEAT STROKE IN CATS
(BY JAIME SKY, QUALIFIED VETERINARY NURSE, THEKITTYCARER.COM)
CAT PARENT'S REVIEW: DRINKING CAT FOUNTAINS (BY BARBARA GEORGE, CAT BEHAVIOURIST, FACEBOOK.COM/BGCATBEHAVIOUR)
FEATURED CAT FOUNTAINS: Cat Drinking Fountain Catit50053, Cat Drinking Fountain Catit50050
CATS HELP
LEO COMFORTS OUR HEARTS. CAT LEO HELPS HIS SPECIAL NEEDS DAD
(BY ASHANTI JAWAS)
SPECIAL CAT
SAVING MELISSA, THE "EINSTEIN CAT", FROM DEATH
(BY ALINA ESTHER, ALINAESTHER.COM, INSTAGRAM.COM/MELISSA_SCOTTISH)
DIY PROJECT
CATIO BUILT BY CAT MUMS: THE ROYAL CHESHIRE PUME DEN
(BY MISTI AND MARGIE FERGUSON, CALICOKREATIONS.COM)
CAT PLACE
WORLD'S FIRST ETHICAL CAT CAFÉ: WHAT CATS TRULY ENJOY. CAFE PURRFECTION.
(BY CAROLINE ZAMBRANO, PHOTO VIA THE CHATSWOOD CAT PALACE, CHATSWOODCATPALACE.COM.AU)
SPOTLIGHT
VILLA KITTY BALI
(BY CAROLYN GARNER. PHOTOS VIA VILLA KITTY BALI, VILLAKITTYBALI.COM)
MAKING DIFFERENCE
BEAUTY OF OF STREET CATS. WHY I STARTED PHOTOGRAPHING STREET CAT
(BY CELESTE DE JONG, FACEBOOK.COM/CELESTEDEJONGPHOTOGRAPHY)
OZZI CAT FAMILY
MISTY: FROM POUND TO LOVED CAT – CAT OF WENDY AIKMAN
OZZI CAT'S FRIENDS ON INSTAGRAM
(@fridaygirl1969, @greekgurloz, @calebandcompany)
ADOPT MEOW – SPECIAL NEEDS CATS
ADORABLE FIV+ CATS FROM INGRID'S HAVEN (INGRIDSHAVEN.NET.AU)
Click to Purchase Your Copy
Purchased This Issue? Next Step: Get Annual Subscription
To Automatically Receive The Next Upcoming Ozzi Cat Magazine:
(Starts from the next upcoming issue)
Looking for a gift for a cat lover?
You found the best option! Ozzi Cat Magazine Gift Subscription in now available!
Share With Cat Parents and Cat Lovers!