Ozzi Cat – Australian National Cat Magazine – Issue 15 | AUTUMN 2016
#1 Australia's Cat Magazine
~ Must-Read For Caring Cat Parents ~
Ozzi Cat Magazine Issue #15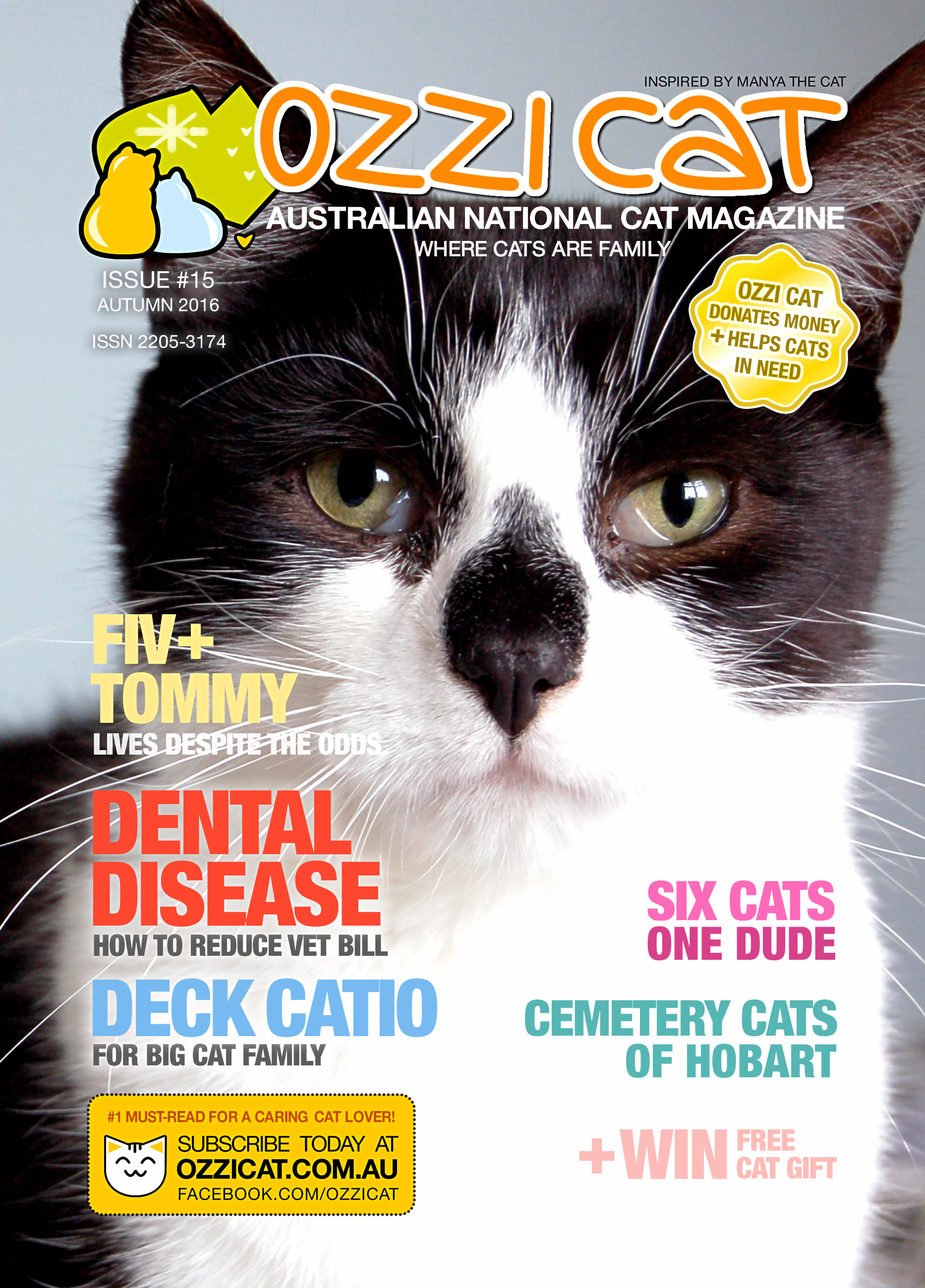 Ozzi Cat helps and donates money to rescue cats in need. $1 from your magazine copy is donated to a cat rescue to cover vet bills, for food, bedding, and toys for cats. Help kitties in need to live a happy life – just read our national Ozzi Cat Magazine to learn more about cats and awesome cat people, and we will donate money on your behalf! Purchase your copy below.
Ozzi Cat Magazine Issue #15 (Printed Copy)
#1 Australia's Must-Read Cat Magazine for Caring Cat Parents. Read amazing cat stories and learn handy cat care tips, plus product and DIY. Win a gorgeous cat-themed gift! Your copy supports Australian cat rescue groups. THIS ISSUE'S FEATURE: SIX CATS, ONE DUDE. An amazing cat daddy from whom many cat mums want to learn how to manage a cat household!
Available Qty: 1
Ozzi Cat Magazine Issue #15 (Digital Copy)
(PDF, 13Mb) You will get a download link by email. You will need Adobe Reader or any other software to open the file.
What's Inside This Issue?
OZZI CAT MAGAZINE – CONTENTS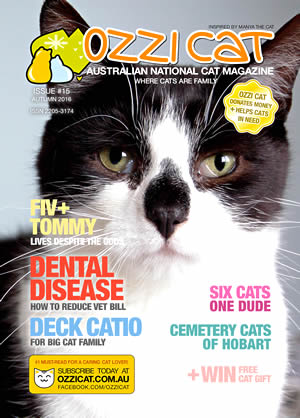 GIVEAWAY: WIN ME!
GIFT: Neko Paper – Cute Cat-Themed Writing Paper – For everyday planning and writing
(COURTESY OF COLOURMEOW, ColourMeow.com)
CAT NEWS
COVER CAT
MARCUS, A RESCUED FIV+ CAT
(BY JAKE LENNOX & KATHRYN LYNAS, INSTAGRAM.COM/RJAKELENNOX)
PRODUCT
CAT LOVERS' SCRATCHERS
(SCRATCHERS BY SONIA, Facebook.com/Catlovers-Scratchers-151745328360792)
HEALTH & CARE
DENTAL DISEASE
(BY JAIME SKY, QUALIFIED VETERINARY NURSE, THEKITTYCARER.COM)
CAT PRODUCTS FOR ORAL HEALTH: C.E.T. ENZYMATIC CAT TOOTHPASTE (TARTAR CONTROL), SOFT FINGER TOOTHBRUSH, DENTIPET CAT TOOTHPASTE, DENTAL FOOD SPRAY, TROPICLEAN FRESH BREATH CAT WATER DROPS
SPECIAL CAT
MISS L.E., KITTEN WHO HAD 48 HOURS TO LIVE
(BY DENISE LUDLOW, INSTAGRAM.COM/PARTIALLYBLINDKITTY)
DIY PROJECT
CATIO WE BUILT ON OUR DECK FOR OUR BIG CAT FAMILY
(BY DENISE GASPARD, INSTAGRAM.COM/NOLABABIES)
SPOTLIGHT
THE CEMETERY CATS OF HOBART
(BY PHIL SUMMERS)
CAT STORY
SIX CATS, ONE DUDE – LIFE IN A MULTI-CAT HOME
(BY DAVE KAMINSKI, SIXCATSONEDUDE.COM)
SPECIAL NEEDS
TOMMY TOM TOM, FIV+ CAT WHO LIVES DESPITE THE ODDS
(BY ALI WARREN, CAT TOMMY ADOPTED FROM INGRIDSHAVEN.NET.AU)
MAKING DIFFERENCE
GREEK CAT WELFARE SOCIETY – HELPING CATS IN GREECE
(BY JOHN GREEVES, SPECIAL THANKS TO MARILYN DORMAND, GCWS, GREEKCATS.ORG.UK)
OZZI CAT FAMILY
GIZMO AND SKYE (BY SHONA GREEN)
OZZI CAT'S FRIENDS ON INSTAGRAM: @juanitatortilla, @mimi_ollie_bruno, @chunkymonstez
ADOPT MEOW – SPECIAL NEEDS CATS
CHELTENHAM CAT RESCUE: ADORABLE FIV+ KITTIES (CheltenhamCatRescue.org.au)
Click to Purchase Your Copy
Purchased This Issue? Next Step: Get Annual Subscription
To Automatically Receive The Next Upcoming Ozzi Cat Magazine:
(Starts from the next upcoming issue)
Looking for a gift for a cat lover?
You found the best option! Ozzi Cat Magazine Gift Subscription in now available!
Share With Cat Parents and Cat Lovers!