Ozzi Cat – Australian National Cat Magazine – Issue 16 | WINTER 2016
#1 Australia's Cat Magazine
~ Must-Read For Caring Cat Parents ~
Ozzi Cat Magazine Issue #16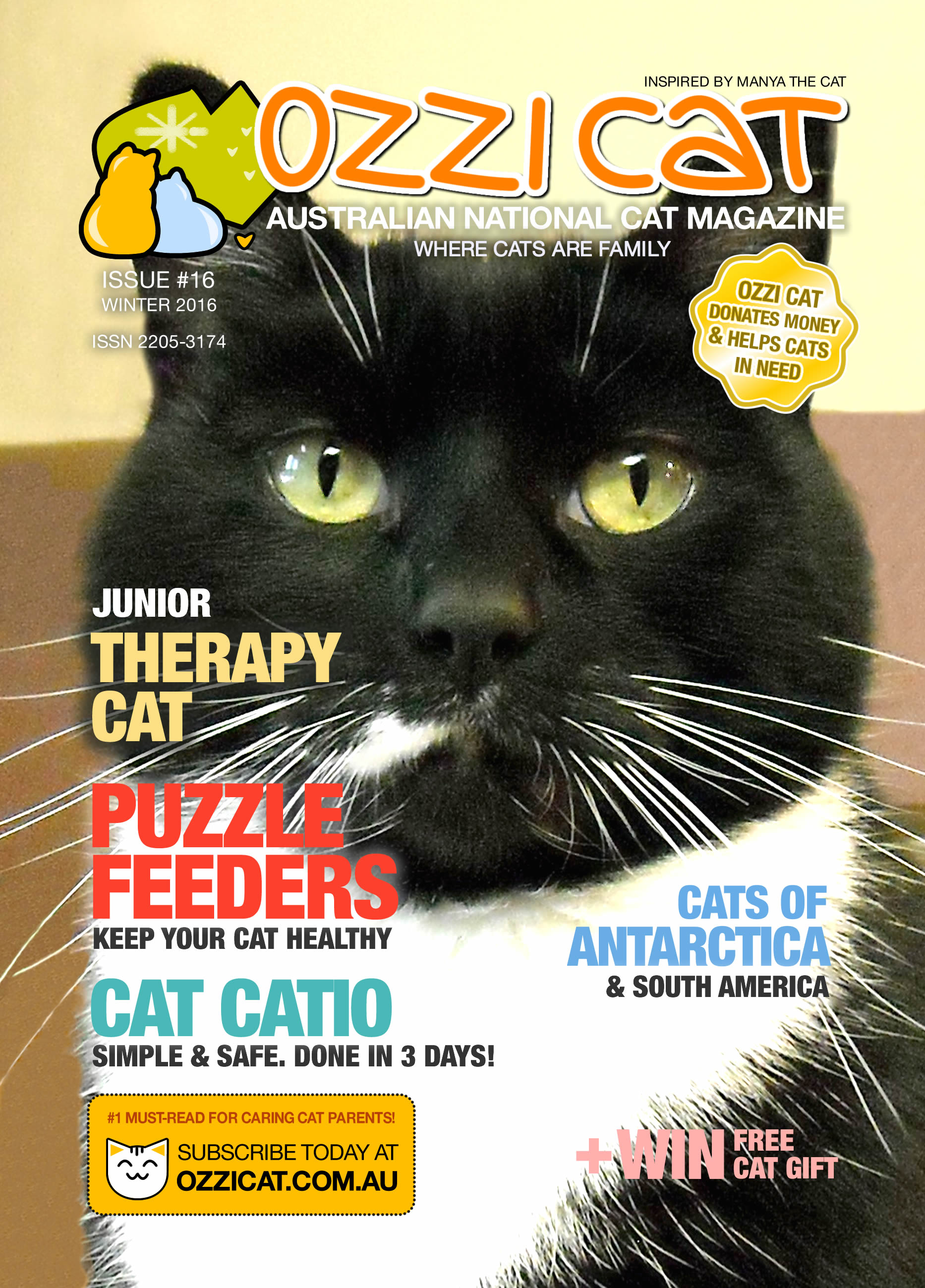 Ozzi Cat helps and donates money to rescue cats in need. $1 from your magazine copy is donated to a cat rescue to cover vet bills, for food, bedding, and toys for cats. Help kitties in need to live a happy life – just read our national Ozzi Cat Magazine to learn more about cats and awesome cat people, and we will donate money on your behalf! Purchase your copy below.
Ozzi Cat Magazine Issue #16 (Printed Copy)
#1 Australia's Must-Read Cat Magazine for Caring Cat Parents. Read amazing cat stories and learn handy cat care tips, plus product and DIY. Win a gorgeous cat-themed gift! Your copy supports Australian cat rescue groups. THIS ISSUE'S FEATURE: CATS OF ANTARCTICA.
Available Qty: 5
Ozzi Cat Magazine Issue #16 (Digital Copy)
(PDF, 13Mb) You will get a download link by email. You will need Adobe Reader or any other software to open the file.
What's Inside This Issue?
OZZI CAT MAGAZINE – CONTENTS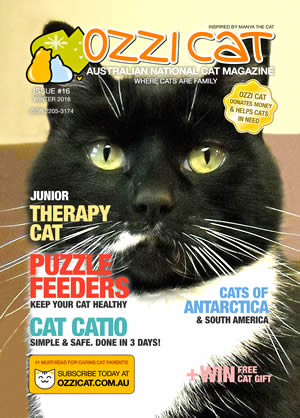 GIVEAWAY: WIN ME!
GIFT: Milo Cat Sticker – Super-Adorable Cute Cat Sticker – Stick on a wall, fridge, laptop
(MiloMeow.com)
CAT NEWS
CAT TOBY DONATES BLOOD FOR A GINGER KITTY AT THE CAT CLINIC
COVER CAT
JUNIOR, A THERAPY CAT
(BY GEORGE PITER, PETPARTNERS.ORG)
HEALTH & CARE
PUZZLE FEEDERS, GREAT TOOL FOR CAT'S HEALTH
(BY NATALIE KROTOVA, STUDIES CAT BEHAVIOUR, OZZICAT.COM.AU)
CAT PUZZLE FEEDERS
(BY BARBARA GEORGE, CAT BEHAVIOURIST, FACEBOOK.COM/BGCATBEHAVIOUR)
MS CAT TRAVELS
CATS OF ANTARCTICA
(BY NATALIE KROTOVA, OZZI CAT, OZZICAT.COM.AU)
SPECIAL CAT
MY ONE-EYED CAT SID
(BY KARA MISTOVICH, FACEBOOK.COM/KARAMISTOVICH)
CAT STORY
HESSEL AND HANNES, A STORY OF A LOVING BOND
(BY BERT JONKHANS, WWW.BERTJONKHANS.NL, FACEBOOK.COM/BERTJONKHANSFOTOGRAFIE)
CATS HELP
LOKI, A SERVICE CAT FOR AN AUTISTIC WOMAN
(BY LEAH PEDERSON)
DIY PROJECT
AVEL'S CATIO – SIMPLE & SAFE
(BY AMBER VAN DER GROEF, AVELTHESIBERIANCAT.BLOGSPOT.NL, INSTAGRAM.COM/AVELTHESIBERIANCAT)
MAKE DIFFERENCE
CATS IN BUENOS AIRES
(BY GRACE ESCOBAR)
OZZI CAT FAMILY
PIGLET AND HONEY (BY JENNY MARTIN)
OZZI CAT'S FRIENDS ON INSTAGRAM: @britishjosie, @leopardus_cheetoh_cats, @kovu_thekat
ADOPT MEOW – SPECIAL NEEDS CATS
CHELTENHAM CAT RESCUE: ADORABLE FIV+ KITTIES (CheltenhamCatRescue.org.au)
Click to Purchase Your Copy
Purchased This Issue? Next Step: Get Annual Subscription
To Automatically Receive The Next Upcoming Ozzi Cat Magazine:
(Starts from the next upcoming issue)
Looking for a gift for a cat lover?
You found the best option! Ozzi Cat Magazine Gift Subscription in now available!
Share With Cat Parents and Cat Lovers!