Ozzi Cat – Australian National Cat Magazine – Issue 17 | SPRING 2016
#1 Australia's Cat Magazine:
Cat Behaviour Solutions & Heartwarming Cat Stories for Caring Cat Parents

Ozzi Cat Magazine Issue #17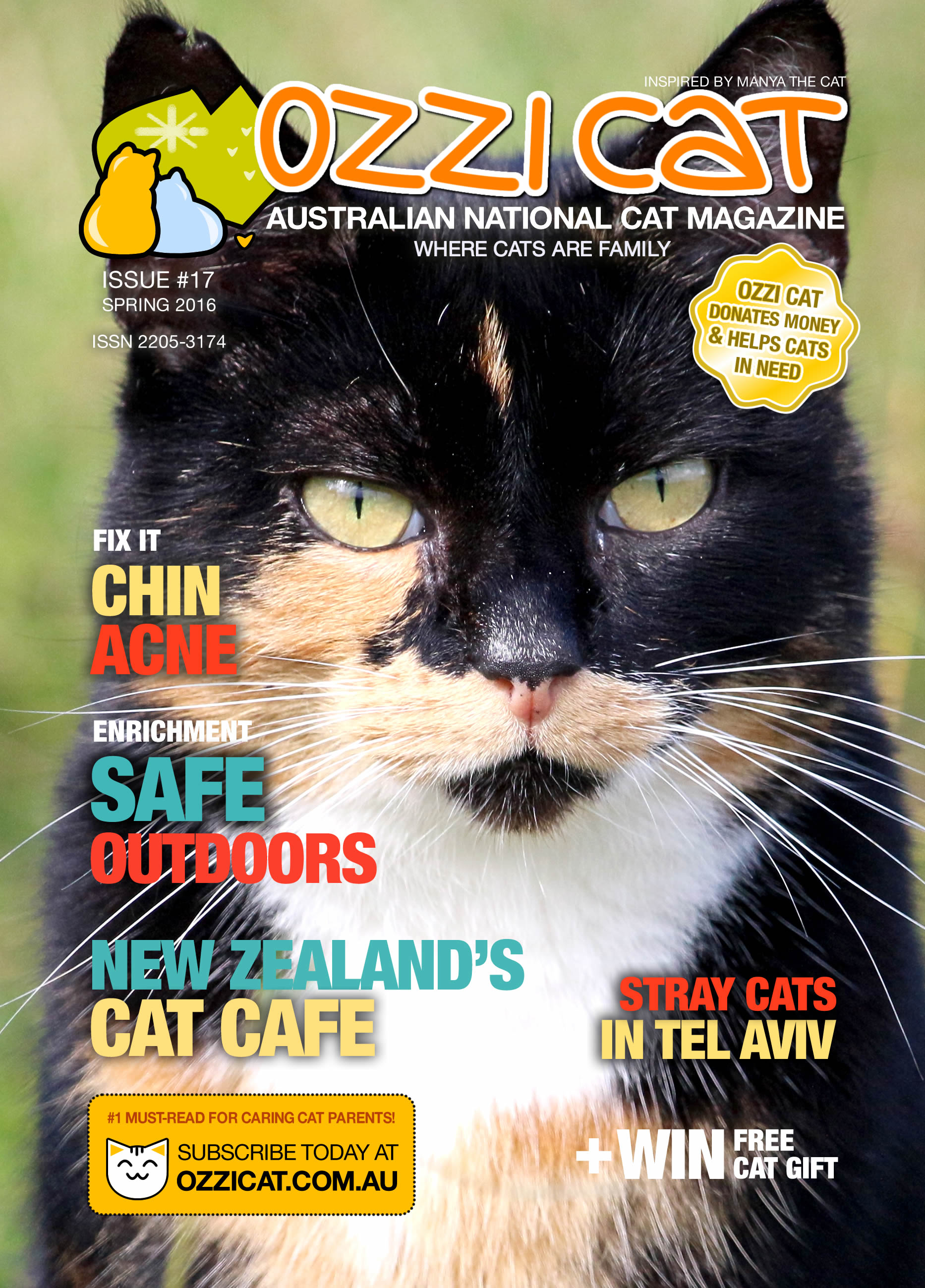 Ozzi Cat helps and donates money to rescue cats in need. $1 from your magazine copy is donated to a cat rescue to cover vet bills, for food, bedding, and toys for cats. Help kitties in need to live a happy life – just read our national Ozzi Cat Magazine to learn more about cats and awesome cat people, and we will donate money on your behalf! Purchase your copy below.
Ozzi Cat Magazine Issue #17 (Printed Copy) – (SOLD OUT)
#1 Australia's Must-Read Cat Magazine for Caring Cat Parents. Read amazing cat stories and learn handy cat care tips, plus product and DIY. Win a gorgeous cat-themed gift! Your copy supports Australian cat rescue groups. THIS ISSUE'S FEATURE: NEW ZEALAND'S CAT CAFE.
Ozzi Cat Magazine Issue #17 (Digital Copy)
(PDF, 13Mb) You will get a download link by email. You will need Adobe Reader or any other software to open the file.
What's Inside This Issue?
OZZI CAT MAGAZINE – CONTENTS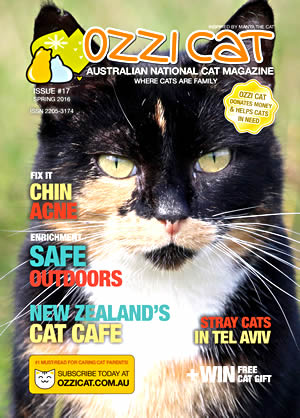 GIVEAWAY: WIN ME!
CAT NEWS
CAT CAFE MELBOURNE
HOBART CAT CAFE
COVER CAT
CHILLI CON CHARME
(BY RIHAIJ, PIXABAY.COM/DE/USERS/RIHAIJ-2145)
HEALTH & CARE
FELINE CHIN ACNE
(BY JAIME SKY, VETERINARY NURSE, WWW.THEKITTYCARER.COM, WWW.TRAINEEVETERINARYNURSEWORKSHOPS.COM)
FEATURED CAT PRODUCTS THAT HELP AVOID FELINE CHIN ACNE
SPECIAL CAT
ELF – AN UNUSUAL KITTEN FROM BELARUS
(ZOOSHANS.BY, INSTAGRAM.COM/CATELFF)
CAT ENRICHMENT
SAFE OUTDOORS
(BY NATALIE KROTOVA, STUDIES FELINE BEHAVIOUR & TRAINING, OZZICAT.COM.AU)
CAT STORY
A FUNNY LITTLE CAT NAMED MOTHIE
(BY PHIL SUMMERS)
SPOTLIGHT
STRAY CATS IN TEL AVIV-JAFFA
(BY JULIE IRWIN)
MY CAT
WHITE ANGORA – THE LOST BREED
(BY ANN WALKER, ANNWALKERBOOKS.COM)
CAT PLACE
THE CAT LOUNGE – NEW ZEALAND'S FIRST CAT CAFÉ
(BY MIKE JONES, CO-OWNER, THECATLOUNGE.CO.NZ, FACEBOOK.COM/THECATLOUNGE)
MAKE DIFFERENCE
MY BLACK CAT INGIE
(BY CATHY COWAN BECKER)
OZZI CAT FAMILY
FRANKIE AND LINDA – A LOVELY LITTLE ANGEL (BY LEN & MARIE ANTOINETTE ARCHER)
OZZI CAT'S FRIENDS ON INSTAGRAM: @gingerandgray, @annakeee, @purrince_emmet
ADOPT MEOW
CHELTENHAM CAT RESCUE: ADORABLE ADOPTABLE CATS (CheltenhamCatRescue.org.au)
Click Here to Purchase Now!
Purchased This Issue? Next Step: Get Annual Subscription
To Automatically Receive The Next Upcoming Ozzi Cat Magazine:
(Starts from the next upcoming issue)
Looking for a gift for a cat lover?
You found the best option! Ozzi Cat Magazine Gift Subscription in now available!
Share With Cat Parents and Cat Lovers!