Ozzi Cat – Australian National Cat Magazine – Issue 20 | WINTER 2017
#1 Australia's Cat Magazine!
Cat Behaviour Problem Solutions, Cat Training, Product Recommendations.
Cat Places, Cat Stories, DIY & More.

For Loving & Caring Cat Parents!
OZZI CAT MAGAZINE · ISSUE #20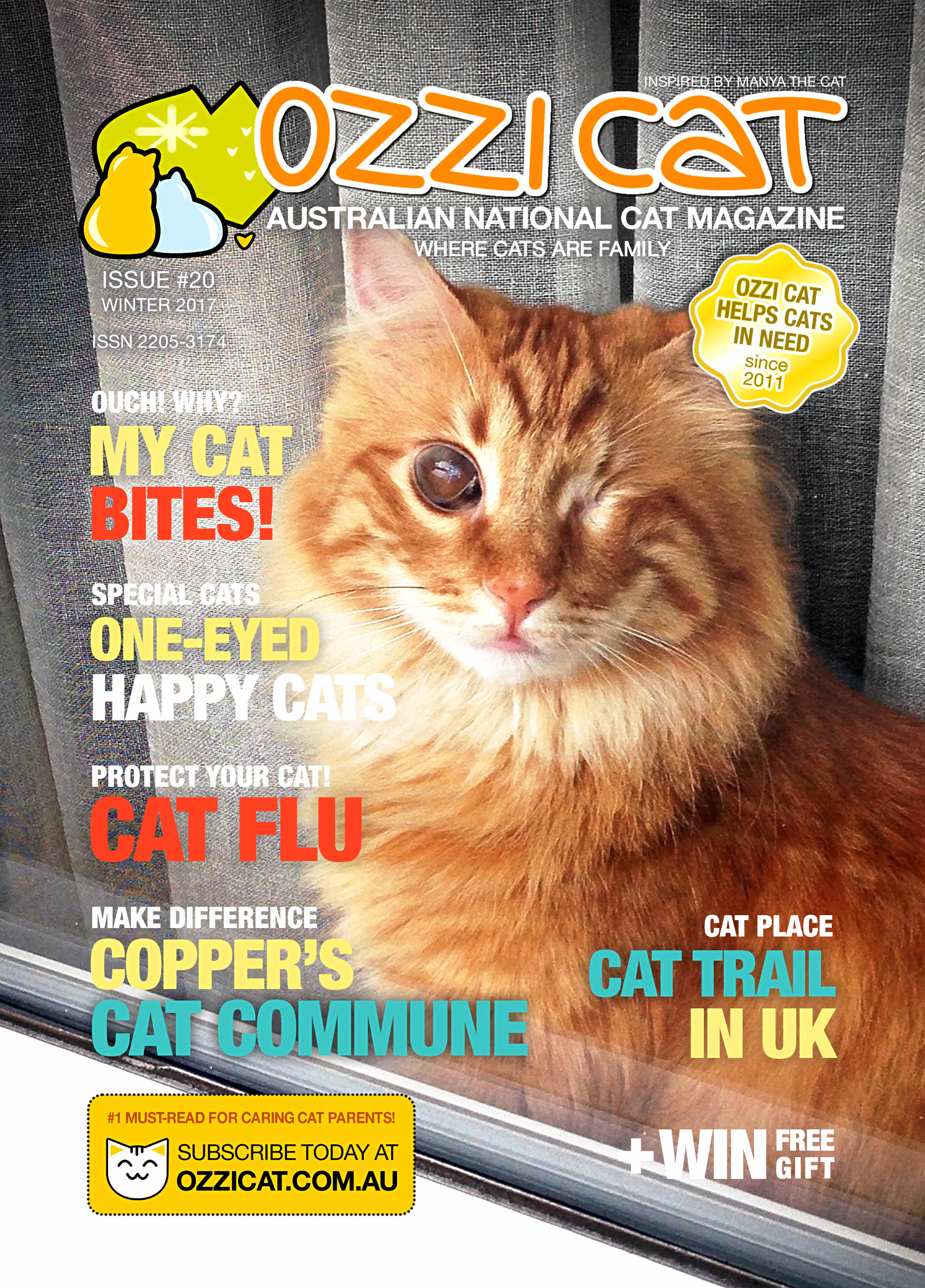 Ozzi Cat helps and donates money to rescue cats in need. $1 from your magazine copy is donated to a cat rescue to cover vet bills, for food, bedding, and toys for cats. Help kitties in need to live a happy life – just read our national Ozzi Cat Magazine to learn more about cats and awesome cat people, and we will donate money on your behalf! Purchase your copy below.
Ozzi Cat Magazine Issue #20 (Printed Copy) – (SOLD OUT)
#1 Beloved Australia's Must-Read Cat Magazine for Caring Cat Parents! Get cat care tips, learn how to prevent and solve cat behaviour problems, learn to train your cat! Read cat stories, learn about amazing cat loving people making a difference. Visit cat places, sneak peek at cat product reviews, and grab DIY ideas. PLUS, win a gorgeous cat-themed gift with every purchased copy! Your magazine copy supports cats in need and Australian cat rescue groups.
Ozzi Cat Magazine Issue #20 (Digital Copy)
(PDF, 12Mb) You will get a download link by email. You will need Adobe Reader or any other software to open the file.
What's Inside This Issue?
OZZI CAT MAGAZINE – CONTENTS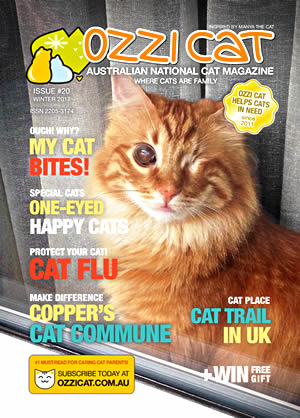 GIVEAWAY: WIN ME!
CAT NEWS
ANDY WARHOL AND AI WEI WEI STUDIO CATS EXHIBITION AT NATIONAL GALLERY OF VICTORIA (BY MELISSA MURPHY-VELLA)
COZY WINTER PRODUCT GUIDE
FEATURED SEASON'S CUTE FINDS
COVER CAT
ODIE THE CAT, A SEMI-BLIND HAPPY CAT
(FACEBOOK.COM/ODIETHECAT)
HEALTH & CARE
CAT FLU
(BY THE CAT CLINIC, CATDOCTOR.COM.AU)
CAT BEHAVIOUR
MY CAT BITES! WHY?
(BY NATALIE KROTOVA "THE CAT HELPER", CAT BEHAVIOUR & TRAINING SPECIALIST, OZZICAT.COM.AU)
SPECIAL CAT
OREO. HAVING AN ONE-EYED CAT.
(BY CRISTINA RAMSEY, INSTAGRAM.COM/STARLA_BELLE)
CAT PLACE
THE YORK CAT TRAIL. CAT STATUES. WALK IN UK.
(BY PETER HANSON, THECATGALLERY.CO.UK)
READER'S LETTER
YOUR CAT WHEN YOU DIE
(BY ANN WALKER, ANNWALKERBOOKS.COM)
MAKE DIFFERENCE
COPPER'S CAT COMMUNE. LIFETIME CARE FOR SPECIAL NEEDS CATS.
(BY MIMI BAKER, COPPERSCATCOMMUNE.COM)
OZZI CAT FAMILY
IN LOVING MEMORY – BITTY (BY STEVE AND COLLEEN FIMMEL)
OZZI CAT'S FRIENDS ON INSTAGRAM
@kodamameow, @chez_schill_kitty_commune, @kitten.lady.leah
ADOPT MEOW
Lort Smith Animal Hospital
Geelong Animal Welfare Society
Click Here to Purchase Now!
Purchased This Issue? Next Step: Get Annual Subscription
To Automatically Receive The Next Upcoming Ozzi Cat Magazine:
(Starts from the next upcoming issue)
Looking for a gift for a cat lover?
You found the best option! Ozzi Cat Magazine Gift Subscription in now available!
Share With Cat Parents and Cat Lovers!