How to Clean Cat's Ears – Short Video Tip on How to Care for Cats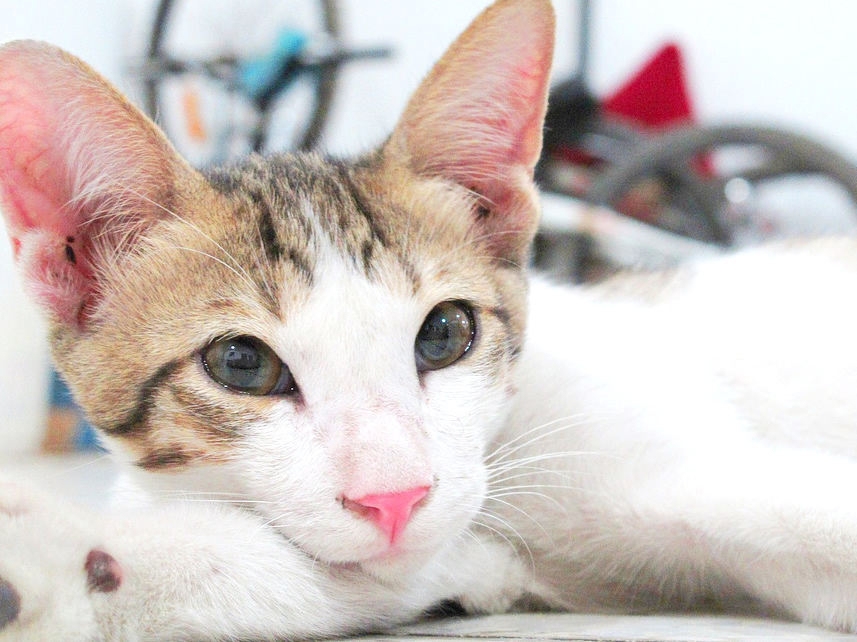 As a cat owner you probably experienced a situation when you call your call and the kitty does not respond. More often than not the cat hears you, you can tell that by their ears turning towards your voice. In many cases the cat decides not to turn their head until you use, as I called it, a magic action word. It's when you teach your cat a specific word and the kitty reacts to it. I'll talk about that next time (Don't miss it – subscribe to Ozzi Cat email MeowsLetter now to be notified on the new blog post).
To keep your kitty to respond you, you need to keep the cat's ears clean. Cleaning cat's ears is also a good time to check that everything is fine with them – no crawling parasites inside the ear, earwax looks normal and is not dark. Here is a short checklist and a quick video tip on how to clean cat's ears. Keeping the ears clean helps to maintain a good cat health.
First, How to Get a Cat to Let You Clean Their Ears
Some tips on how to clean your cat's ears without hurting your kitty. (Add your tips and experience in comments below.)
Ensure a calm environment. No loud noise or scary sounds.
Pat the kitty. Start with one ear. I usually start by lightly massaging the place in front of ears. I also occasionally massage that place when I don't clean my cats' ears. They like it and don't associate it with cleaning. That allows me to touch their ears when I need to clean them.
Start cleaning with the top of the ear. (The cotton pad should go from the bottom up.) Let the cat adjust to the process.
It may take time before your cat adjusts to the whole ear cleaning procedure. Do it periodically. If possible, start from the cat's young age.
Calmly, with a low voice (cats have good hearing and you will be talking right near their ear) say good encouraging words to your kitty.
If the cat does not want you to proceed and you see it becomes too nervous, let it go. Don't try to clean ears of a scared or aggressive cat, unless it's absolutely necessary. Try another time.
Pat and reward your cat at the end. Pat and reward yourself for a great job done – clean ears, good health!
See the checklist below on how to actually clean cat's ears:
Checklist on How to Clean Cat's Ears
Learn together – share with fellow cat owners! The checklist is based on the video tips from the veterinarian Dr. Julia and on my personal experience with cleaning cats' ears:
Check cat's ears once a week. Look for dark brown earwax, debris, infection.
Check the outside of the ears. There should be no bold spots.
Check the inside of each cat's ear. The inner surface should be pale pink and clean. No debris, no odor, minimum earwax.

See your veterinarian if there is a discharge, redness, or swelling, and if a cat excessively scratches their ears or shaking their head. (Shaking a head can mean an allergy reaction, something inside the ear or something else – the best course of action is to talk about that with your vet doctor.)
To clean ears, gently fold them outside.
Use a clean cotton ball, a piece of gauze, or round pads that ladies use to remove cosmetics from a face. You can also use a soft tissue. This usually works well if cat's ears are dirty. If the cat's ears are almost clean, I use ear sticks for humans. (You can get them cheap in a two-dollar shop or in Woolies or Coles. No special ear sticks are needed.)
You don't have to use a special cleaning liquid. You can use a dry pad or make it a little bit wet (just a little bit, one drop of water. It's for easier removal of debris and wax). If not sure, use it dry.
Video Tip on How to Clean Cat's Ears
Check out this easy to follow instruction on how to clean cat's ears prepared by a veterinarian Dr. Julia Georgesen from AVMA (I don't do the bit with leaving the pad for some time):
Tell us in comments:
Do you clean your cat's ears? Is cleaning cat's ears easy for you? Does your cat feel comfortable during the ear cleaning process?
Share With Cat Parents and Cat Lovers!