Special Needs Cat With Cleft Palate Lives A Happy Life. What Is Cleft Palate?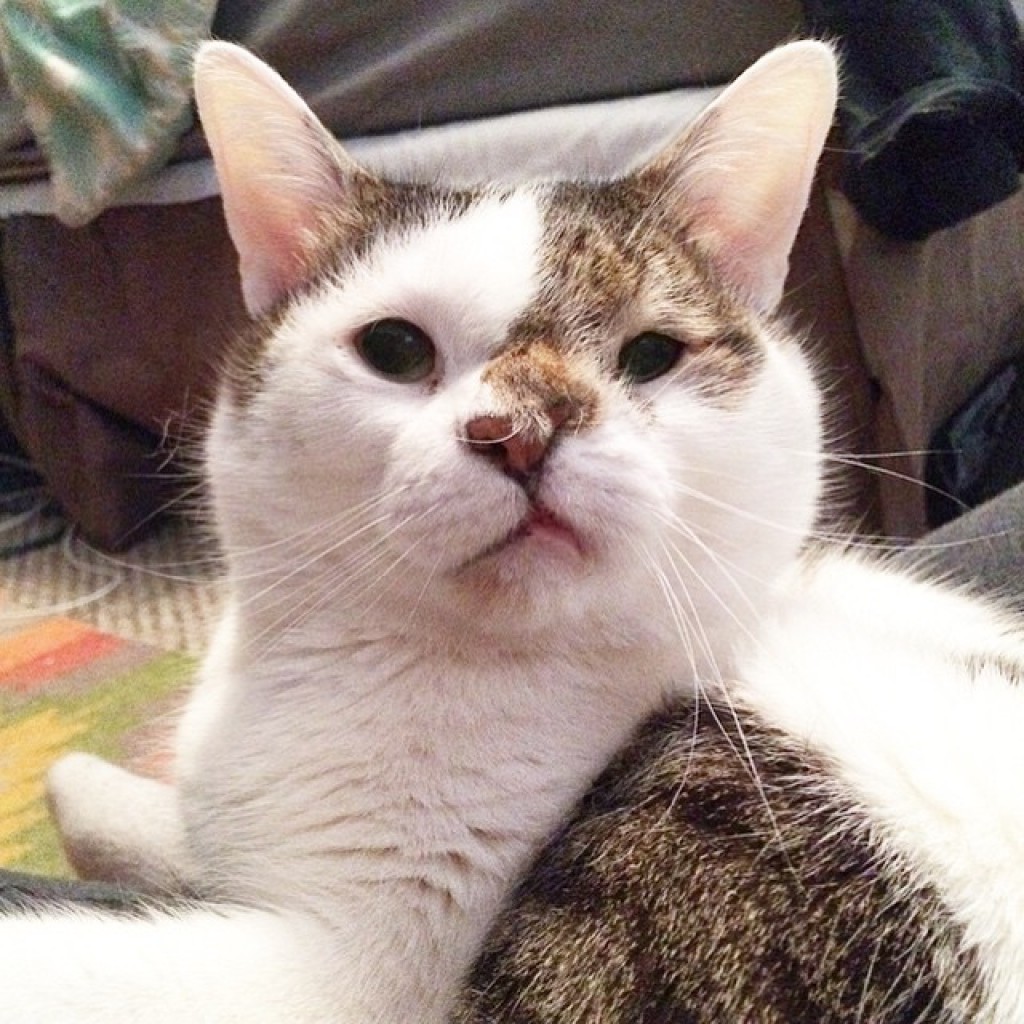 Many cat lovers know the cat Lazarus, who is a rescue cat with cleft palate. Today we feature another special cat with cleft palate – Mr. Bubbington (Mister Bub Fuzzins). Bub shows how a life looks like for a special kitty. Take a sneak peek, learn what a cleft palate is, and consider adopting a special needs cat!
What Is Cleft Palate In Cats And Kittens?
The palate is the roof of the mouth. A cleft palate is an opening in the roof of the mouth.
While a kitten is developing in a cat mum's belly, the two sides of the kitten's roof of the mouth can failure to come together. As a result a cleft, or an opening, stays between the nasal cavity and the kitten's mouth. In some cases the cleft is so large that it affects the upper lip, which results to so called "hare lips".
Cleft palate is a genetic disorder that can occur in any animal. From veterinary observations, round-headed cats like some Persian and Ragdoll cats are predisposed to having cleft palate. Other cats include Norwegian forest cats, Siamese, Savannahs, and Ocicats. An exposure, during cat pregnancy, to things that can cause a birth defect, including excessive vitamin A and D, can also cause a cleft palate in kittens.
Once born, these special needs kittens have a problem with suckling, milk and food can come through the nose, making the kitties cough and sneeze. As a result, an upper respiratory infection and pneumonia can develop, which can be fatal.
To save those kittens, they are fed using a tube feeding until they reach an age at which a surgery is possible. Kittens and cats with a cleft palate who eat normally, do not require special treatment. A vet doctor will define whether a surgery is needed.
A Day In Life Of Cat With Cleft Palate
Meet Mr Bub who lives a happy life with his gorgeous cat parents.
Like any other cat he loves boxes:
Loves funny poses:
Loves paper bags:
Loves soaking in the sun:
Loves being super sweet:
Loves touching a human:
Loves cat yoga:
Loves being a keyboard guardian:
Loves being happy:
Loves being a cuddle-me-now:
And loves being loved!
Do you have a special or special needs cat?
Submit a story for a chance to be featured on our cat blog or in the Ozzi Cat Magazine!
Have a special needs cat available for adoption? Post on our Facebook page wall!
xox Natalie
Ms Cat, Cat Mum, Editor-in-Chief at Ozzi Cat – Australian National Cat Magazine.
Special and Special Needs Cats Ambassador.
Share With Cat Parents and Cat Lovers!
Tagged cleft palate, health, Mr Bub Fuzzins, One Day in Life, special needs