Cat Art: Marianne Starck – Cats on Ceramic
Marianne Starck
Marianne Starck (born in 1931) is a German ceramist. Since 1955 she was an art director of "Michael Andersen & Son", the pottery company in Bornholm, Denmark. The business was later bought in 1993 by ceramist Solveig Ussing.
On many of her pieces, Marianne used a Persia glaze – a complicated and difficult to control technique. Persia glaze, introduced by Daniel Andersen in the early 1930′s, produces a crackle finish.
Although Marianne Starck was not a cat-only artist, some of her works feature beautiful ceramic cat art.
Marianne Starck Cat Art

Here, kitty kitty! This cat tile was done in the "Persian Technique", a shaded and crackled base, which won the gold medal at the World Exhibition in Brussels in 1935. The cats are handpainted in a design by Marianne Starck.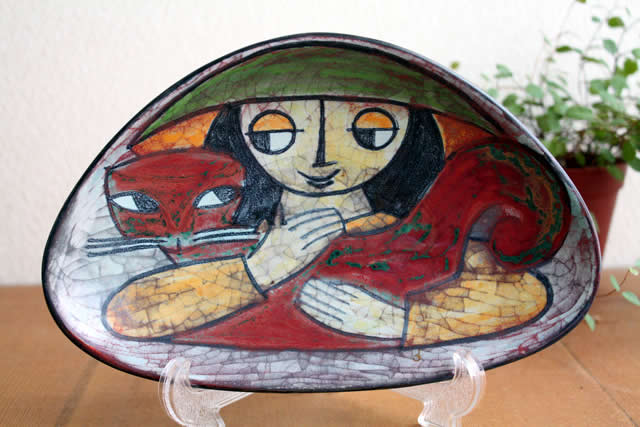 Do you like Marianne Starck's Cat art on ceramic?
Share With Cat Parents and Cat Lovers!
Tagged art, artist, cat, ceramic, drawing, glaze, Marianne Starck, Persia, plate, pottery, tile