Cat Drawings from Emily, an Owner of a Cat Mitten (Geelong, Victoria)
W We received awesome cat drawings from Emily!
Emily is 8 years old and lives in Geelong, Victoria.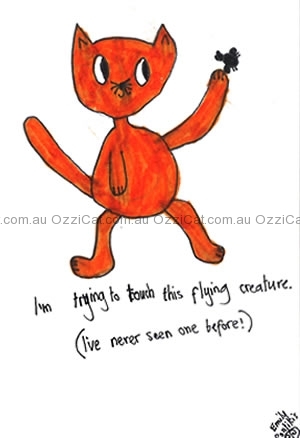 Emily loves animals and has a lot of pets: a cat (Mittens), a dog (Snow), 5 guinea pigs (White Nose, White Foot, Felicity, Ruby and Lucky), and 2 rabbits (Spotty and Stripey).
Mittens and Snow are good friends and play together a lot (Mittens likes to lie in wait for Snow to pass by, then pounces on top of her).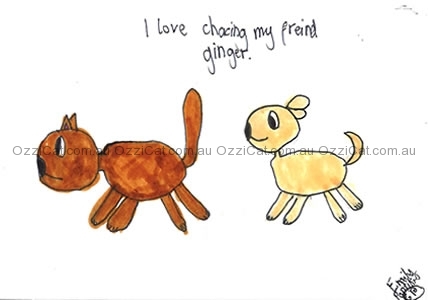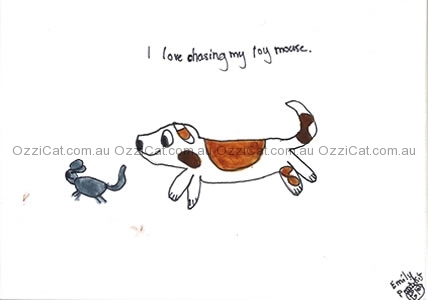 This is what Emily writes about her cat Mittens:
My cat Mittens and my dog Snowy love to have play fights. Can you guess who always wins? Mittens!
She has this great strategy where she jump up onto the arm of of a chair and when Snowy passes by Mittens jumps down on top of her.
When Mittens has done that at least three times Snowy completely gives up.
I got Mittens when I was about two. I got her from the Lost Dogs in Melbourne. She was the cutest kitten ever!
We moved home twice. While we were doing that Mittens got worried and afraid. So now whenever we change the sitting room or do something that involves changing around furniture she gets worried like she did when we moved house.
And when we moved house we had to lock her in the laundry for a while. So she had time to look out of the window and get used to the surroundings.
Once when we got two new pet rabbits called Spotty and Stripey she sniffed each ones nose through the fence.
And once Mittens jumped up onto the guinea pigs little house!
My guinea pigs names are Felicity, Ruby, Lucky, White Foot, White Nose and Blacky who passed away last year.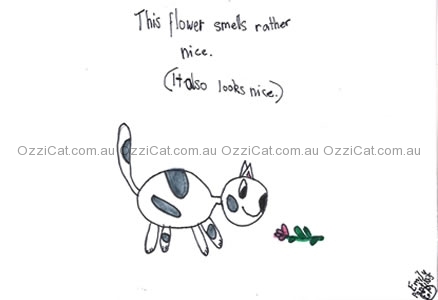 From Mrs Cat
What a wonderful story, Emily! Thank you so much for sharing it with Ozzi Cat and thank you for your awesome drawings!
We would be happy to hear about Mittens further – How is she doing now? What food does she prefer? Does she need brushing?
Share With Cat Parents and Cat Lovers!
Tagged Australia, cat, drawing, Emily, Geelong, materials, story, submission, Victoria