Wedding With Cats: Couple Got Married At Cat House On The Kings Cat Sanctuary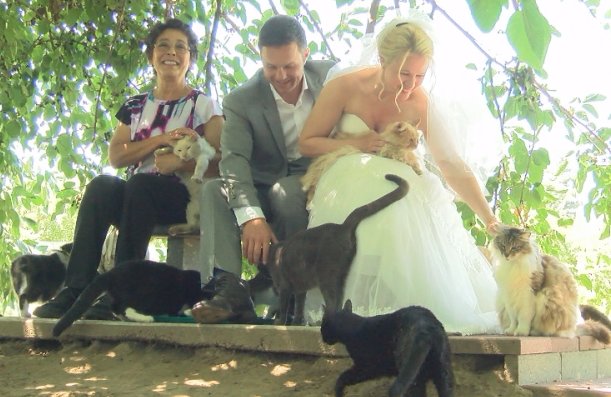 A Canadian couple got married at the Cat House On The Kings, a cage-free no-kill cat sanctuary in USA. A wedding with cats, a romantic story of cat lovers.
Dominic Husson and Louise Véronneau, a couple from Montreal, Canada, share a great love for animals. They have been dating for three years and travelled around the world together, until the love for cats finally brought them together.
Pointing at the sanctuary cats surrounding them at the wedding, Véronneau says that those are values and a basis of their love. Sharing the same values is what brought her and Dominic together.
Cat House On The Kings is a no-kill cat sanctuary with more than a thousand cats roaming free on its territory.
Lynea Lattanzio, the cat sanctuary founder, at first was nervous about a wedding. Then she noticed how the cats interacted with the groom and the bride.
Lynea says that cats are used to people and visitors, and they enjoy the attention.
One cat even played with the bride's wedding dress as it was a curtain. The cheeky cat was promptly stopped.
What a very happy day for two gorgeous cat lovers from Canada!
Share With Cat Parents and Cat Lovers!
Tagged Cat House On The Kings, cat lover, celebration, news, sanctuary, story, USA, wedding