Cat Parents Use 3D-Printer To Make Cat Wheelchair For Their Handicapped Cat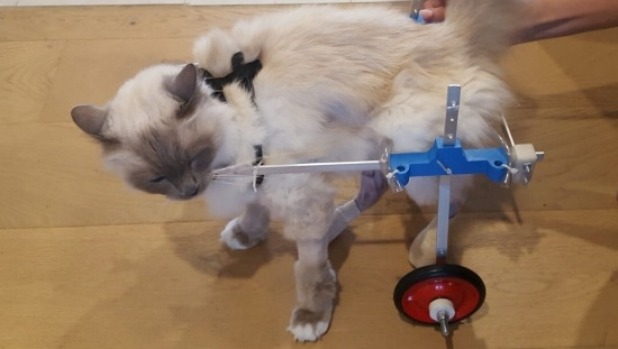 In NSW a cat Mozart fell off a balcony. The lucky cat survived a six-storey fall, but broke bones in his back feet. Cat owners used a 3D-printer to make a cat wheelchair.
Martin and Elodie Orliac's Birman cat Mozart is lucky to be alive after falling down from a 25-meter height. The cat survived, but required a surgery to fix the broke bones in his back feet.
"According to what the vet said, he was miraculously OK having fallen from that height." said Martin. Little did they know, that they will soon use a 3D-printing technology to help their injured cat.
Bondi Junction Veterinary Hospital performed the surgery on the injured cat feet. The feet had to be immobilised until the full recovery.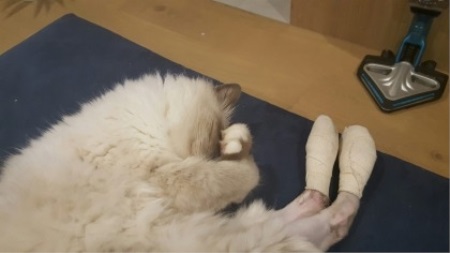 The cat owners did not want to have Mozart confined for weeks. They were thinking of ways to keep the injured feet immobilised, at the same time letting the cat move around.
After searching on the Internet, Martin found out about wheelchairs for injured and handicapped cats. He also found how one person in Israel made a 3D-printed cat wheelchair.
Joshua Flannery, Martin's friend, and young entrepreneurs from the Student Entrepreneur Development program at the University of NSW, have already used 3D-printing technology for their start-up projects. They helped Martin.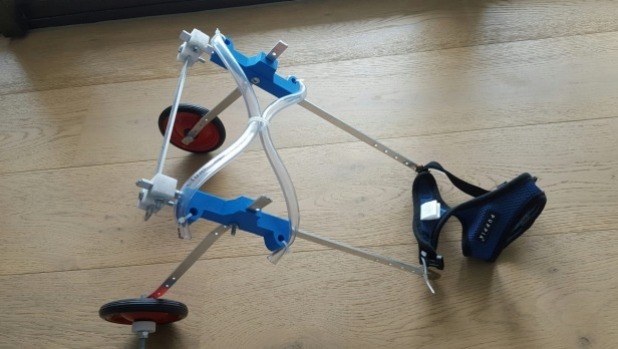 Using a 3D-printer they printed high-density plastic components. Then Martin used them to make a cat wheelchair for Mozart.
"It was pretty simple to build," said Martin. "The wheelchair is actually really solid. He's recovered very quickly and he's now doing really well."
Read amazing cat stories and get handy cat tips: Subscribe to Ozzi Cat Magazine
Share With Cat Parents and Cat Lovers!
Tagged 3D-printer, Australia, balcony, handicapped, injury, Joshua Flannery, NSW, special needs, University of NSW, UNSW's Student Entrepreneur Development program, wheelchair