Secret Santa Arnold Schwarzenegger Drew a Cat Picture as a Christmas Gift
During the redditgifts campaign, where people play a role of a Secret Santa sending Christmas gifts to each other, one cat loving lady received a lovely cat gift from her Secret Santa, who happened to be Arnold Schwarzenegger. What did Arnie send?
Most Secret Santas sent books, t-shirts, stickers and other non-cat related things. Kerri, who participated in the Secret Santa fun, received something awesome.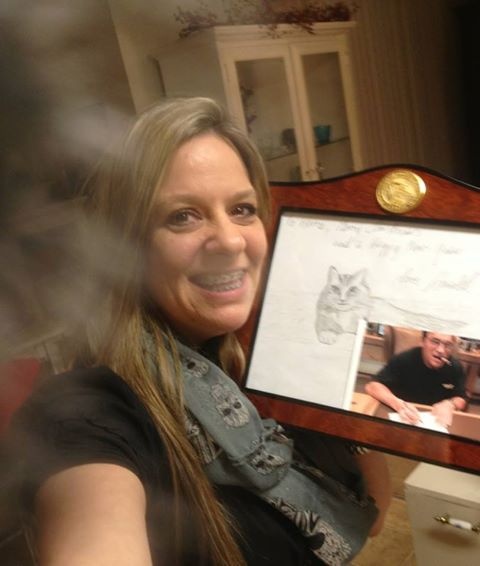 The gift arrived from Arnold Schwarzenegger. Among other things there was a card. Arnold drew a cat that looks like a Kerri's cat and sent it to her as a gift – the cat drawing in a nice frame and a photograph of himself drawing the cat.
Kerrie writes:
"My secret santa is Arnold Schwarzenegger! Unbelievable I know! I received a card, in which my secret santa made a donation to after school all-star program, in my name. I received a large beautiful candle, with the seal of the governor of the sate of California, on the front of it. Along with a bottle of wine with the same seal, and in a beautiful box, with a wine topper. I received a drawing from Arnold himself, of a cat (which looks like mine), in a very nice frame, attached is a picture of Arnold (I assume while he's drawing the picture)."
The cat drawing says "Kerrie, Merry Christmas and a Happy New Year. Love, Arnold." Kerrie is excited about the cat card she received. Cat lovers will understand!
Cat Gift from Famous Person
What famous person would you like to receive a cat themed gift from? What would that cat themed gift be? Share in comments.
Share With Cat Parents and Cat Lovers!
Tagged Arnold Schwarzenegger, cat, Christmas, drawing, gift, New Year, picture, postcard, present, Santa