Cat Story: The Prodigal Cat. A true story about my cat, Diddle.
Have you ever lost a cat? How would you feel about that? What if your prayers were heard and the cat was back, but… What can happen when a cat goes missing?! Read this hilarious cat story written by our reader, Sally Dixon! (A reminder for cats: Never go missing! Or this is what can happen – read the story!)
"Diddle's missing!"
I tightened my grip on the phone at the sound of my mother's worried voice. "How long's he been gone?" I asked.
"He didn't come home last night. I stood outside and called and called his name, but he didn't come."
It was out of character. Diddle was an indoor cat who enjoyed the creature comforts of cosy beds and biscuit-filled cat bowls. He didn't like cold nights and being far from my mother's lap.
"Keep me posted," I said. "Email me as soon as he comes home."
I was living overseas in England and hadn't seen my puss for several months. I missed him so much I sometimes even talked to him on the phone. My mother would put the phone receiver to Diddle's ear and he'd listen as I called his name and recited his favourite words – especially "dinner." Sometimes he purred and licked the phone in response. This was the first occasion I'd been unable to chat to my cat. I hoped Diddle would be there the next time I phoned home.
But he wasn't. Diddle was well and truly missing.
Every day my parents hopped into their car and scanned the neighbourhood streets, but without success. And each evening when I received a negative response by email, I'd look at his photo on my computer screen and cast a prayer towards Heaven. I smiled – and sighed – each time I glanced at his picture. What a handsome puss he was! Diddle's gray and black fur was like a stripy sweater covering his tomcat frame. He had wee tufts of fur at the tips of his ears and his orange nose had a black spot in the centre. It was as if someone had taken a fine paintbrush and dotted his nose with a delicate drop of paint. His meow was easy to remember: it was loud and raucous like a Catherine Wheel firework. Would I see him again?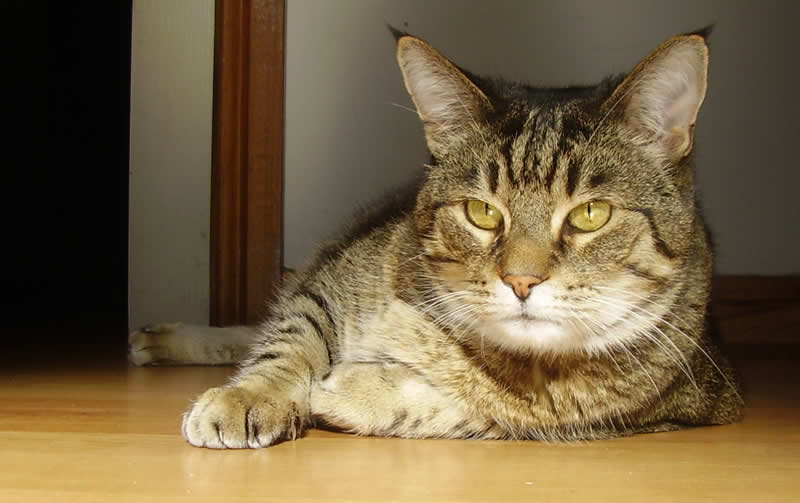 Many weeks passed by and there was still no news. The time to depart English shores drew near, and as it did, my hopes of seeing Diddle again slithered away.
But then, one night, I had a dream. In the nightly vision I saw myself standing inside our red-brick house. A noisy meow was heard at the front door. My hand clutched the door knob and as the door swung open, Diddle ran inside and rubbed himself against my legs.
The dream boosted my hope that my prayer would be answered. My parents also prayed.
And then the phone call I'd be waiting for, came. "We found him!" my mother said. "We were driving the streets, when we spotted a cat lying in a field near the local school. He's extremely weak and very thin, but, HE's ALIVE!"
I grinned. In a couple of days I would embrace Diddle in my arms.
Late one night, after a long flight and feeling weary, I entered the house. "Where is he?" I scanned the living room. Not there. I dashed through all the rooms and found a feline asleep on a bed. There he was.
"Diddle!" I called.
No response.
"Diddle!"
Still no answer.
"Diddle, it's me!"
Not a flicker of a tail or a quiver of a whisker. I crept closer and stroked his head. Groggy eyes peered at me. I stared back. The cat turned his unblinking gaze away from me, tucked his chin against a paw and went back to sleep. Was he so traumatised he didn't recognise me?
"Diddle, is it you?" I whispered. I watched the rise and fall of his chest as the skeletal body slumbered. A tabby cat had indeed been found, but was it the right one? I caressed the top of his nose with my index finger and scratched his ears. I gasped. The tufts of fur were missing from his ear tips and his nose was entirely orange.
"I don't think that's Diddle," I said to my mother.
"Of course it is. He's just a shadow of himself. He'll look more like his old self when he gains weight."
I frowned. Then I shrugged. She was probably right. Who knew what Diddle had been through?
"Now, it's time to meet the newest member of the family," said my Mother.
We returned to the living room where she bent down and scooped up a tiny bundle of fur. She placed the scrap into my arms. A black and ginger two-toned face stared at me with round eyes and began a nervous purr.
"This is Madeline," said Mum. "A girl at work was giving away kittens. I went to have a look and couldn't resist this little one." She paused. "At the time we thought Diddle was gone for good."
So now there wasn't just one cat, but two!
The next evening, we were just sitting down to tuck into our dinner when we heard a howl at the door. We glanced around. A Tabby cat napped in an armchair and a Tortoiseshell kitten lay curled amongst the ornaments on top of the piano. They didn't stir. The howl came again. It sounded remarkably like a Catherine Wheel firework.
I dropped my fork. It couldn't be!
I raced towards the door and flung it open. An anorexic gray and black feline stood on the door mat. He wailed again and strolled into the house as if he owned the place. He rubbed himself against my legs and meowed loudly as if to announce, "Well, I'm here. Have you missed me?"
I bent down to examine the bony puss. There were fur tufts on the tips of ears and a black dot on his orange nose. This was Diddle!
He wandered around the room. Then he stopped, one paw poised in the air. His eyes were like yellow saucers. His gaze flickered between the cat in the armchair and the kitten on the piano. He let out a low growl. There were intruders in his home and he wasn't happy. But I was. Diddle was back. And now there wasn't just one cat, but three!
My mother distracted Diddle's attention from the trespassing moggies by filling his bowl with food. He gobbled it down as if he hadn't eaten in weeks, and by the look of him, it was probably the case. With a satisfied tummy, Diddle jumped into an armchair and kneaded the cushion with his paws. My mother came over and patted his head. "Diddle, where have you been?" she said. He opened his mouth and gave an emphatic, "MEOWWW!"
In the months which followed, Diddle made up for lost time. He guzzled his food until he was three times the cat he used to be. The Diddle-imposter was re-christened, Jacko, and found a new home with Granny. Madeline and Diddle learnt to tolerate each other, but only by distancing themselves from each other's presence.
We can only speculate as to Diddle's whereabouts in those weeks. It will always be a mystery.
But one thing we do know: Our prayers were answered, my dream came true and the prodigal puss returned home.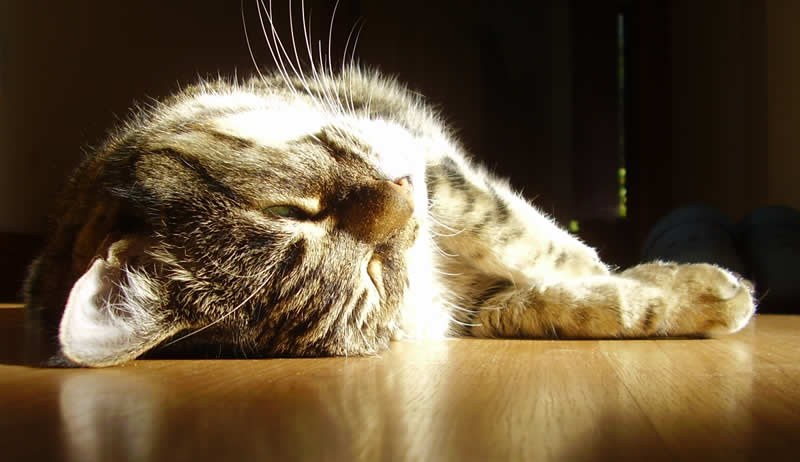 Photo by: Sally Dixon
Share With Cat Parents and Cat Lovers!
Tagged black, cat, Diddle, ginger, grey, lost, missed, story, submission, tabby, Tortoiseshell