Special Needs Feral Two-Legged Kitten Cassidy Gets Wheelchair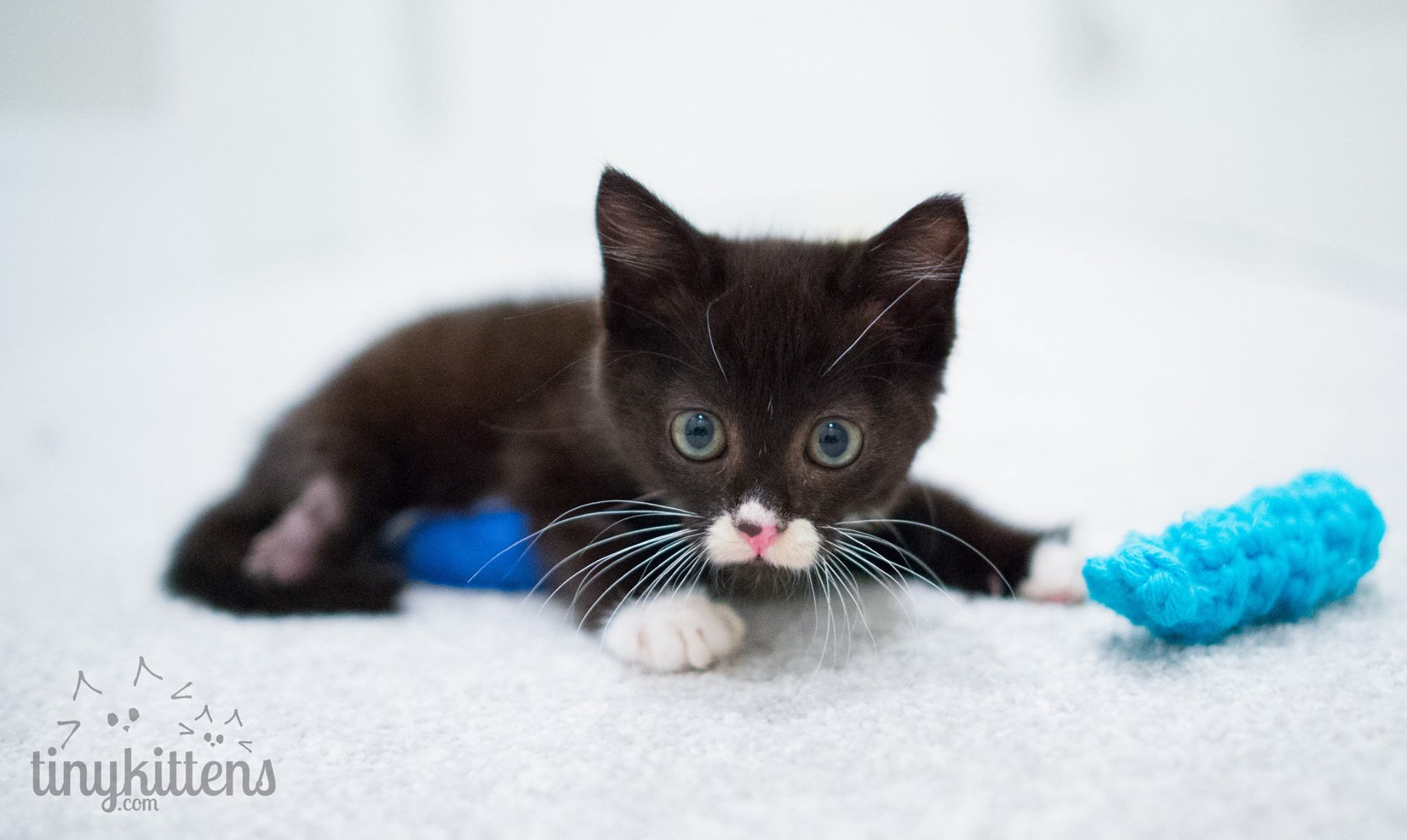 A special needs two-legged feral kitten Cassidy got a wheelchair that helps him moving around.
A darling 4-months-old Cassidy was a feral kitten living in a cat colony in rural Langley, Canada.
He almost starved to death and could no longer fight a severe E. Coli infection.
Luckily, the Tiny Kittens Society (www.tinykittens.com) rescued him and provided so needed love and care.
The rescuers believe that the kitten lost his hind legs soon after birth due to an accident.
Despite all the challenges, Cassidy wanted to live. The rescuers wanted to give the special needs kitty a chance.
To make moving around easier, the special kitten needed a wheelchair.
As a result of social media attention, Cassidy received three wheelchairs, including one built by a rescue's online follower.
Two Walnut Grove Secondary students used a 3D printer to create a prototype. It was ready in a week:
Handicapped Pets Canada (www.handicappedpetscanada.com) created a tiny wheelchair for the cat.
Over time the wheelchair will be adjusted to the Cassidy's growth.
Tiny Kittens Society gives Cassidy all the love and care. You can follow the Cassidy's everyday progress via their live webcams here (prepare to spend a lot of time!): http://livestream.com/tinykittens/cassidy
I'm so happy that Cassidy met a fantastic group of people at Tiny Kittens Society. As I went through caring for special and special needs cats myself, I know how rewarding it is to see when the precious kitty blossoms. Give every special cat a chance to live a good life!
Do you have a special or special needs cat?
Submit a story for a chance to be featured on our cat blog or in the Ozzi Cat Magazine!
Have a special needs cat available for adoption? Post on our Facebook page!
xox Natalie
Ms Cat, Cat Mum, Editor-in-Chief at Ozzi Cat – Australian National Cat Magazine.
Special and Special Needs Cats Ambassador.
Share With Cat Parents and Cat Lovers!
Tagged Canada, Cassidy, feral, kitten, making a difference, prosthetic, rescue, special needs, Tiny Kittens Society, two-legged, wheelchair, wheels