Cat Massaging a Huge Bulldog and a Tiny Kitten. How Does the Dog Feel? Watch Cat Massage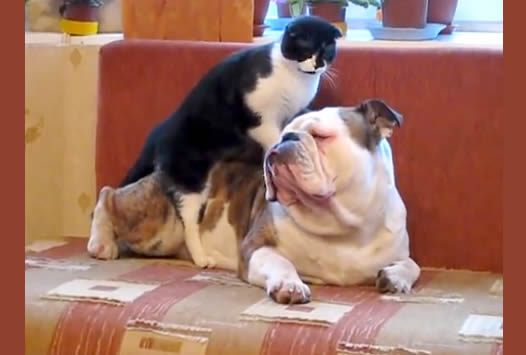 Cat Therapy Time! Cat lovers know how cats heal. Purring and massaging is one of cats' techniques.
Cats help to relax not only humans, but other pets too. Dogs and cats benefit from fantastic "working" cats providing a massage therapy.
Watch how a black and white kitty massages a huge bulldog. Do you think the dog enjoys that?
Mo the cat gives a massage to Barney the Bulldog
Daily ritual – Chinese massage: Puss the cat is massaging dog Captain
Cat massaging a fellow kitten. Are cats therapists?
Cat Massaging a Human!
Shoulder and lower back massages by Bubba the cat, almost a certified masseuse!
My cat is massaging me
Have you ever experienced a cat massage? How and when does your cat massage you? Share in comments below.
Share With Cat Parents and Cat Lovers!
Tagged black and white cat, bulldog, Cat Therapy Time, dog, kittens, massage, therapy, video