Alley Cat Cafe In Ballarat Victoria: Cat House Full Of Love! 22 Photos Sneak Peek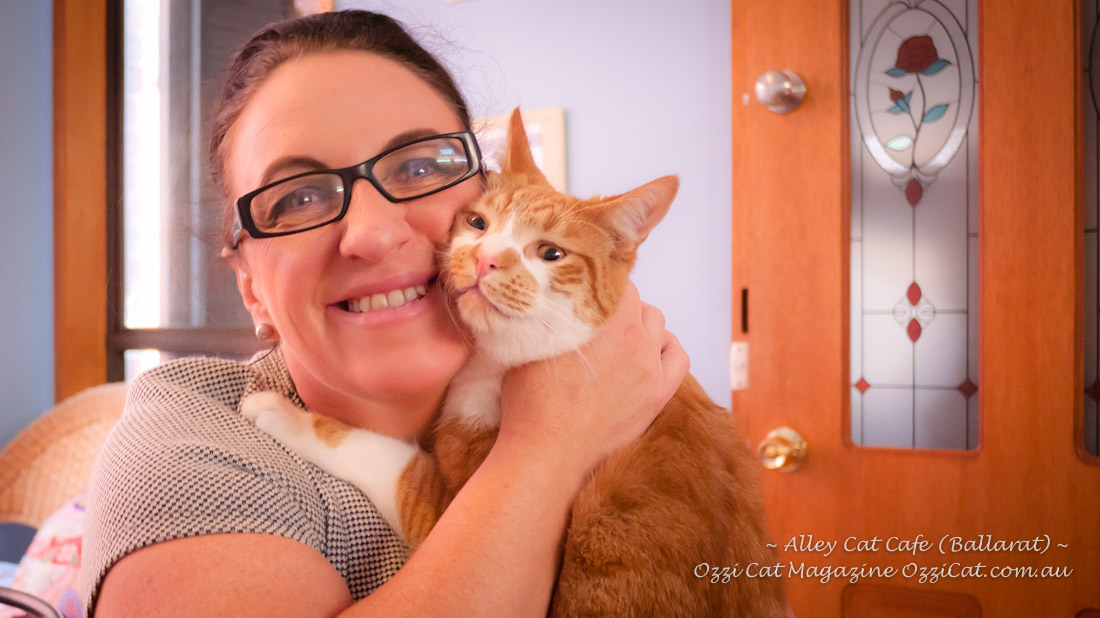 Looking for cat places to visit in Australia? Alley Cat Cafe in Ballarat is a must-visit place for all cat lovers! A house full of love for cats, Alley Cat Cafe is a truly amazing Cat House. Here is our photo sneak peek before the story goes out in the Ozzi Cat Magazine's Winter Issue #12! (Subscribe today to be among cat loving readers who will get it first!)
Our rainy Melbourne's day was magically swapped with a sunny day in Ballarat! We are very grateful to Tania, Chloe, and Sheryl for having us at the Alley Cat Cafe in Ballarat. We spent almost the whole day at this amazing cat house full of gorgeous cats and chatting with one of the awesome cat ladies I have the privilege to known.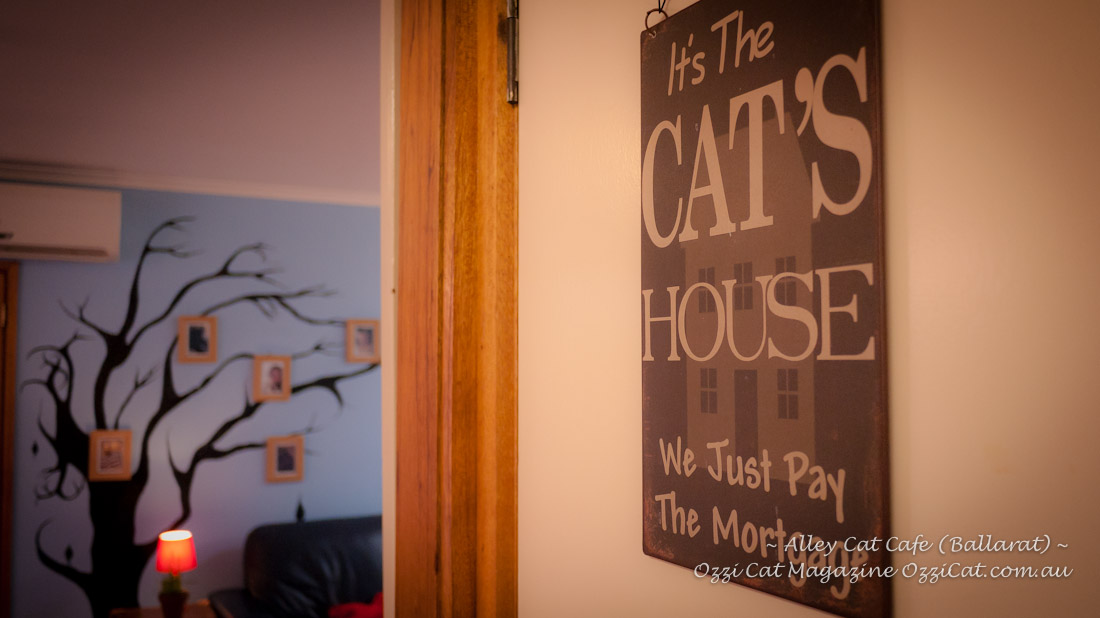 Time flies and you can never have enough of cats! Heartwarming stories and stories of a true life, these ladies are the most amazing people. Running a cat cafe, where you can eat yummy cat-themed cupcakes and drink a "cattachino" (Chloe makes cat faces on coffee!), caring for about ten cats (plus little kittens who they've just got into care), and giving back and helping the community – it was just mind blowing.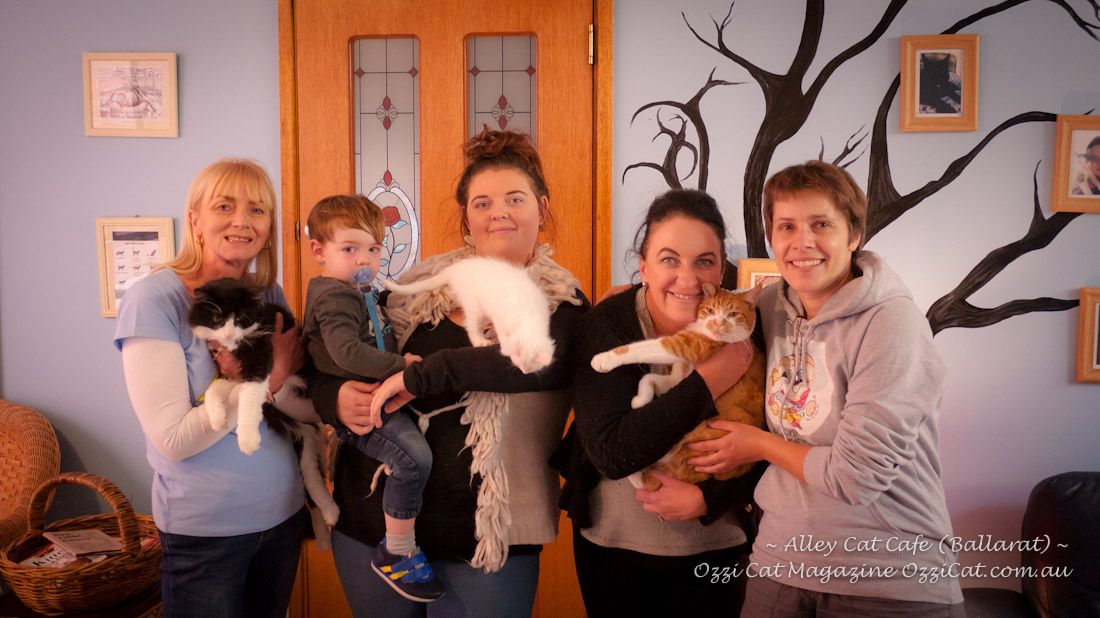 Today I want to give you a special photo sneak peek, just a few photographs from the Alley Cat Cafe so you get a feeling of the atmosphere there. We felt so loved, like we knew each other for a long time. Is was a family feeling. And it is a Cat House.
Listening to Tania about the future plans and hearing about what they do for people (for kids, for people with disabilities and others) I can confidently tell you, Alley Cat Cafe in Ballarat will be the most awesome cat place to visit in Victoria! Drop everything and come to visit them! Kids are welcome. See how to find them – below the photographs at the end of this post.
I can't wait to show you cat cafe's kitties (more photos are coming!).
Photo Sneak Peek: Resident Cats at Alley Cat Cafe
1. Gorgeous Tania with ginger ninja smoochie Spice: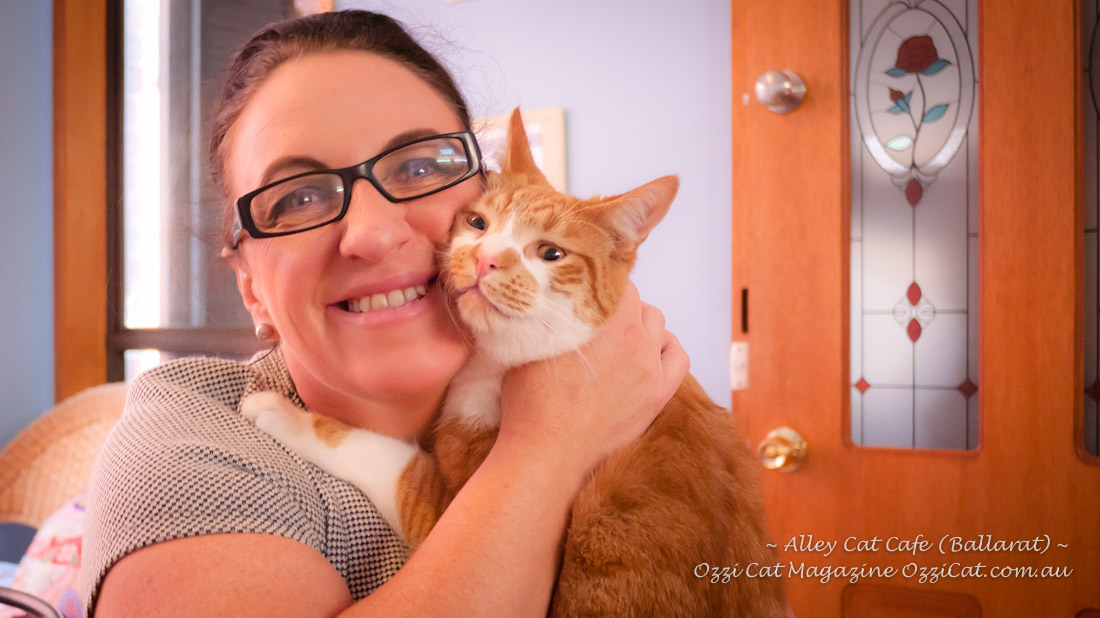 2. Amazing person and a cat lady Sharyl with gorgeous white cat Sugar: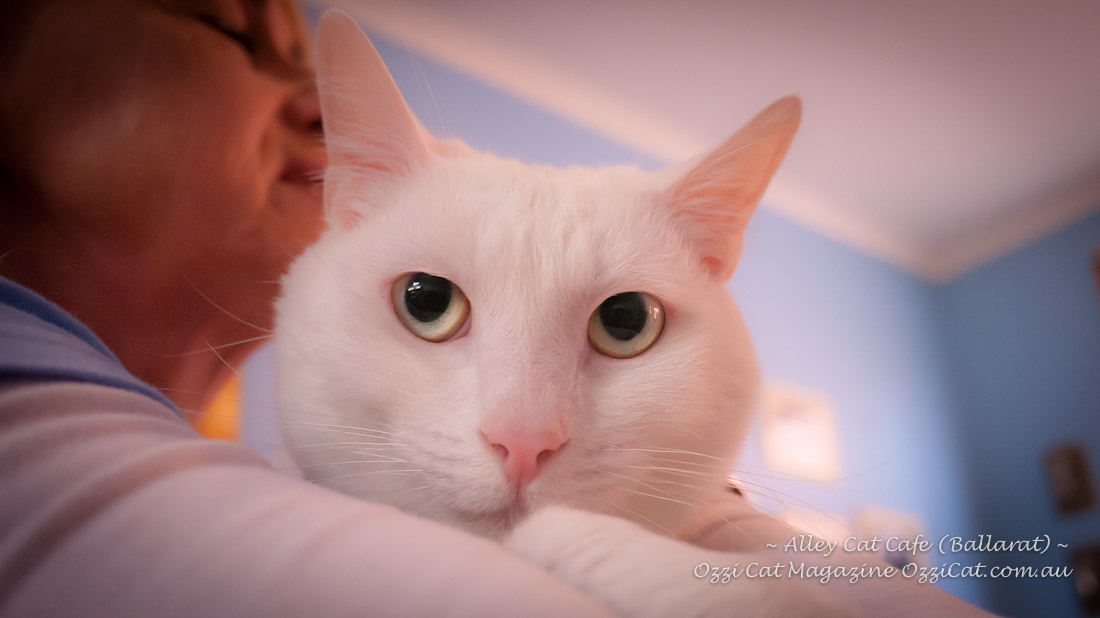 3. Tania with one of the kittens who are awaiting to join the cat family: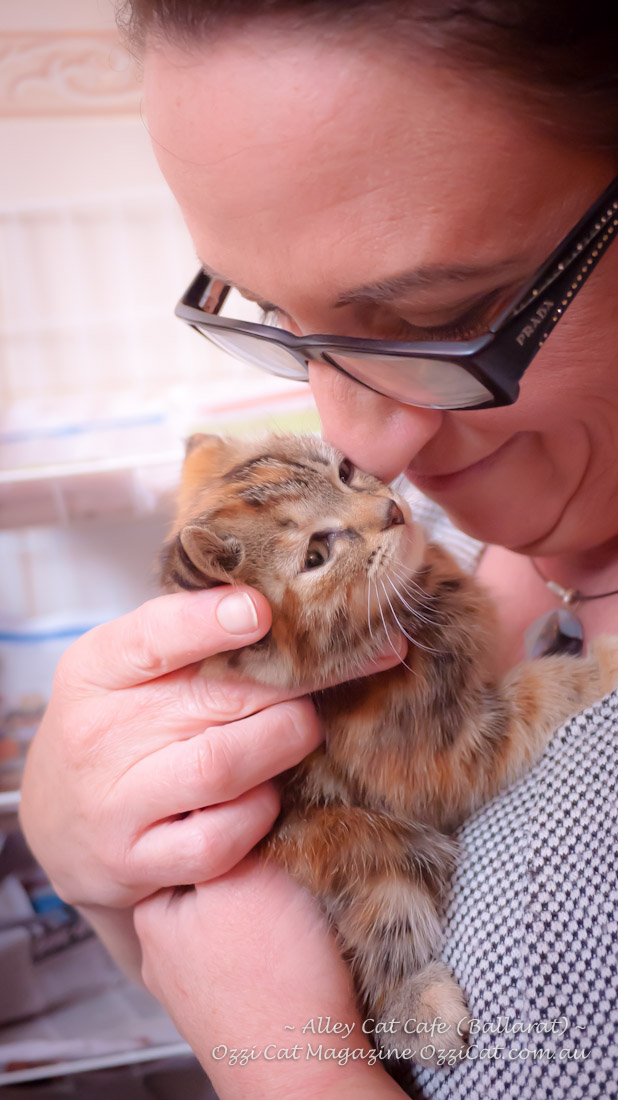 4. Gorgeous black cat – you know who rules the house: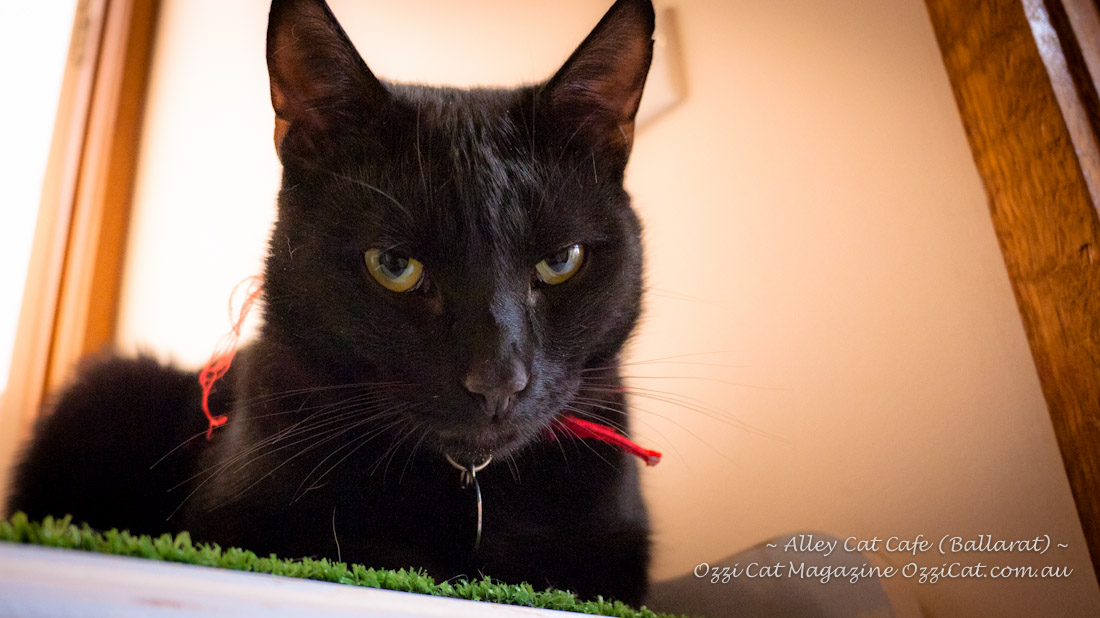 5. Sweet 4-year-old Princess, the oldest cat in the cat house: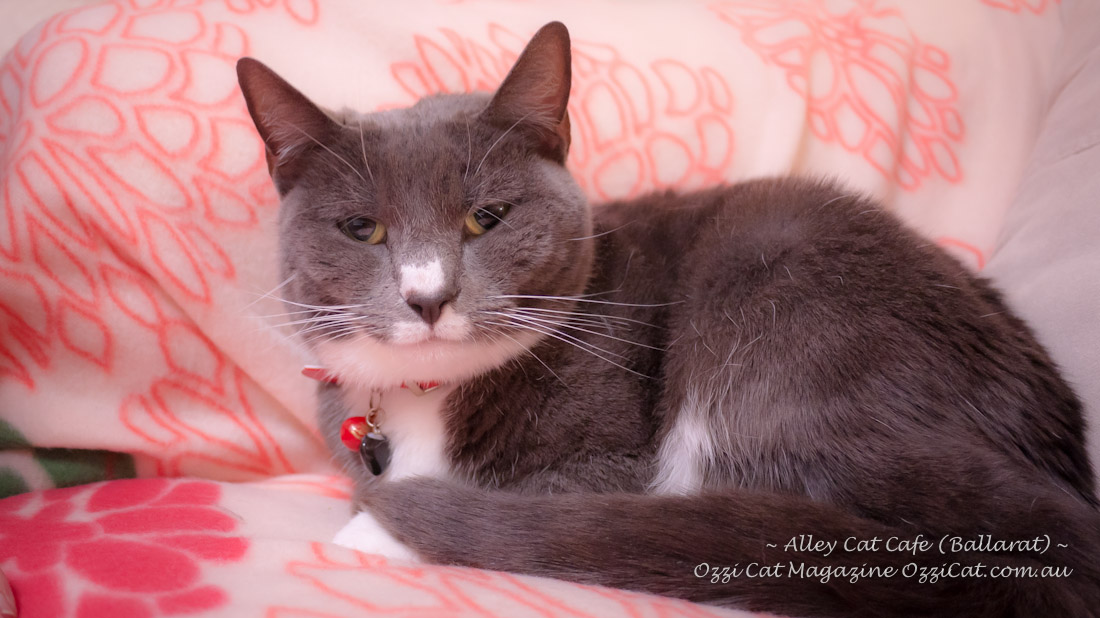 6. Ginger Spice knows how to pose to attract attention!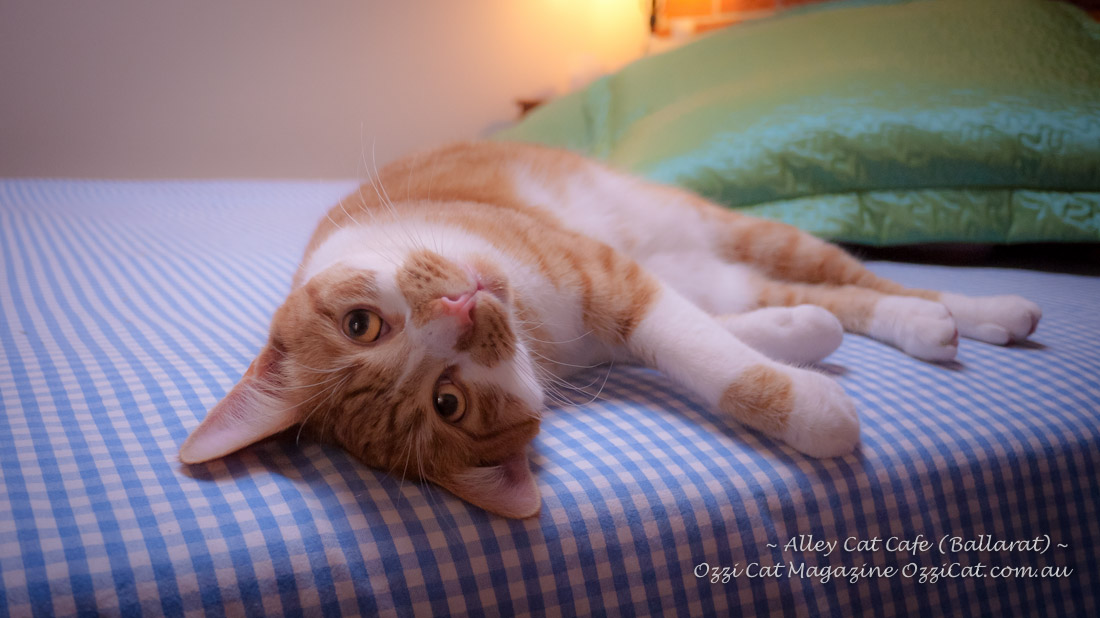 7. You might want to join the sweet bunch!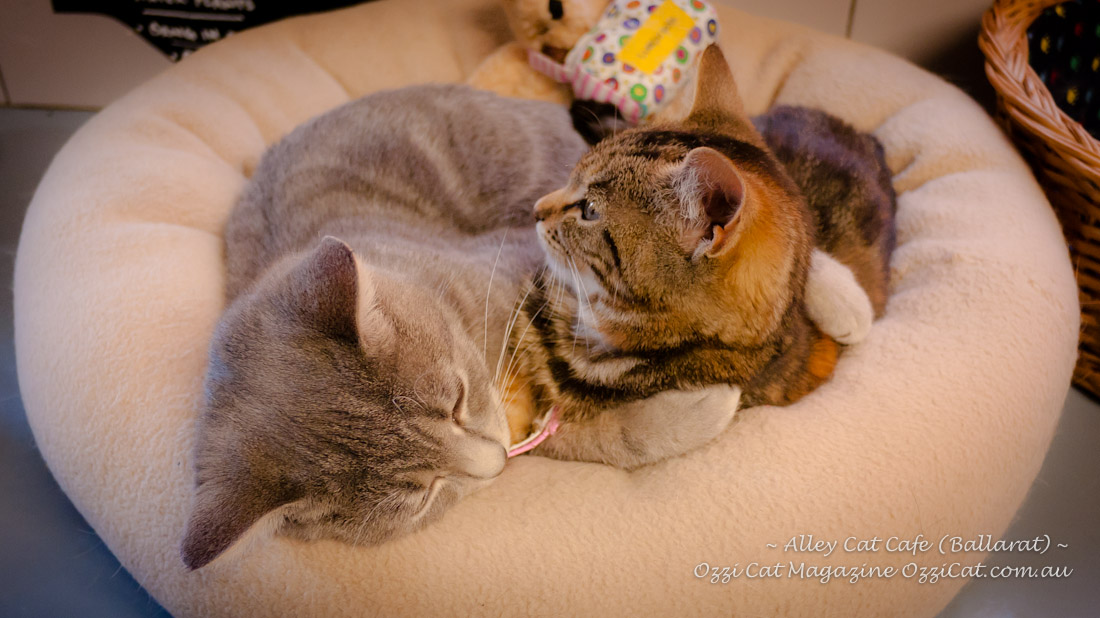 8. Gorgeous kitty coming out of his shell after a very traumatic previous life. The cat ladies of the Alley Cat Cafe have done a fantastic job! He now feels safe and he definitely has a much better environment than before.
9. One of rooms in the Cat House. It does feel like Home!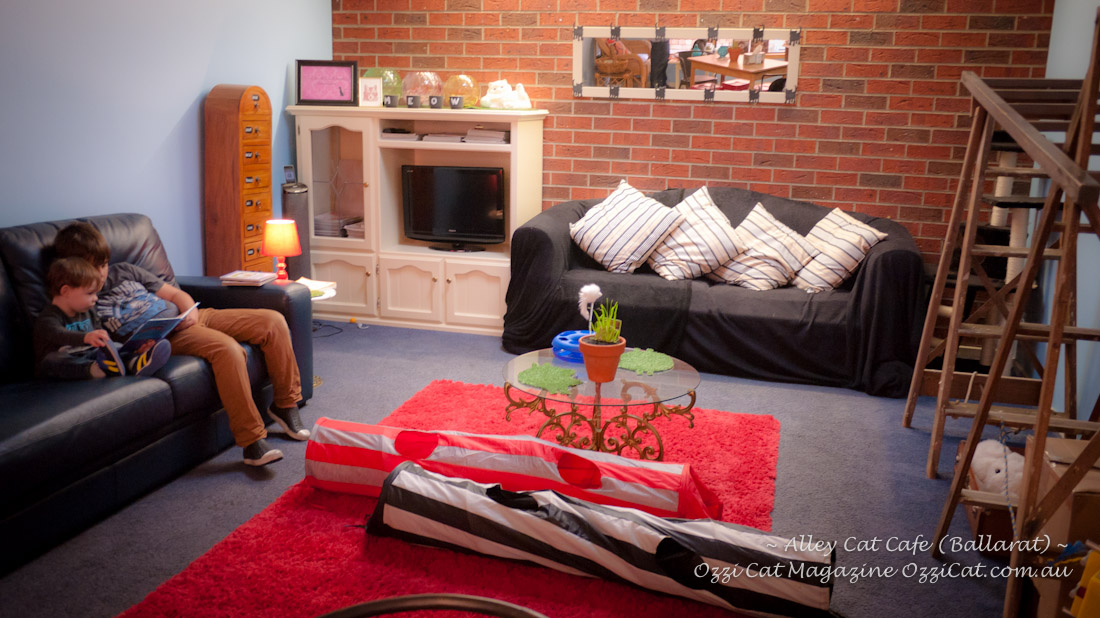 10. Gorgeous cat drawings by a local cat artist Elizabeth. And there is more for a cat loving soul to get as a souvenir!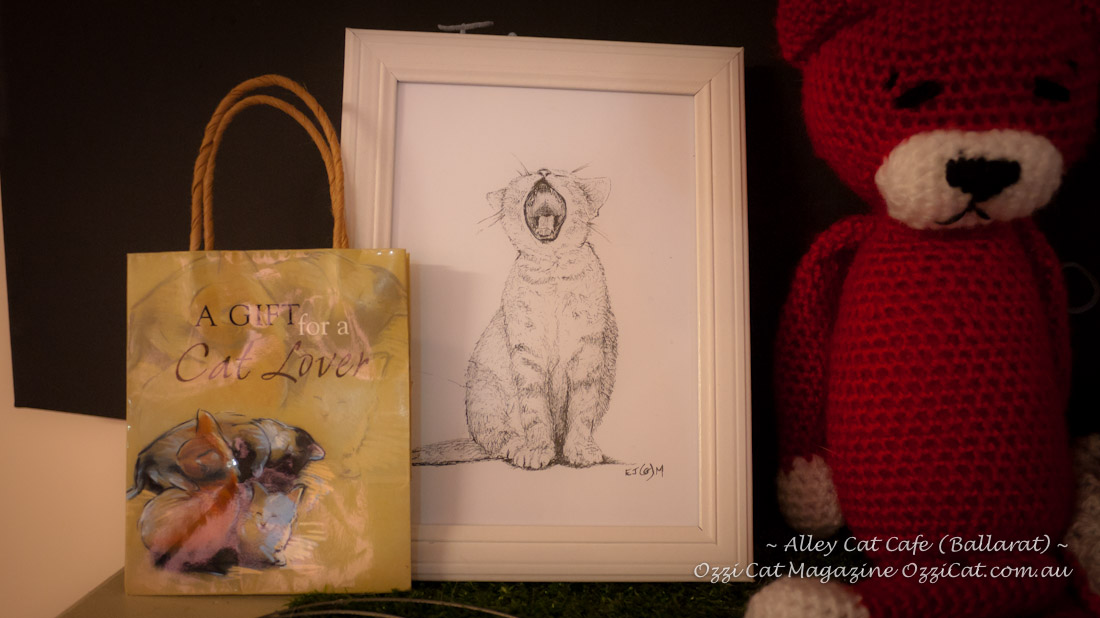 11. Mr Cat Alex and gorgeous Sugar at her favourite top spot: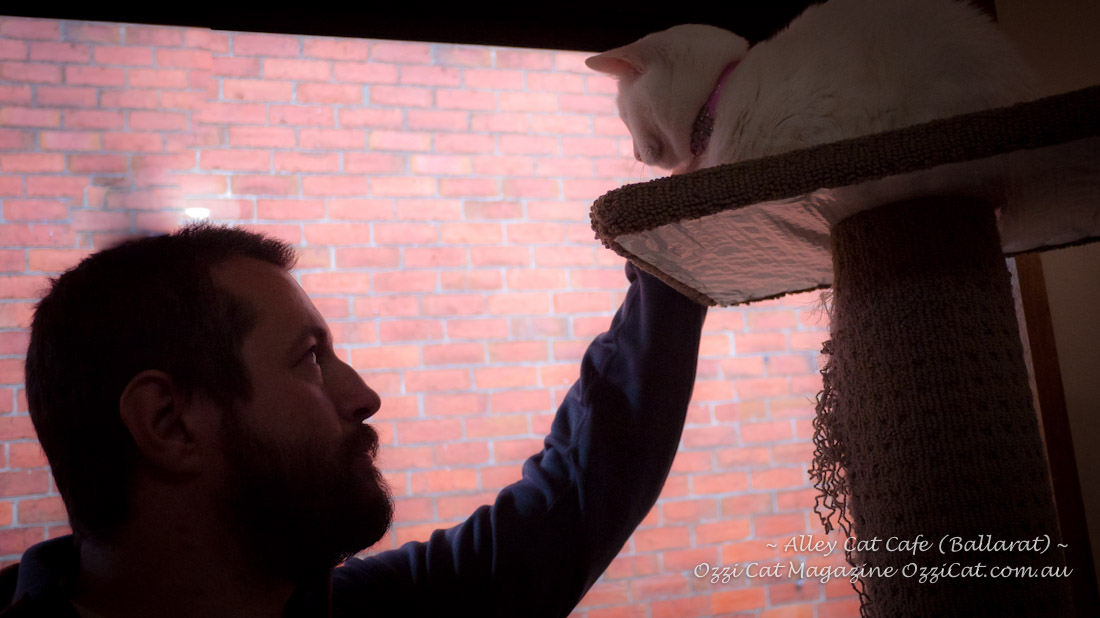 12. Amazing Chloe with a white kitten – Cat mum in all the beauty!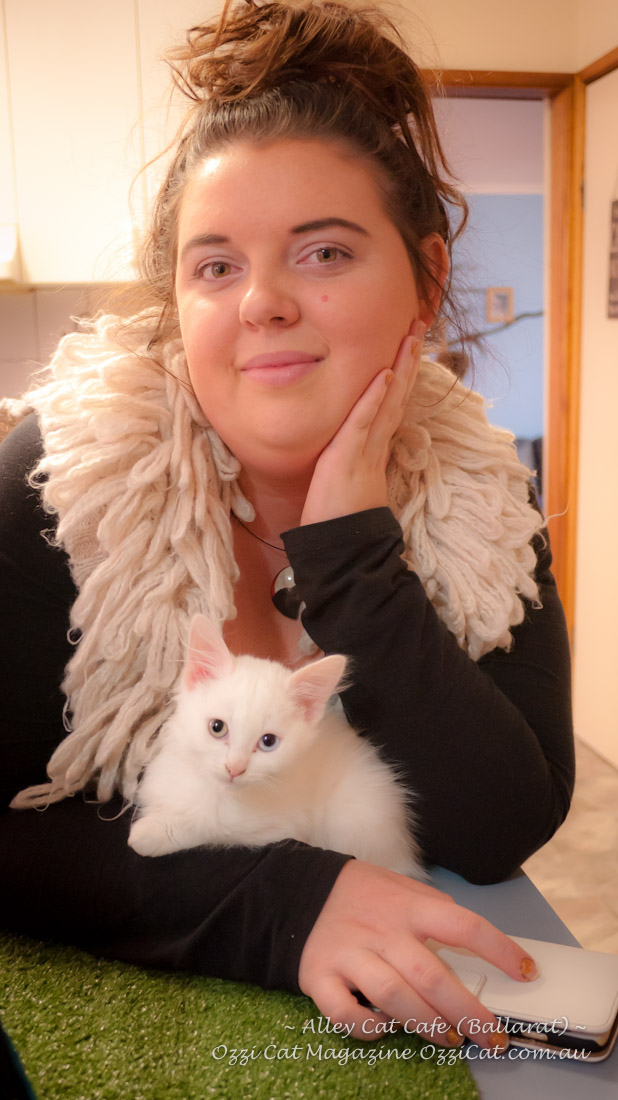 13. Spice showing cat love to Mr Cat Alex – That's what to expect from this gorgeous ginger star!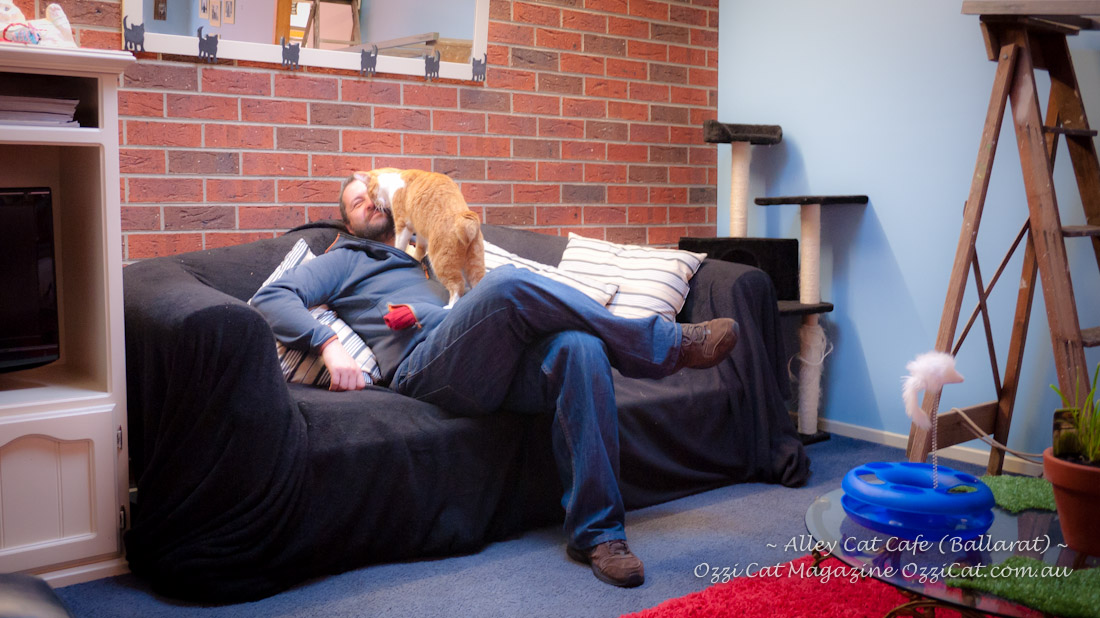 14. A cute little fur ball of love:
15. You can study cat behaviour and cat faces at the cat cafe!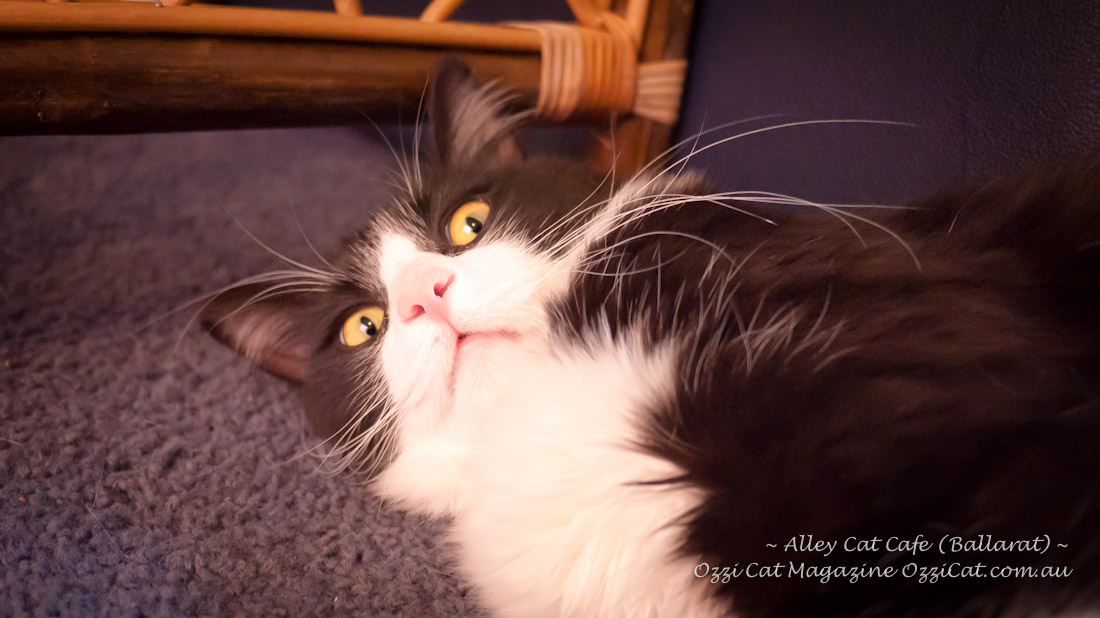 16. Amazing cat people together! Sheryl, Paddy (Patrick), Chloe, Tania, and Ms Cat Natalie. Thanks Mr Cat Alex for the photo.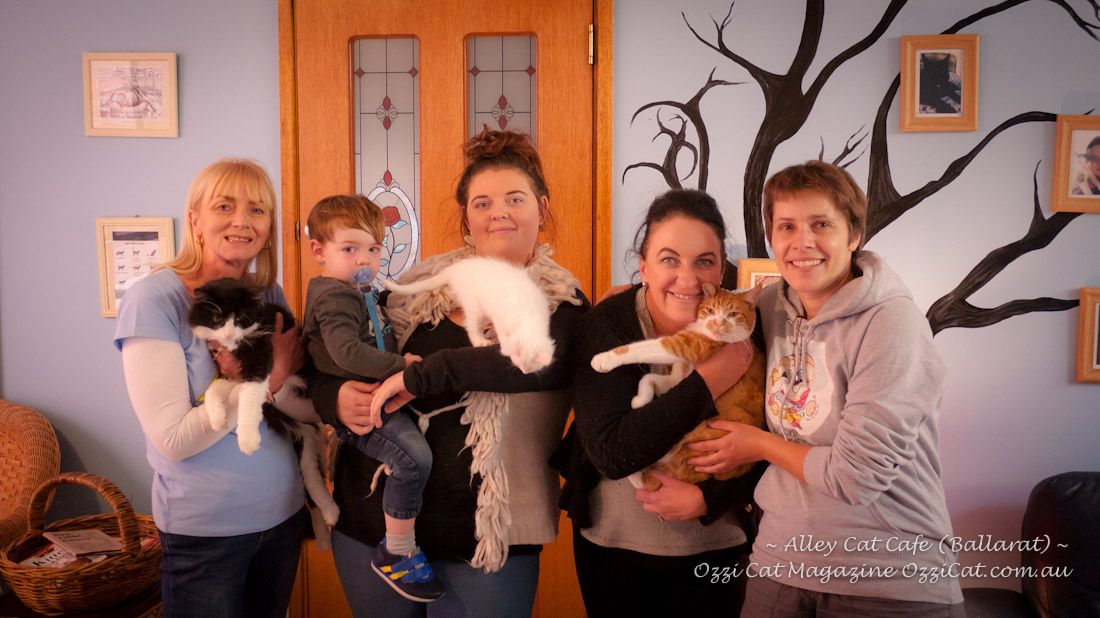 17. Chloe with her human and fur baby who always try to be together: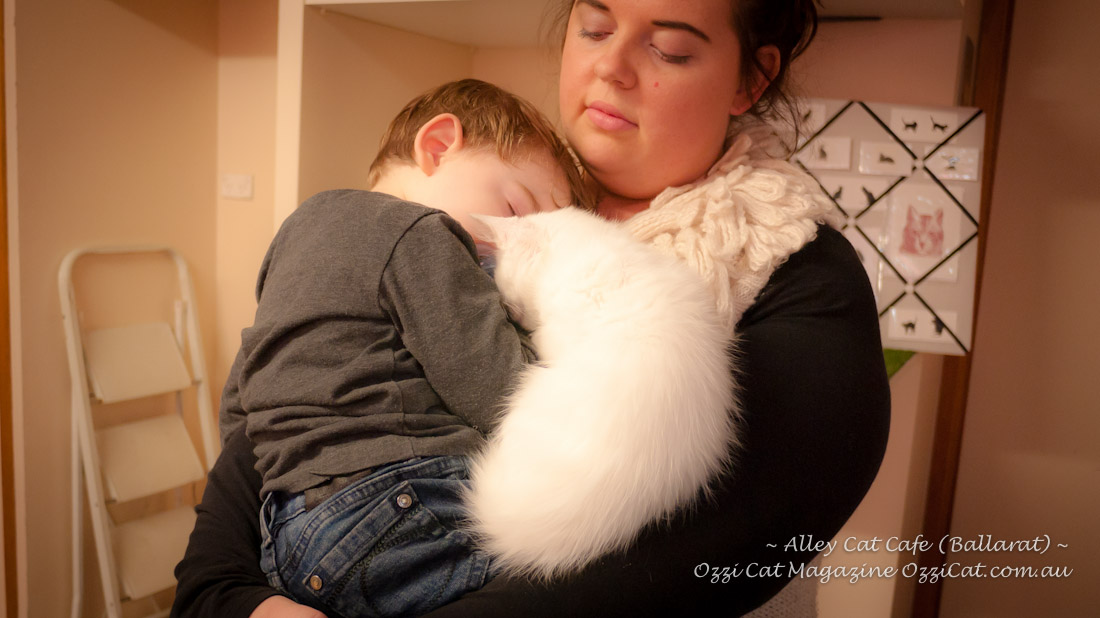 18. Family – this is how you feel when you visit the Alley Cat Cafe: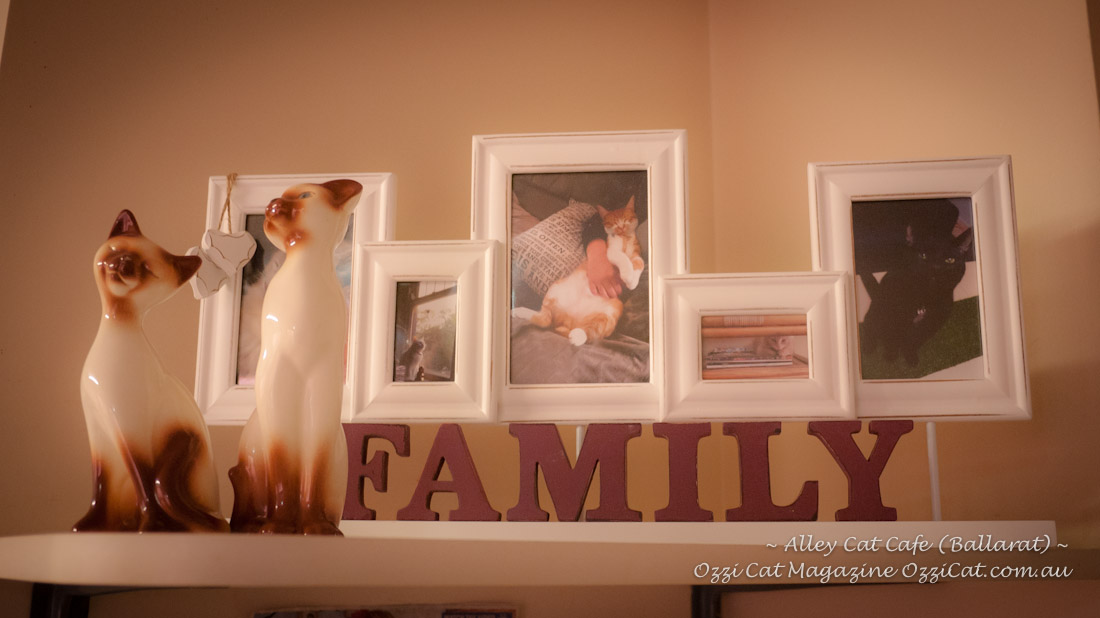 19. Kids and cats – they can be happy together: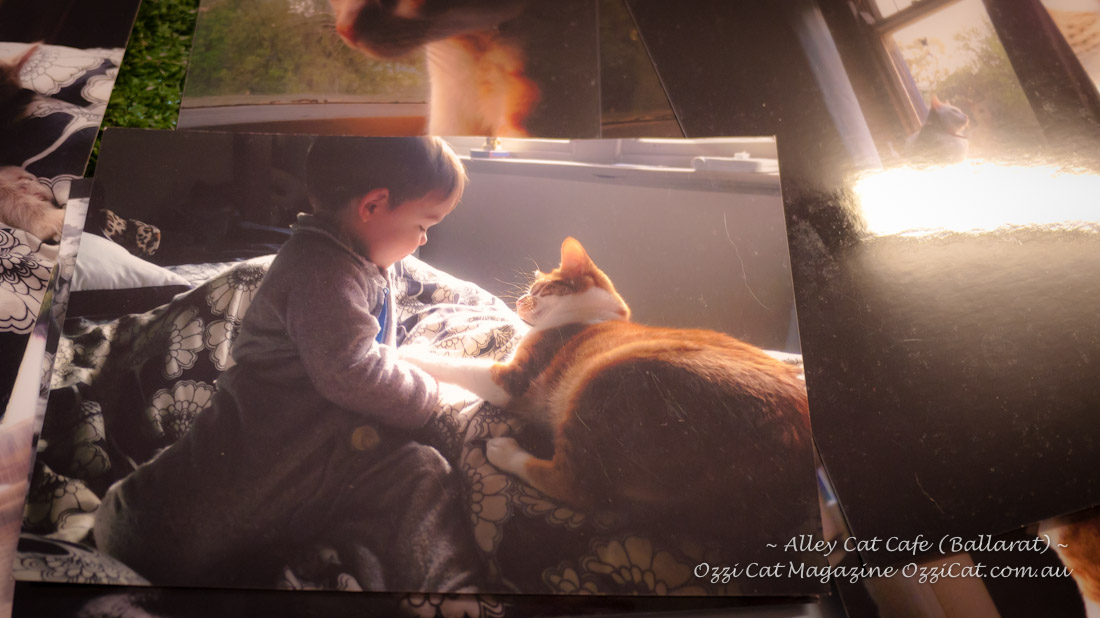 20. Somebody will be featured in the Ozzi Cat Magazine!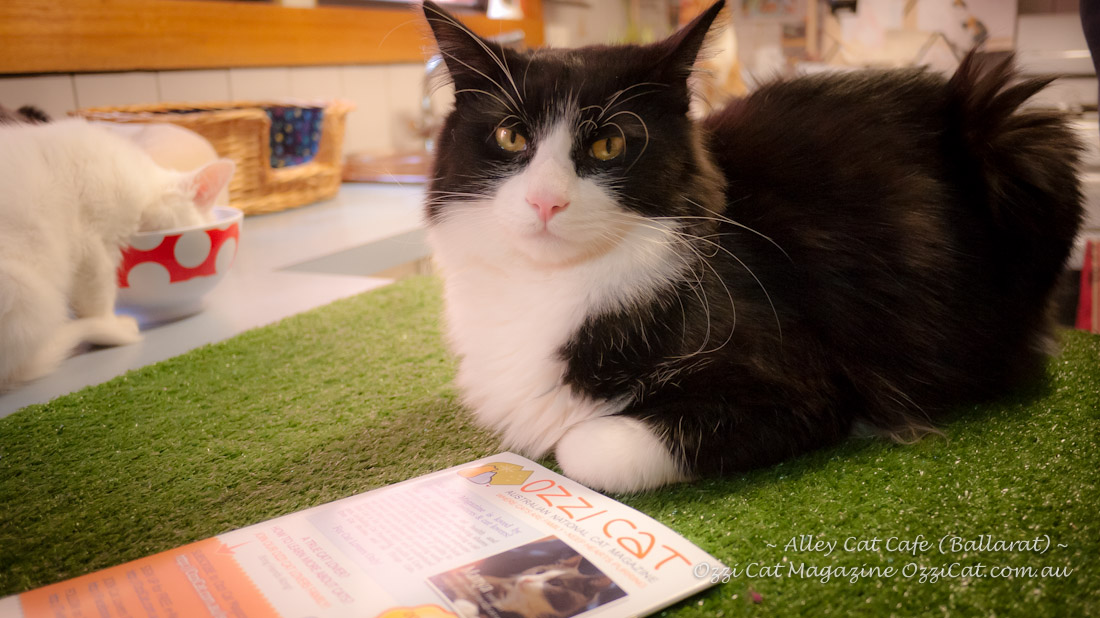 21. Cats know what to do when it comes to say goodbye!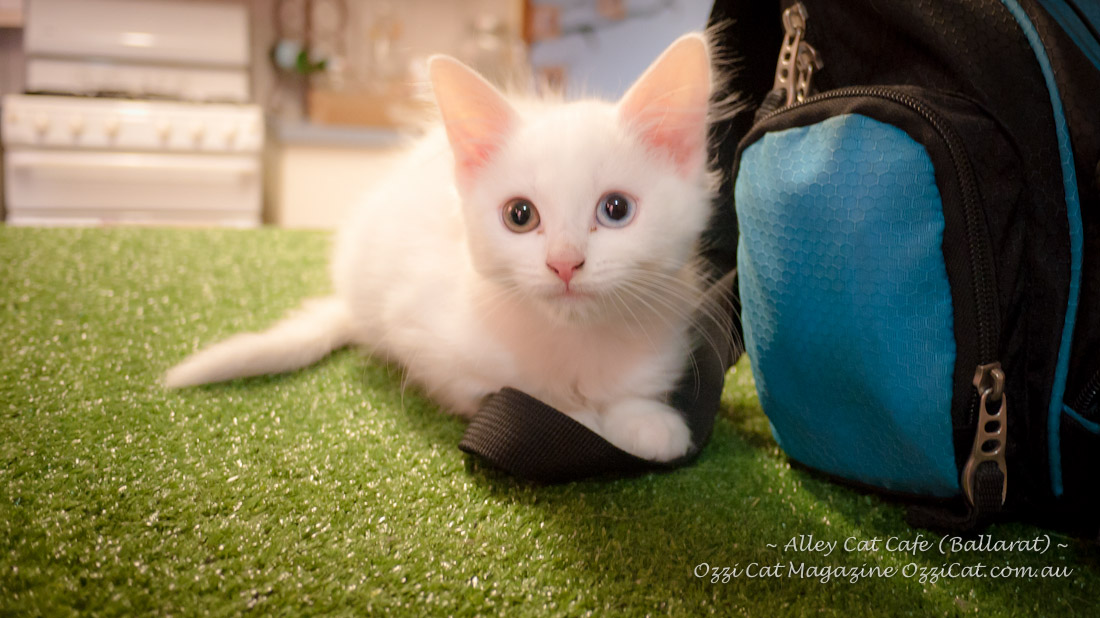 22. Come and feel yourself: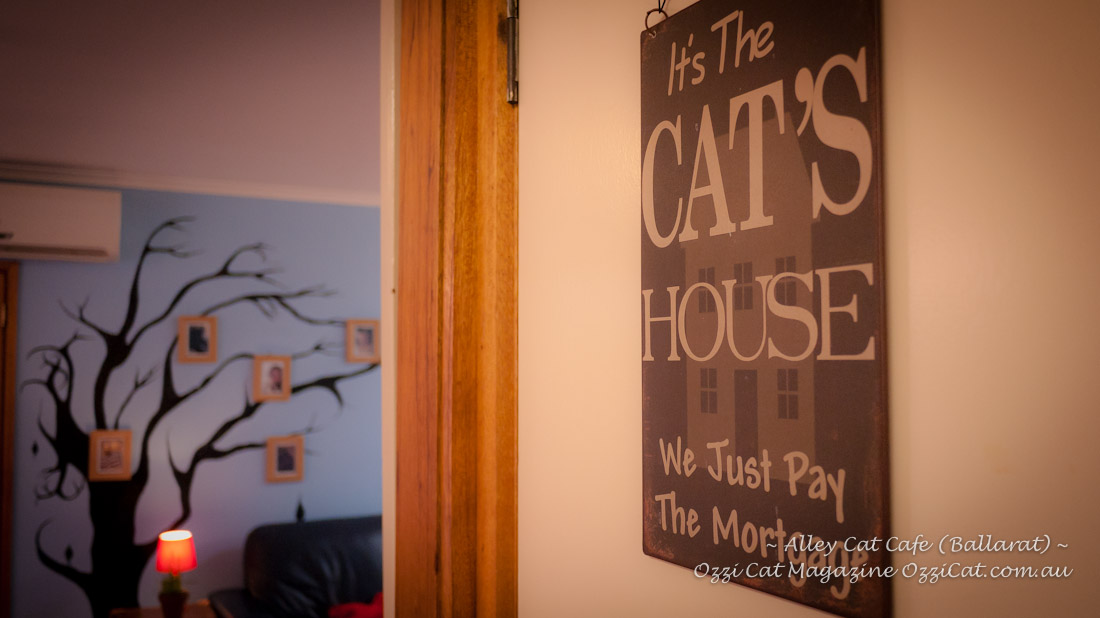 Alley Cat Cafe in Ballarat
I can't wait to come back to the Alley Cat Cafe in Ballarat, where you feel relaxed and forget about everything.
Pop in to grab a coffee (or chai latte!), a cupcake, and to relax among adorable cats and meet amazing cat ladies. Entry is by a gold coin donation, or bring cat food, litter, or something that you think cats might like.
Opening hours: Wed-Sun, 10-12pm and 2-4pm.
Address: 313 Lydiard Street North, Ballarat, Victoria
An easy drive from Melbourne and a very convenient location if you come by train from Melbourne or regional Victoria – just use the V/Line service from your place to the Ballarat Station. The cat cafe is in a short 300m walking distance and has also a bus stop nearby. Kids are welcome.
Alley Cat Cafe on Facebook
Please tell that you found about the Alley Cat Cafe via Ozzi Cat Magazine!
Subscribe to Ozzi Cat Magazine now – Don't miss the story in the Winter Issue #12!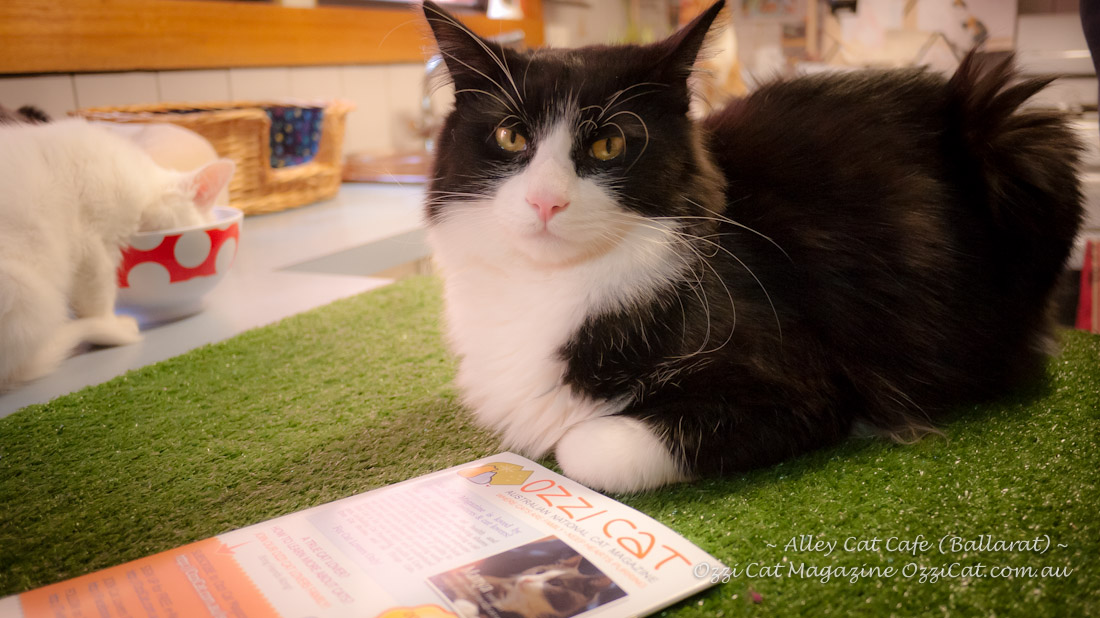 Share With Cat Parents and Cat Lovers!
Tagged Alley Cat Cafe, Australia, Ballarat, cat cafe, cat house, cat place, cats, getaway, kittens, relaxation, tourism, travel, Victoria