Giveaway: "Sandy's Kitty" and "Two Kitties" Handbag Key Finders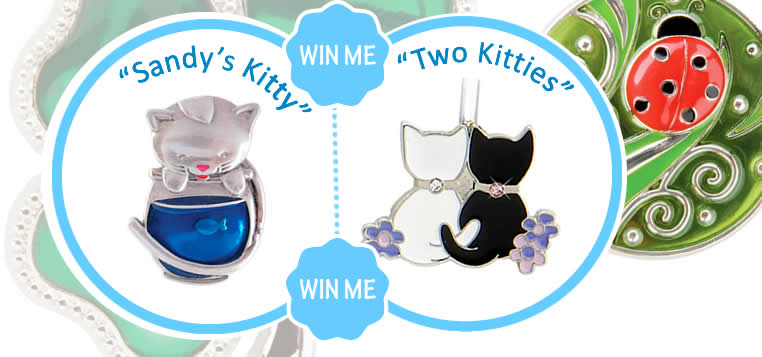 Do you often loose keys in your purse? I do it surprisingly often! Cheryl Cruff, the owner of the "Finders Keepers", shows you, a loyal Ozzi Cat reader, an elegant solution that helps you to never ever loose keys in your purse, ever! It's Key Finders. Read about them and WIN any of 2 cat themed Key Finders today.
What is Key Finders?
Key Finders is a nifty clip to help you find your keys. Finders Key Purse® is a simple solution to a common problem!
The Finders Key Purse is a decorative key clasp that hooks to the side of your handbag so you don't have to go digging for your keys. Hang your keys safely inside your handbag or backpack or sports bag etc. while decorating the outside with your favourite design and have your keys handy.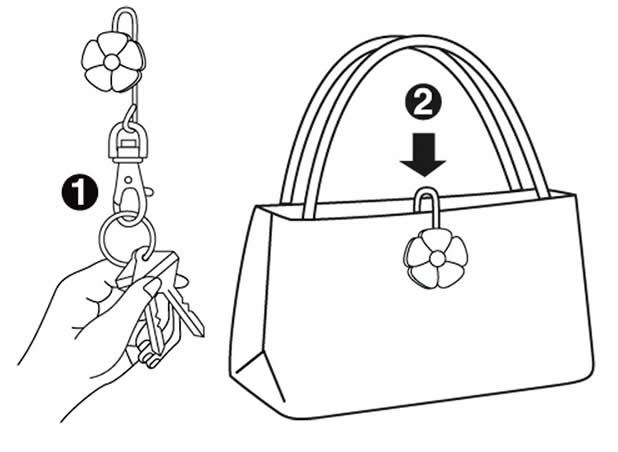 Jump to the Finders Keypers web-site to see dozens of styles to choose from. (Send a message to Cheryl saying that you read about the Key Finders in the Ozzi Cat Magazine!)
A Company That Makes a Difference
Cheryl, the owner of the "Finders Keepers", made a donation for cats in need. Ozzi Cat is pleased to pass the donation along with other proceeds from the Ozzi Cat Magazine Issue#3 to a selected cat rescue. Thank you Cheryl and your company for your help and support for cats in need! Every bit helps!

(Did you know you could easily support cats too? Purchase the annual subscription and a dollar from your copy will be automatically donated to a cat rescue and you will get the cat magazine delivered to your door. Purchase now.)

Cheryl adopted cats Tylo and Black Kitten from a shelter after her lovely 16 years old cat Moggey, once being a stray, passed away. It's a wonderful story of saving cat lives and how the family overcame challenges of their first days at home. Make sure you are getting Ozzi Cat free articles to get this one when it comes out.
WIN ME (2 Lucky Winners!): Win 1 of 2 Key Finders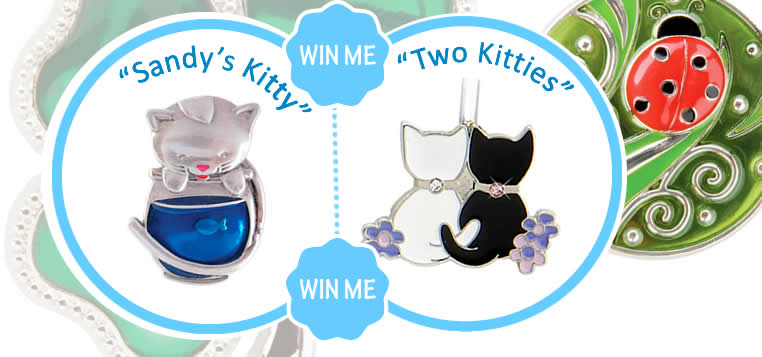 To win one of two Handbag Key Finders (RRP $12.95 each) for yourself or for somebody you care about and want to surprise:
Tell in comments:


Which one would you like to get? "Two Kitties" or "Sandy's Kitty"

Double your chance to win right now – buy the Ozzi Cat Magazine Issue #3. Why? Because when you buy the Ozzi Cat magazine you support cats in need (a dollar from your copy goes to a cat rescue), and we want to say Thank You for supporting them. So double your chance to win right now – buy Ozzi Cat mag Issue3 (or for more convenience – purchase the annual subscription so you are always the first to read it and it will be delivered to your door). (Yes, you still need to tell which cat themed Key Finders you would like to get.)

Entries are opened to everyone (Australian and international entries are welcome!). The winner will be chosen at random.

Hurry, this giveaway offer ends on APRIL 30.
Share With Cat Parents and Cat Lovers!
Tagged all things cats, cat-themed, giveaway, Key Finders, keys, kitten, purse