10 Christmas Tree Safety Tips for Cats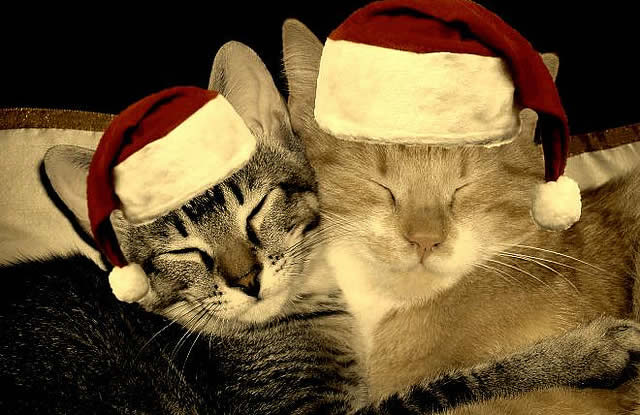 Everyone wants to enjoy the festive Christmas season. Everyone is happy when every one is safe. How to make Christmas safe for a cat?
Michelle asks: "Yes I need tips please. Our first Christmas with 2 cats… bought another small tree and decorations that we don't care if they wreck. But what works best for people?"
Here is 10 quick Christmas safety tips for cats.
Use nothing breakable or easy to swallow. Use wooden or soft ornaments.
Say NO to tinsel and curling ribbon. NO to anything string-like. At least use rope tinsel and wide ribbon.
Ensure a good solid base for the tree so it doesn't fall. Use duct tape to secure legs to an uncarpeted floor. On carpet – use heavy objects. Don't place the tree near furniture or shelves.
Tree in water? Aspirin added to water can be deadly for cats. Make the water inaccessible.
Artificial snow is toxic to cats.
Pine trees – avoid them losing needles (water the tree). Don't allow the cat chewing the needles.
Christmas lights – put up high or avoid, so cats don't chew them.
Cover other wires – put them into an empty paper roll, for example.
NO cats near candles.
Don't fire fireworks, don't use objects than make a loud noise, near cats.
Here is a personal advice on safe Christmas Tree for cats from cat owners of our Ozzi Cat Family on Facebook:
Steph: Don't have one
Rhonda: Don't use breakable ornaments
Add your advice on safe Christmas for cats in comments.
Share With Cat Parents and Cat Lovers!