Ozzi Cat – Australian National Cat Magazine – Issue 6 | SUMMER 2013
All Ozzi Cat Magazine Issues | Annual Subscription
$1 from each sold copy is donated
to cat rescues and cats in need. Nominate a cat rescue by adding a "Note to Seller" in the PayPal payment page (it will be below your shipping address).
Need help?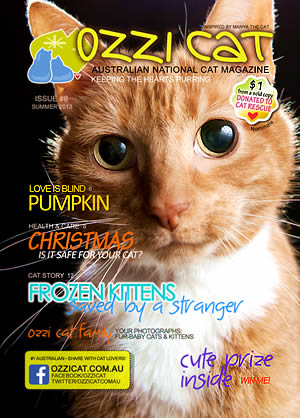 Ozzi Cat Magazine – Summer Issue 6
Ozzi Cat Magazine Issue #6 (Printed Copy) – (SOLD OUT)
For a Cat Lover! Cat stories, cat health and care, cat products and giveaways. Supports Australian cat rescue groups.
Ozzi Cat Magazine Issue #6 (Digital Copy)
(PDF, 12Mb) You will get a download link by email. You will need Adobe Reader to open the file.
CONTENTS
WIN CAT LOVER'S GIFT
ALL THINGS CAT
DID YOU KNOW?
COVER CAT
PUMPKIN, LOVE IS BLIND (by Miki Smith. Special thanks to PIXEL PET PHOTOGRAPHY)
HEALTH & CARE (by Laura Gartlan)
CHRISTMAS – MAKE IT SAFE FOR CAT
PHENOL – NOT CAT-FRIENDLY
BREED (by Lauren Hill, www.thepetshotel.com.au)
CHEETOH
MY CHEETOH CAT YUKI
CAT STORY
EVAN (by Emily and Shan)
HOLLY (by Sheryl Minns)
BUS STOP. WINTER. ABANDONED KITTENS FINDING HOME (by Paul Cram, www.paulcramactor.com)
CILLA THE CAT OF MY DREAM (by Ann Walker www.annwalkerbooks.com)
SPOTLIGHT INTERVIEW
LITTLE PAWS KITTEN RESCUE (Interview with Deborah Bright, Rescue President. Special thanks to Jenny)
OZZI CAT HERO
PAUL CRAM – MAKING A DIFFERENCE WITH UGLY SWEATERS (by Paul Cram, www.paulcramactor.com)
CAT RESCUE
PURR-FECT MATCH CAT ADOPTIONS
INGRID'S HAVEN
PETS HAVEN
UNWEANED KITTEN RESCUE
OZZI CAT FAMILY
CATS & CAT LOVERS SHOWCASE
YOUNG CAT ARTIST (Allira Walker)
PRODUCTS
FOR CATS & CAT LOVERS (Cat T-shirt, Cat Books, LUI Scratcher, FroliCat Dart)
DISCOUNT OFFERS (captainfeline.com, www.annwalkerbooks.com, pawsco.com.au)
Get Annual Subscription
Get an Annual Subscription to the Ozzi Cat Magazine to get the cat magazine automatically delivered to your door! Printed magazine and a Digital copy are available. They will be automatically delivered to you when a new issue of the Australian National Cat Magazine comes out.
Share With Cat Parents and Cat Lovers!
Tagged issue