Ozzi Cat Magazine: Issue #3
All Ozzi Cat Magazine Issues | Annual Subscription
$1 from each sold copy is donated
to cat rescues and cats in need. Nominate a cat rescue by adding a "Note to Seller" in the PayPal payment page (it will be below your shipping address).
Need help?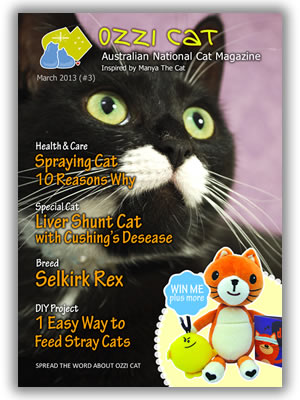 Thanks to everyone ordering Ozzi Cat Magazine Issue #3!
By ordering a cat mag you automatically participate in raising (at least)
$100
that will be donated to a cat rescue. (The previous
Ozzi Cat Magazine Issue #2
helped
2nd Chance Cat Rescue
. Keep making a difference!)
Get Your Copy
Ozzi Cat Magazine Issue #3 (Printed Copy)
Cat stories, cat health, and everything cats, for every cat lover!
Available Qty: 2
Ozzi Cat Magazine Issue #3 (Digital Copy)
(PDF, 9.5Mb) You will get a download link by email. You will need Adobe Reader to open the file.
Issue Preview
Order Your Copy
CONTENTS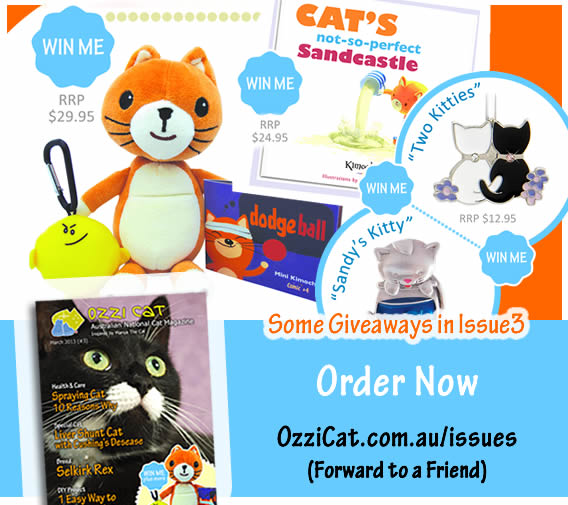 CUTENESS
Did You Know?
All Things Cats
COVER CAT
Capri & Meeko: A Cat Can Tell Many Stories In A Lifetime
HEALTH & CARE
Inappropriate Elimination. Why? What to Do?
BREED
Selkirk Rex
CAT STORY
Dalmatian Saves A Kitten
TAKE ME HOME
I'm Richie. Am I Your Man? Adopt & Take Me Home
SPECIAL NEEDS CAT
Pingu – The Liver Shunt Cat with Cushing's Desease
MAKING A DIFFERENCE
My Volunteering Experience
Kitten Adoptions Through Our Store
Human Grade Ventilator Saves Samson
DIY PROJECT
Stray Cat Feeder
Catio Enclosure
CAT ART
SPOTLIGHT
2nd Chance Cat Rescue
CAT RESCUE
Second Chance Animal Rescue
South Gippsland Animal Aid
Barnville Rescue Cats
Manx Rescue Australia
FOR YOU & KIDS
WIN ME: Kimochis
WIN ME: Key Finders
CAT PRODUCTS
Hi-Lo Dual Position Scratcher
REVIEW: Wee Kitty, Clumping Corn Litter
CAT BOOK CLUB
The Power of The Cat
Cat's Company
Pocket Cats
OZZI CAT
Alucard
Order Your Copy
CREDITS, CONTRIBUTORS, PARTNERS
Thank you dearly to everyone for your heartwarming stories, sharing your experience and giving Ozzi Cat's fellow cat lovers so much to enjoy!
SPECIAL OFFER to OZZI CAT MAGAZINE READERS
CAT RESCUE LIST
THANK YOU
Buy Now

About Australian National Cat Magazine – Ozzi Cat
Ozzi Cat is a local Australian cat magazine for all cat lovers and owners. If you love cats and have cats under your care – Ozzi Cat is for you! All your cat loving friends will enjoy having a copy of Ozzi Cat magazine! Ozzi Cat magazine talks about everything that makes you and your cat happy and features awesome people and organisations that make a difference in an Australian cat world!
Published in a compact A5 format which makes it so easy to take it with you anywhere you go (and to have a sneak peek at awesome cat and kitten photos to brighten your day!)
"Like" Ozzi Cat on Facebook, Follow on Twitter, Subscribe to a free email digest
Grab a couple of copies, for yourself and your friends!
Order Now
Subscription
Subscribe to the Printed or Digital Copy to automatically get the Australian cat magazine issues. (The subscription does not include this Issue.)
Share With Cat Parents and Cat Lovers!
Tagged buy, issue, magazine, order, Ozzi Cat Magazine, product, subscription