Ozzi Cat Magazine: Issue #2
All Ozzi Cat Magazine Issues | Annual Subscription
Shipment: All Orders are shipped weekly on a weekend by Australia Post.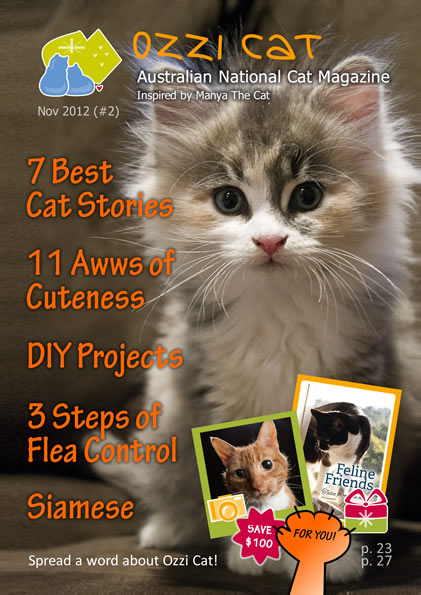 $1 from each sold copy is donated
to cat rescues and cats in need. Nominate a cat rescue by adding a "Note to Seller" in the PayPal payment page (it will be below your shipping address). Check the shipping address as the magazine will be sent there.
Questions? Need help?
Thanks to everyone who already ordered Ozzi Cat Magazine Issue #2!
Together we were able to donate
$50
from the Issue #2 copies. This was donated to
2nd Chance Cat Rescue
Keep making a difference!
Ozzi Cat Magazine Issue #2 (Printed Copy)
Cat stories, cat health, and everything cats, for every cat lover!
Available Qty: 16
Ozzi Cat Magazine Issue #2 (Digital Copy)
(PDF, 8Mb) You will get a download link by email. You will need Adobe Reader to open the file.
Contents
CUTENESS
All Things Cats
COVER CAT
Magic Story: Do Cat Fairies Exist?
HEALTH & CARE
3 Steps of Flea Control
7 Reasons to Spay/Neuter
BREED
Siamese
CAT STORY
Frisky Felix
How My Furbabies Found Me
My Cat Changed My World Furever!
Dahlia – My World
CAT RESCUE
2nd Chance Cat Rescue
Little Paws Kitten Rescue Association
Geelong Animal Welfare Society (GAWS)
Rescue Cat Art – Home of The Pawcasso Cats
NOTEBOOK
Useful Cat Contacts and Information
DIY PROJECT
Brain Stimulator
Cozy Bed
Plus a FREE custom hand drawn cat bookmark!
IN MEMORY OF
Briar
SPOTLIGHT
Pixel Pet Photography Plus an awesome offer, save $100!
KIDS & CATS
Awesome cat drawings
CAT BOOK CLUB
Feline Friends. Tales from the Heart Plus an awesome offer, 20-40% OFF!
OZZI CAT
Manya
Buy Now
Credits, Contributors, Partners
If you see yourself in the following list, you get a FREE Printed Copy! Congratulations!
Olya Tutova
Nathaniel Camarra
Laura Gartlan
Frank Zgoznik
Natalie Krotova
Dean, Sascha and Mielle Staley
Catherine and Emily Pegg
Tegan Ellis
Alexandra Plasier
Thank You
Buy Now
About Australian National Cat Magazine – Ozzi Cat
Ozzi Cat is a local Australian cat magazine for all cat lovers and owners. If you love cats and have cats under your care – Ozzi Cat is for you! All your cat loving friends will enjoy having a copy of Ozzi Cat magazine! Ozzi Cat magazine talks about everything that makes you and your cat happy and features awesome people and organisations that make a difference in an Australian cat world!
Published in a compact A5 format which makes it so easy to take it with you anywhere you go (and to have a sneak peek at awesome cat and kitten photos to brighten your day!)
"Like" Ozzi Cat on Facebook, Follow on Twitter, Subscribe to a free email digest
Grab a couple of copies, for yourself and your friends!
Buy Now
Subscription
Subscribe to the Printed or Digital Copy to automatically get the Australian cat magazine issues. (The subscription does not include this Issue.)
Share With Cat Parents and Cat Lovers!
Tagged buy, issue, magazine, order, Ozzi Cat Magazine, product