7 Cat Puzzle Slow Feeders: Make Cat Lose Weight (Product Review)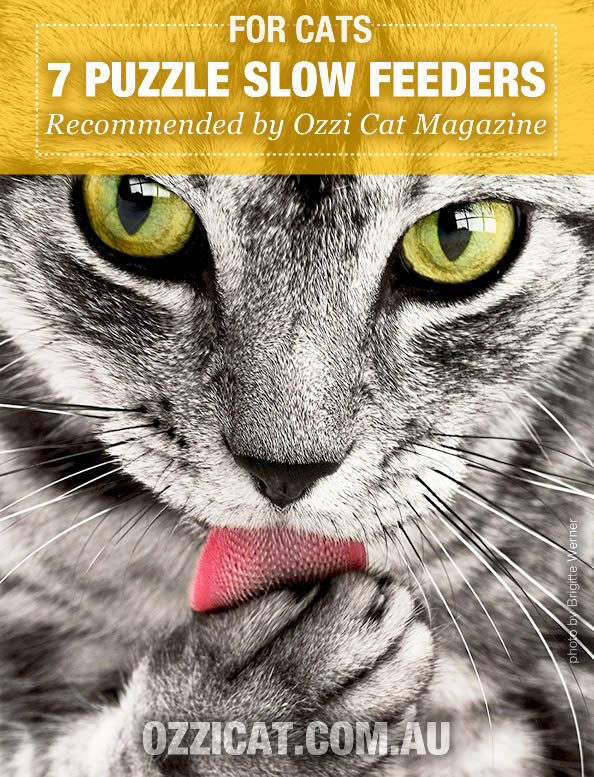 Are you looking for a puzzle or a slow feeder for cats? Is you cat bored and has put on weight?
If your cat is overweight, obese, or gaining extra weight, if she needs a play stimulation and life enrichment, if your cat vomits right after eating (and it's not due to a medical reason), then your cat might benefit from using a slow feeder or a puzzle feeder. Slow feeding helps cats lose weight, keeps them entertained, prevents from throwing up after eating too fast, and enriches the cats' indoor life.
Here are seven puzzle slow feeders for cats that I personally recommend (with safety warnings!). Tested by me, a cat mum, so you could buy a puzzle feeder right now.
Enrich your cat's life and improve cat's weight with a slow feeder. Send your review and personal tips on slow feeding and cat puzzle feeders, so other cat parents could learn from you. Your review might get published in the Ozzi Cat Magazine.
Slow Feeding: Food Puzzle Feeders Tested By Cats
Puzzle feeders reviewed with feedback and videos:
Catit: Cat Treat Ball
PetSafe: SlimCat Interactive Feeder Cat Toy
PetSafe: Egg-Cersizer
TRIXIE: Tunnel Self Feeder
Pioneer Pet: Tiger Diner Bowl
Northmate: CATCH
(Not recommended for dry kibbles, but can be used for wet food) Silicone Slow Eating Feeder
1. Catit: Cat Treat Ball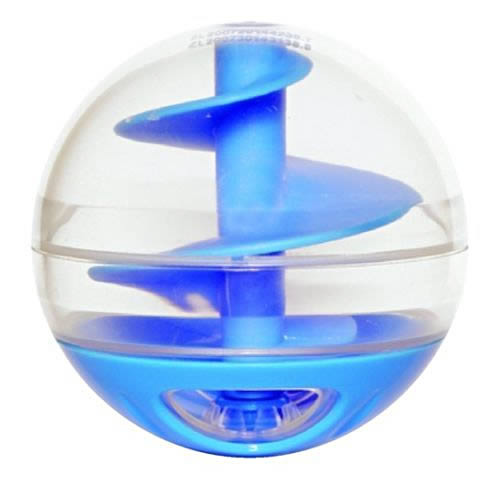 Cat Treat Ball by Catit is a treat dispenser and a cat toy in one. It's a plastic ball with a rotating top part. It has two openings (holes). You put food or treats into the ball through the opening. Then you can turn the lid to make the opening larger or smaller (a smaller opening allow less treats to drop out). The cat pushes the ball and the kibbles spill out.
At first, a cat might not know how to use the treat dispenser. Show the cat how treats drop out of the holes by rotating the ball. Let the cat eat the treat, pat the cat, and say encouraging words. You can put the dispenser ball close to the cat's paw and slightly push the ball with your finger, so the kibbles drop on the floor.
Here is how Cat Treat Ball works for cats:
Things you need to know:
SAFETY WARNING! Be careful with the rotating lid! I recommend not to rotate it any more, once you make the opening wide enough to put the food in. One Catit ball cracked inside right where the rotating mechanism is. A piece of cracked plastic got into the ball and mixed with food. I was lucky to spot it on time. I was concerned about this. I bought another Catit ball and just do not twist the top of the ball to avoid the potentially broken plastic parts.
Noise. When the ball rotates on a smooth floor, it can be too noisy, if the cat decides to play with the ball for a long time. Don't leave the ball accessible for cats during the night, as the noise might wake you up.
BUY THIS CAT FEEDER HERE →
2. PetSafe: SlimCat Interactive Feeder Cat Toy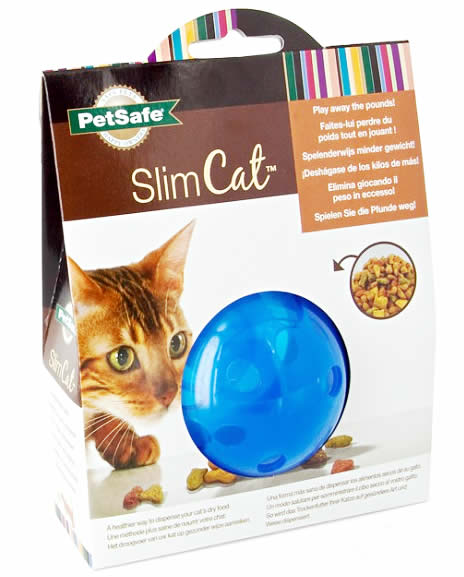 SlimCat is an interactive feeder cat toy. It allows two ways of filling the ball with treats. You can use the openings located around the ball or screw off the bottom lid and pour dry food inside.
This food dispenser has quite a few openings. Using a special clutch on the side, you can adjust how wide they are.
Here is how SlimCat feeder works for cats:
Things you need to know:
Before re-adjusting the openings, remember to pull down the clutch on the dispenser's side.
If you put dry food via the bottom lid, it can drop off from the openings straight away. What I do is after filling with food, I close the lid and immediately turn the ball upside down. This way the kibbles stay inside without dropping off the openings.
BUY THIS CAT FEEDER HERE →
3. PetSafe: Egg-Cersizer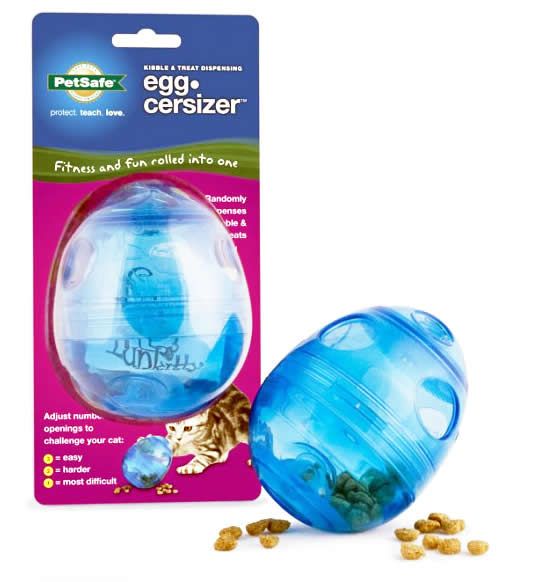 Egg-Cersizer is an egg-shaped cat feeding toy. Thanks to its egg-shape, most of the time this feeder toy rolls and stays near the place where you gave it to the cat. Unlike round-shaped feeder toys, this one is easier to locate.
You screw the bottom off, put food in, and screw on. You can adjust the size of openings by rotating the top part.
Here is how Egg-Cersizer works for cats:
Things you need to know:
This one is one of the easiest feeder toys to refill.
Breadcrumbs-like bits of dry food might get caught between the moving parts of the feeder's top. The breadcrumbs won't be an issue, if you rotate the top part once (to set up the desired size of the opening) and then don't rotate it anymore.
BUY THIS CAT FEEDER HERE →
4. TRIXIE: Tunnel Self Feeder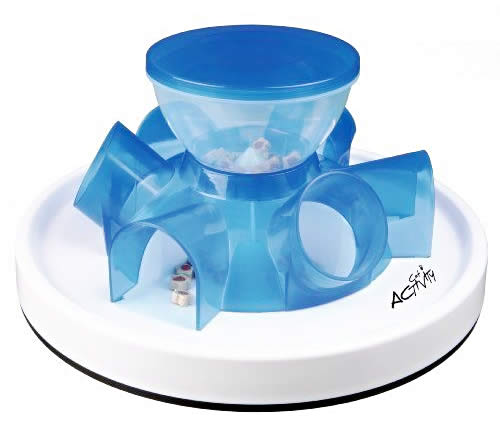 This self feeder has six tunnels, each is either looking up or orientated horizontally. A cat needs to move around to find a tunnel with kibbles inside.
You can drop food into the tunnels or fill the feeder using the top plastic funnel-container. The funnel has a lid which you can screw on – this is handy if you want to store more food and don't want cats to get it through the top. It will also keep kibbles fresh. By rotating the top container (by using a mechanism at the bottom of the feeder), you can make the openings between the container funnel and the tunnels larger or narrower. This controls how much food goes into the tunnels.
Here is how Tunnel Self Feeder works for cats:
Things you need to know:
The feeder is made of hard plastic and is washable. It's easy to wash. You might have a difficulty of getting very small leftover bits of kibbles from the corners inside the tunnels. To wash them out, just use a strong flow of water.
Cats, who mastered pulling food out of this tunnel feeder, can become lazy over time – they will pull out lots of food at once. If this happens, put less kibbles or use another feeder type for some time.
Elderly cats with joint problems might find this feeder attractive and prefer it to other dispensers.
BUY THIS CAT FEEDER HERE →
5. Pioneer Pet: Tiger Diner Bowl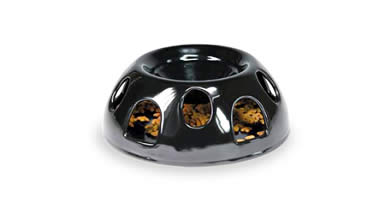 This portion control food dish is a heavy ceramic upside-down cat feeding bowl with openings on all sides and at the top. The top looks like a funnel with a hole. This helps to easily fill in the bowl with dry food. The cat uses their paw to capture food. Some cats gets too skilled in that and can "catch" lots of kibbles from the bowl in one go.
Here is how Tiger Diner works for cats:
Things you need to know:
If your cat masters her skill in eating from a Tiger Diner bowl, she will "catch" lots of kibble fast. The cat might end up of just laying down and lazily eating all the "caught" kibbles. If this happens, place less kibbles into the bowl or feed the cat using a different slow feeder type to enrich the experience and to slow the cat down.
Tiger Diner bowl is made of a ceramic and is easy to wash. You might not be able to push your hand inside, but you can use a bottle cleaning tool, if needed.
Tiger Diner bowl is heavy, which I love! It works well – the bowl does not move when cats use it.
BUY THIS CAT FEEDER HERE →
6. Northmate: CATCH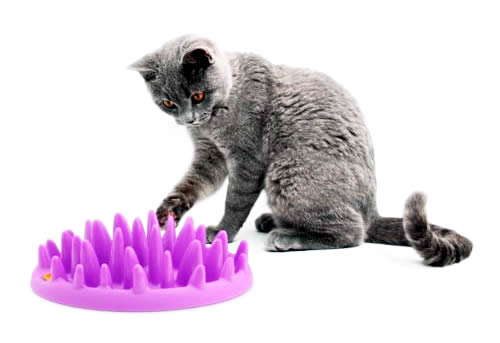 CATCH by Northmate is an interactive feeder for cats. You scatter food across its hard plastic spikes. The bottom has anti-slippery feet. I only saw this feeder in purple and recently found an explanation to that: "The beautiful purple color reflects the majestic nature of the cat", says Northmate.
CATCH has en elevated border, so you can potentially use it for wet food too. Although, I can't imagine how a cat would get wet food out of it. If you try, let me know how it went.
Here is how CATCH works for cats:
Things you need to know:
Some cats might not like pushing their paws into narrow spaces or they have paws too large for the space between spikes. To encourage the cat to eat, you might need to put a larger amount of kibbles into the middle (it raises the food level) or closer to the feeder sides.
The spikes have a round top and are safe to touch with a paw.
Some cats can leave a mess around this interactive feeder, if they prefer to crunch kibbles. You can place the feeder on a non-slippery non-smooth surface or in a large pizza box, so it's easy to clean the mess.
BUY THIS CAT FEEDER HERE →
7. Silicone Slow Eating Feeder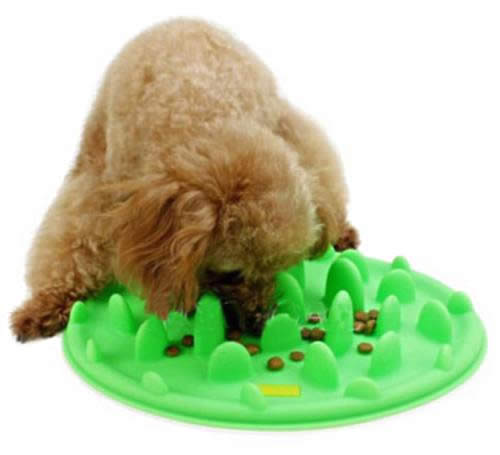 This slow eating feeder is made of soft silicone. Here is why I don't recommend it for feeding dry food, based on my personal experience:
First, I didn't like the smell of it. It smelled like rubber. A dish a cat eats from should have no artificial smells. The silicon feeder had smelled for a long time, even after several washes.
More importantly, this feeder will be less efficient than other puzzle feeders and won't work well for cats, as the distance between spikes are too large. My cats could literally "walk into the feeder" to eat kibbles. This puzzle feeder had no effect on slowing the cats down. The cat's feeding experience was the same as when I drop kibbles on the floor. This slow feeder probably works best for dogs, who have much larger paws than cats.
You can use this soft silicone feeder for feeding wet food. (Although, the smell would be my concern.)
How to use it for wet food? Divide the cat's usual portion into several smaller ones and disperse the smaller bits in-between the feeder's spikes. As the spikes are soft and have a large distance between them, it should be easy and safe for the cat to move her head between them to gather wet food.
If your cat does not use this feeder, you can always give it away to a person who has puppies. It should work well for them.
If you want to try it, buy it here. Send me your review of how it worked for your cat.
How to Choose Which Cat Food Puzzle Slow Feeder To Buy?
You might want to buy the recommended slow feeders all at once.
What I recommend is:
If currently your cat eats only from cat bowls, buy one or two puzzle feeders to start with. For example, get the "Catit: Cat Treat Ball" and/or "TRIXIE: Tunnel Self Feeder".
Let your cat use it for some time. (Feed from the bowl and from the feeder. Slowly reduce the food amount in the bowl and increase the number of kibbles in the feeder, so at the end your cat eats only from the slow feeder.)
Buy slow feeders that differ in how the cat should interact with each. For example: Get a slow feeding ball and a tunnel self feeder.
Buy a slow feeder for your cat and send your honest personal review (It might appear in the Ozzi Cat Magazine!)
xox Natalie
Ms Cat, Cat Mum, Editor-in-Chief at Ozzi Cat – Australian National Cat Magazine.
Special and Special Needs Cats Ambassador.
Photo in Cover Picture by:
Brigitte Werner
Disclaimer: The review and products were neither provided nor sponsored by any company. The review is based on personal experience. This post contains our partner links.
Share With Cat Parents and Cat Lovers!
Tagged auto feeder, ball, boredom, bowl, Catit, dispenser, dry food, eating, enrichment, entertainment, feeding, food, indoor, management, obesity, overweight, portion control, products, puzzle feeder, recommendation, review, slow feeder, toys, treat, weight