Who Are Cats On Australia Post's Cat Stamps? Read Their Stories And Interesting Cat Facts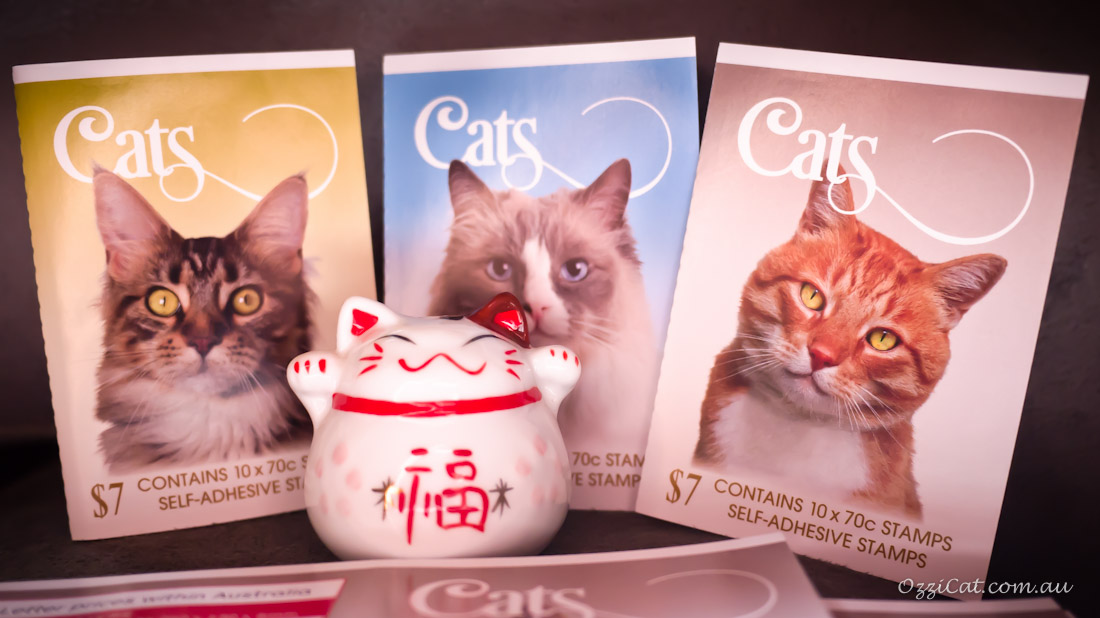 I am super excited to receive my pack of booklets of Australia Post's cat stamps collection! Who are the kitties on the stamps? What are their stories? Mark Broadhead from Australia Post kindly shared the kitty stories with us, plus some interesting cat facts! Read on.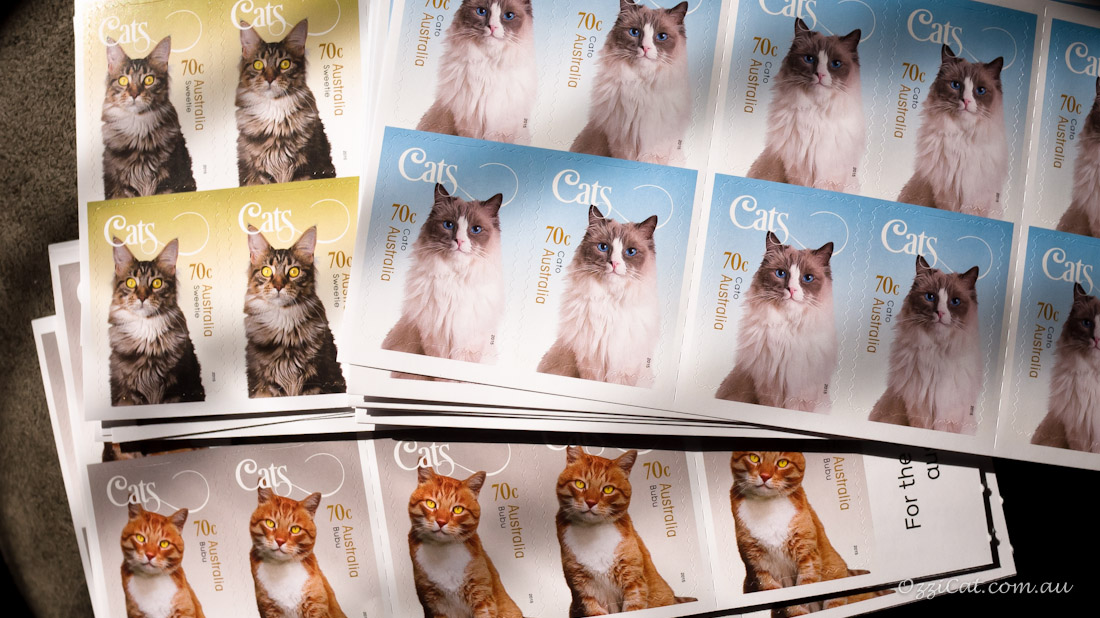 Cheeky Siamese Cat Charo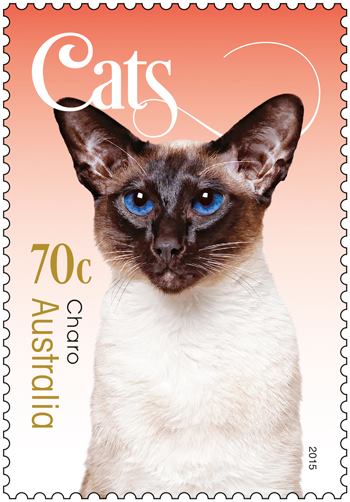 Cheeky Charo, or Bajimbi Seal Charo in full, is a seal point Siamese. Charo loves to talk. He is highly playful, but can also be found basking in the sun through the window. Charo loves children and his owner's elderly father. Playing the "fetch" game can lasts for hours for everyone's pleasure.
Did you know?
It is believed that the first owner of a Siamese cat in Australia was the famous Australian soprano Dame Nellie Melba during the late 19th century or early 20th century in Melbourne.
Ginger Ninja Cat Bubu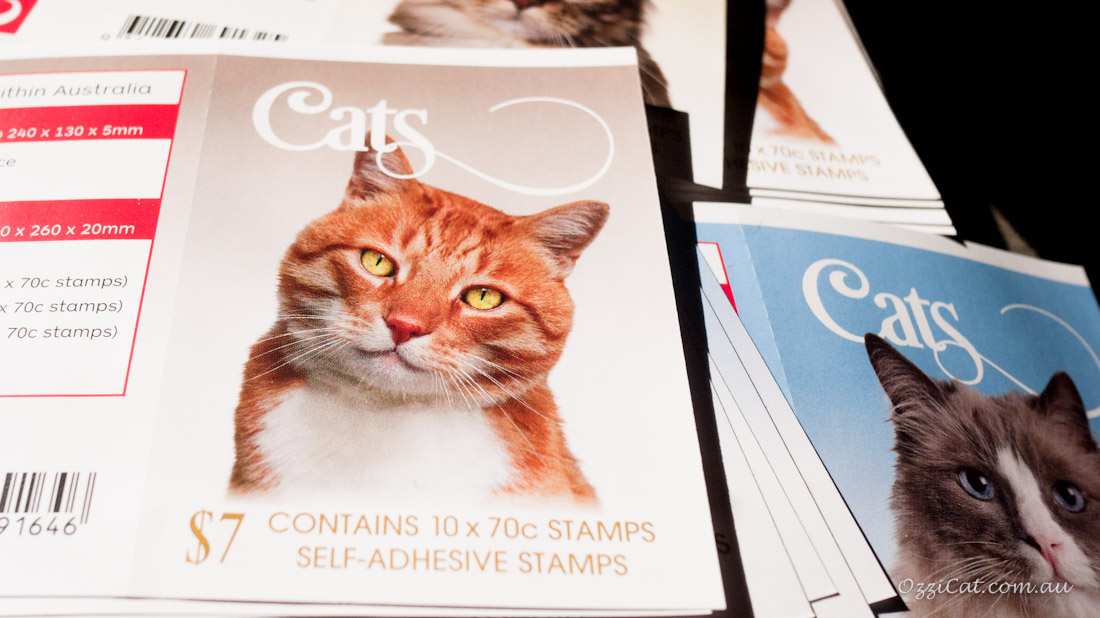 Lovely Bubu is a domestic shorthair ginger kitty. He is a handsome, loyal, and caring cat. He loves the various cubby houses he has made in the apartment block where he lives. Bubu loves his food, especially fish. (I hope that Bubu gets fish as a treat only and not on a daily basis. It's better when cats, especially males, don't eat fish as the only food. petmeds.org has an explanation.)
Did you know?
Technically speaking, cats with no discernable breed are called alley cats. However they are more commonly known as domestic cats or moggies. Domestic cats make great family companions. The genetic mix makes moggies invariably robust and hardy. Tortoiseshell cats are almost always female, while ginger domestic shorthair cats, like Bubu, are almost always male.
Special Needs Maine Coon Cat Sweetie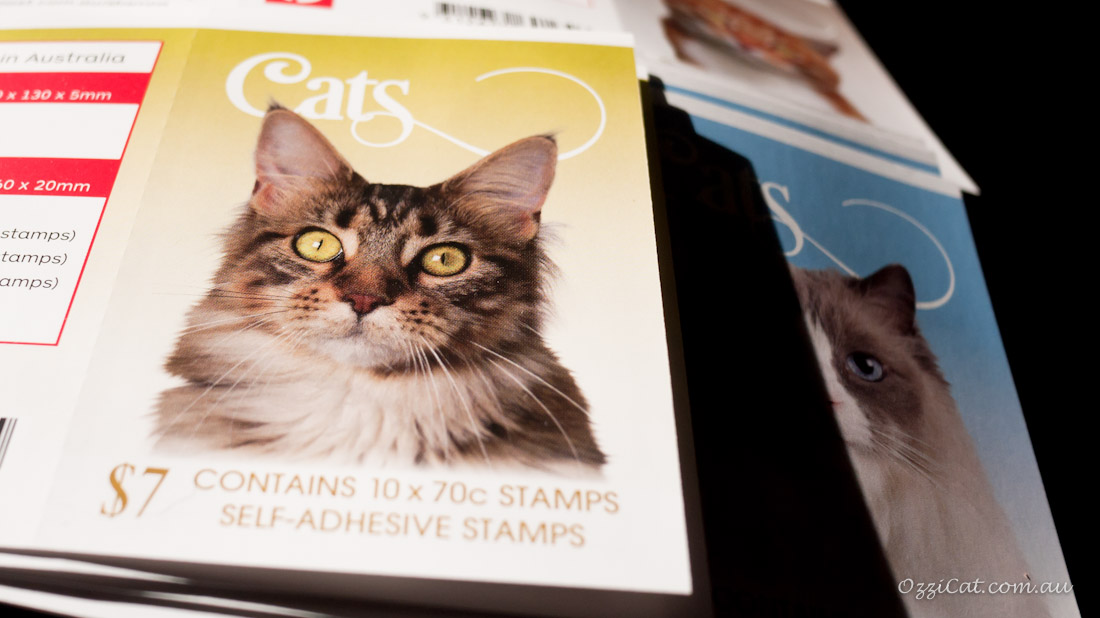 Sweetie is a tortoiseshell Maine Coon. Maine Coons are also known as American Longhair cats.
Sweetie is very affectionate and sweet. She had a gentle giant's nature that Maine Coons are famous for. Sweetie loves playing with various toys. She loves being a part of the family life, following her owners around the house and onto the bed to sleep.
Sweetie is a special needs cat. She needs a little extra attention as she has epilepsy, which does not affect her awesomeness in any way. (Having loving and caring cat parents around is a key for special kitties. I'm so happy that Sweetie gets all attention that she needs!)
Did you know?
The Maine Coon is the largest domesticated breed of cat in the world. Male cats weight up to 11kg and can be more than 1m long! Maine Coon cats have strong facial features, soft and silky fur with fluff around the neck and tail. Maine Coons are very intelligent and are known for their loyalty. Maine Coons are curious and love water.
Ragdoll Cat Cato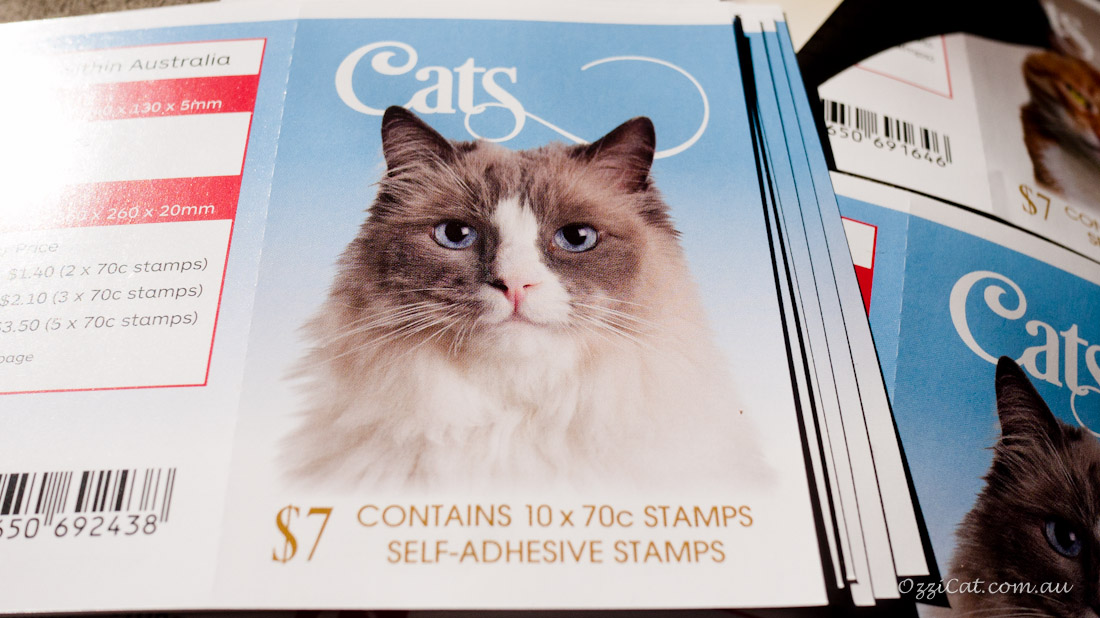 Cato is cheeky and playful, and also loves going floppy whenever possible. He loves hiding behind doors and chairs, and jumping out to surprise people! This behaviour reminded Cato's cat parents the character from the Pink Panther movies, Cato Fong, who would jump out of cupboards and elsewhere to surprise people. That gave a name to the cheeky kitty – Cato.
Did you know?
Ragdoll cats got their name because of tendency to become limp and relaxed, like a ragdoll, when picked up. Ragdoll cats have blue eyes and long thick bushy tail. They have dog-like traits: liking attention, being playful, and following the family around the house.
9-year-old Australian Mist Cat Briony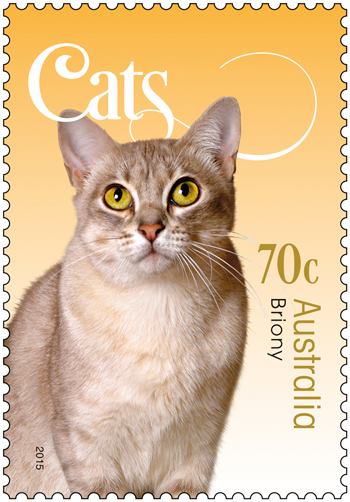 Briony, or Domna Briony of Hastur, is a 9-year-old blue spotted Australian Mist. Briony is very affectionate and friendly. She is very curious and loves to meet and greet visitors at the front door. Briony also loves sitting on somebody's shoulders so she can see exactly what's going on. Briony is a champion show cat.
Did you know?
The Australian Mist was derived from the Burmese (for their loving nature, pattern and range of colours), the Abyssinian (for their temperament, vitality and tabby markings), and a domestic cat (for added vigour and resilience). The Australian Mist was originally known as the Spotted Mist. The name, Australian Mist, comes from the "misted" veil over the top of the spotted or marbled pattern. It is the only Australian cat breed that is wholly originated in Australia.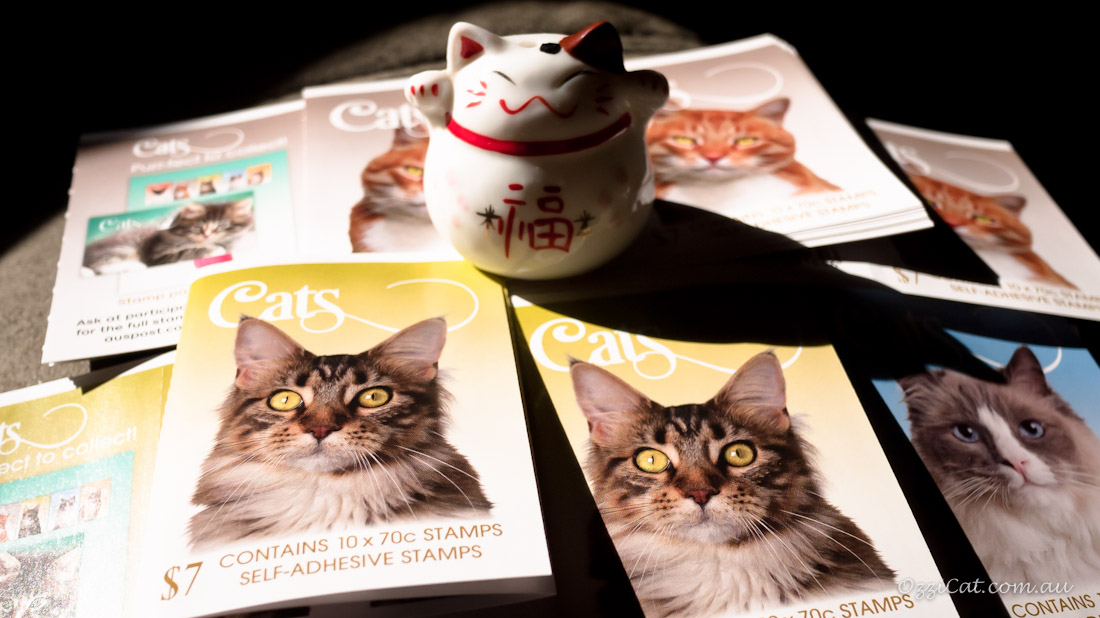 I thank Mark and cat parents for sharing stories of the kitties that are now featured on Australia Post's cat stamp collection! Get your cat stamps now at Australia Post's shop as passion of some cat lovers has made some cat stamps go out of stock! The cat stamp collection will be withdrawn in November 2015.
Lovely cats on stamps are captured by Melanie Whitten from Sydney's "Animal Eyes Photography", with Jonathan Chong designed the stamps.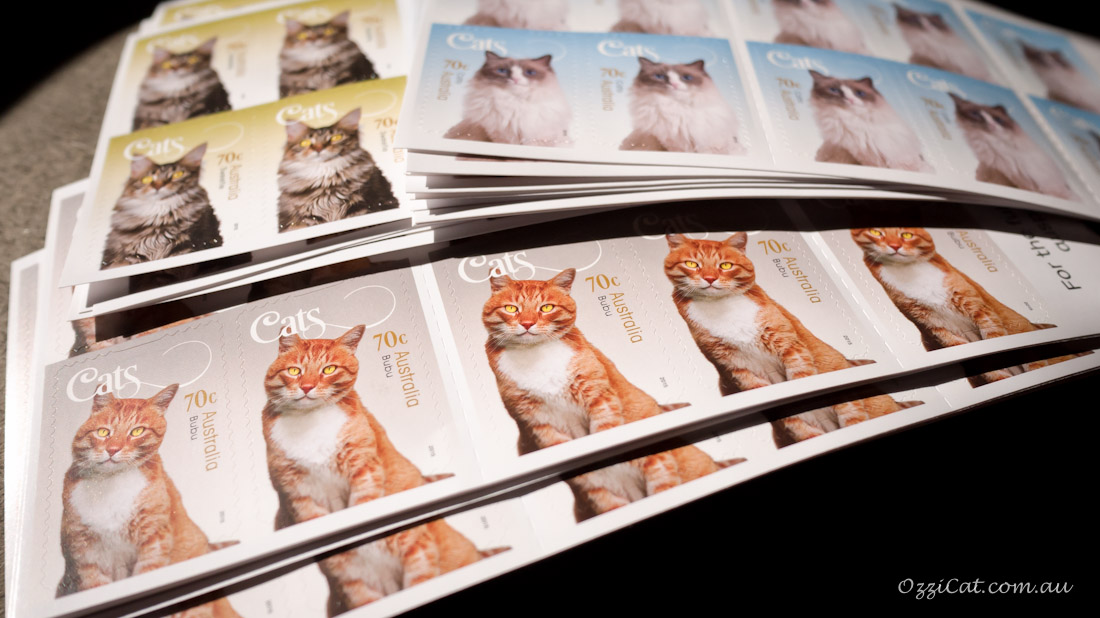 If you want to get cat stamps for a collection and are not sure whether a booklet is fine, I recommend a booklet as it comes flat, so you can decide whether you want to fold it (which you can easily do) or to keep it flat. Stamps in a roll are handy when you need to send hundreds of mails, but it won't allow you to see all the kitties at once.
Even though I will be sending heaps of parcels, with these stamps on, to our Ozzi Cat Magazine subscribers with the upcoming Issue #12, this time I am glad to have the cat stamps not in a roll but flat, so I can enjoy them as long as I can before passing them on to our lovely readers!
Would you like to get these cat stamps? Tell us why in the comments below!
Did you know? Some cat rescues and shelters have pure bred and mixed breed cats along with gorgeous domestic cats. When looking for adopting a cat, take time for meet and greet, look for and ask about the kitty's personality. Welcome a rescue cat to your loving family!
xox Natalie
Ms Cat, Cat Mum, Editor-in-Chief at Ozzi Cat – Australian National Cat Magazine.
Special and Special Needs Cats Ambassador.
Share With Cat Parents and Cat Lovers!
Tagged Animal Eyes Photography, Australia Post, Australian Mist, breed, cat fact, cat story, cats, collection, domestic, ginger, Jonathan Chong, Maine Coon, Melanie Whitten, popular, product, Ragdoll, review, Siamese, special needs, stamp