Office Cat As An Adoption Idea. Sounds Cool. Not So Good For Cats?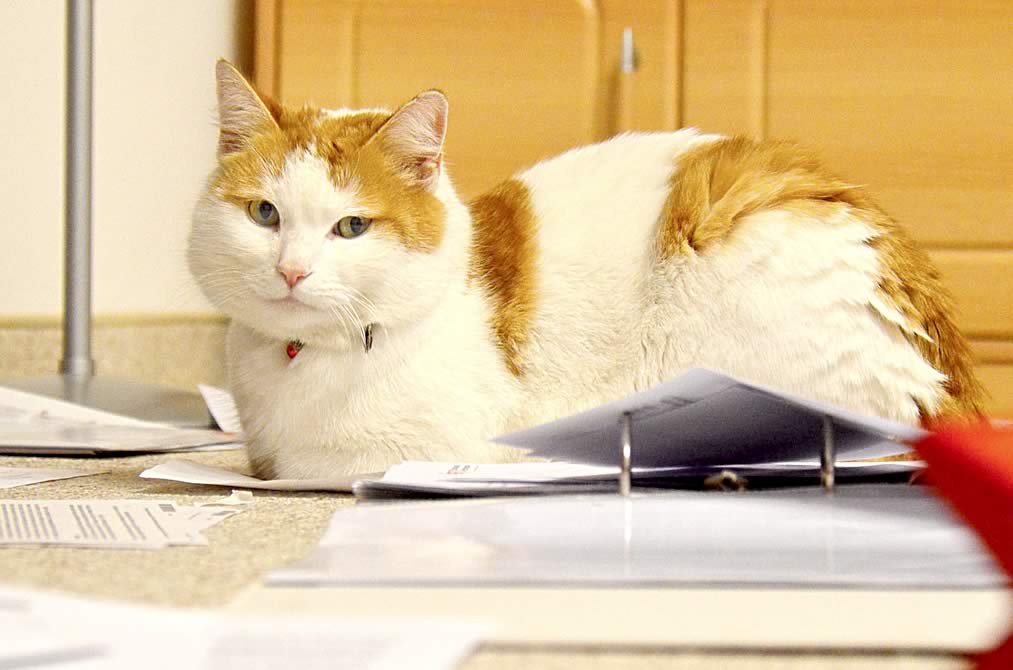 The Humane Society of Broward County, USA, launched a new adoption initiative called an "Office Cat".
They invite businesses that have a pet friendly office to foster a cat until the cat finds a forever home.
The Humane Society will spay or neuter, vaccinate and microchip the kitty before sending it out to the participating business.
They also provide food, bedding, and litter until the office cat finds a permanent home. The adoption fee is $25.
The business needs to care for the office cat until the adoption and needs to help promoting the kitty to customers and clients.
Is Office Cat Foster Program Good For Cats' Wellbeing?
The Humane Society states that "Pets in the workplace have a proven record of decreasing stress and increasing job satisfaction."
Although having an office cat sounds like a cool idea, is it really good for the cat?
Interested in the Office Cat program as something that could potentially increase cat adoption chances, I went through the program's FAQ to find out more and whether the "Office Cat" is good for cat's wellbeing.
The Humane Society says that they will "match the business with an adoptable cat who will interact well with employees, customers, and office environment."
Cats have different personalities and some are more inclined to interact with strangers. Thinking of businesses that could get an office cat, what kind of environment do they have? If customers come in and out every day, it is a constant change in the environment. People bring different smells, different sounds. This all can easily stress out a cat, potentially resulting into anxiety and litter tray problems.
"If the office has an exterior door to the outside, the cat would need to be kept away from the door or safely monitored so he or she couldn't escape."
It is a very good pre-caution. Great in theory, how well can it be done in practice? If you have a cat, you know how your kitty might want to escape through the front door. You need to tell every new person who comes into your house, to close a mesh door, to look down before they enter, and to look around before they leave. Simple steps to prevent a cat from escaping.
A business needs to ensure the same level of care, they need to organise the space in a way that prevents a cat from escaping. Installing a mesh door, asking everyone to look for a cat when they come in or leave the office – is every business going to put enough constant effort into it?
"Your Office Cat can be left alone overnight during the week with food and water. Some cats can be left alone over the weekend with plenty of food and water, and we prefer to place bonded pairs in offices where this is the case so the cats have company. Of course, employees can opt to take the Office Cat home over the weekend…"
The idea of the "Office Cat" is fostering a cat. It is great when people foster a cat in a home environment as that prepares the cat for living in a similar environment later.
Businesses that opt in for fostering a cat need to have at least one dedicated person who will make sure that an office cat has plenty of water, enough food, that the litter tray is clean. The businesses should be prepared for adjusting their office space as a cat can knock things over and usually cats don't know whether it's an important document or their paper toy.
Leaving a cat alone overnight and on weekends, not talking about holidays, can lead to cat boredom. Taking the cat from an office space to another environment and having it back and forth can easily cause stress, potentially resulting into health and behaviour issues.
I hope that The Humane Society provides tips to the participating businesses on how to enrich the cat's life and environment. I don't see anything in their FAQ mentioning scratching posts, for example. Businesses which main purpose is, say, to sell products or develop a software, may have a big heart for helping cats, but they can be not aware of things that are important for cats' wellbeing.
"You can brag to your clients about how cool you are for having an office cat (they may even want to adopt it!)."
Although having a cat in an office might sound cool to most people, the emphasis, from my view, should be done on how well a business can care for the cat while they foster the kitty.
Among other options that give an exposure for cats are inviting kids to read for cats, Pop Up Pet Adoption Shops where cats live in a constant environment adjusted for their needs.
Having an office cat can potentially increase the cat's adoption chances, but there are concerns about the cat's wellbeing. Share your thoughts on this in the comments below.
The Office Cat program:
humanebroward.com/officecat
humanebroward.com/wp-content/uploads/2015/07/Office-cat-FAQs-for-website-and-flyer.pdf
xox Natalie
Ms Cat, Cat Mum, Editor-in-Chief at Ozzi Cat – Australian National Cat Magazine.
Special and Special Needs Cats Ambassador.
Share With Cat Parents and Cat Lovers!
Tagged adoption, cats, environment, foster, Humane Society of Broward County, idea, office cat, USA, well being