New Zealand Cat Survives a Crossbow Head Shot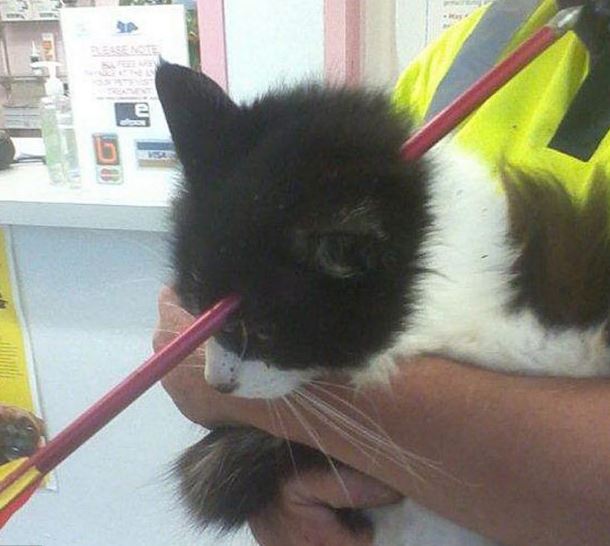 Moo Moo is one very lucky New Zealand cat survived a crossbow head shot.
Donna Ferrari, the owner of 4 years old Moo Moo, noticed the rod protruding from the cat's head. The cat was scared and did not allow to pick him up and ran away.
"At first I thought it was a kids toy, but when he turned I saw it went all the way through. He ran away as soon as I took a step near him, and jarred the bolt against the step and took off up into the bush."
Only a day later Donna was able to catch up Moo Moo in the yard. She rushed the poor kitty to the Wainuiomata Veterinary Clinic.
"He was pretty calm, he purred, but every time he knocked the bolt in his head he flinched his ears back," Donna says.
Veterinarians were surprised as the have never seen anything like that. They referred the cat to the Massey University Veterinary Teaching Hospital where Moo Moo had surgery to remove the arrow.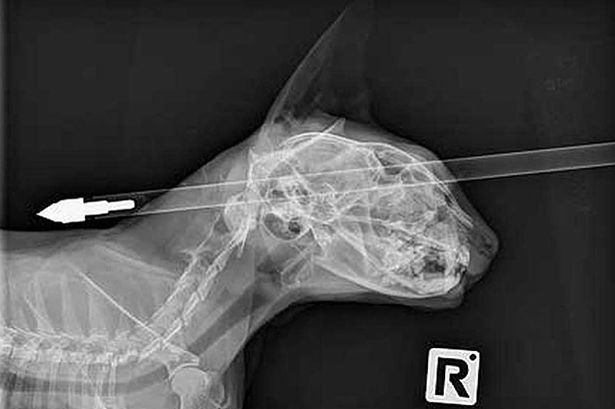 "I felt sick to my stomach, it's very very worrying that something like this has been going on, and even if it was accidental – that could have been a kid [Donna is a mum of a three-year-old daughter].
"It makes me wonder if there are any other animals out there that this has happened to that haven't actually come home."
Veterinarians were afraid that Moo Moo would die or would develop a brain damage. Luckily Moo Moo escaped the worst and should be fine long-term.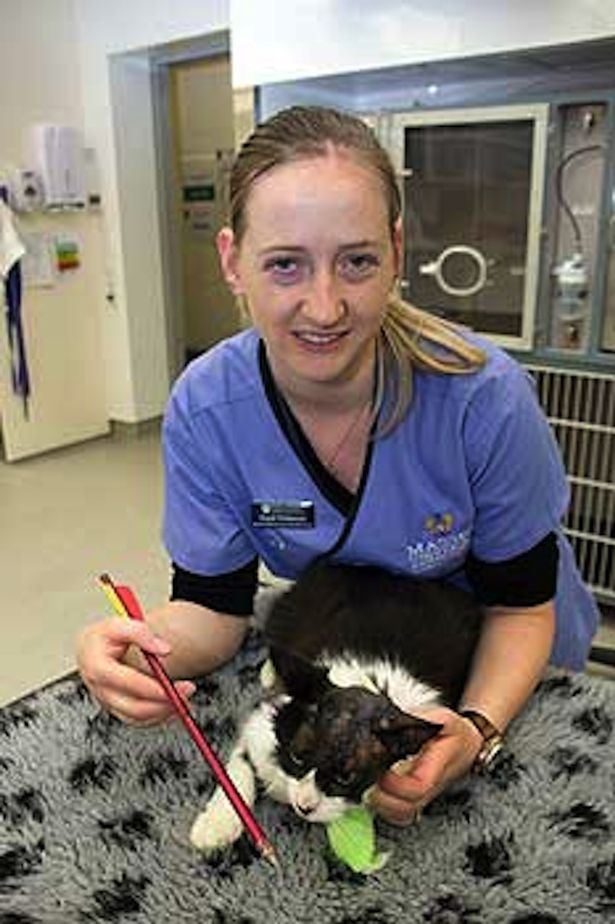 According to newsfirst.lk Moo Moo was injured by a 18-year-old man practicing with a crossbow, who shot the cat by accident. The young man turned himself into police. Charges against the man are yet to be defined. If convicted, he can end up in jail for 5 years or be fined up to $100,000.
Watch the story:
Video of Moo Moo recovering after having an arrow removed from his head: here
Share With Cat Parents and Cat Lovers!
Tagged abuse, arrow, brain, crossbow, damage, eye, head, injury, miracle, Moo Moo, New Zealand, shot, surgery, survivor, Wainuiomata Veterinary Clinic