Cat Christmas Safety Tips: 7 Holiday Dangers To Avoid
Every caring cat parent wants to know how to keep cats safe during Christmas. Cat-proof Christmas tree decorations, plants, and food are among things to keep in mind to avoid the danger. Here are quick tips from Ozzi Cat's cat expert and animal companion services specialist Laura Gartlan on keeping cats safe this Christmas by prevention and observing the cat's behaviour.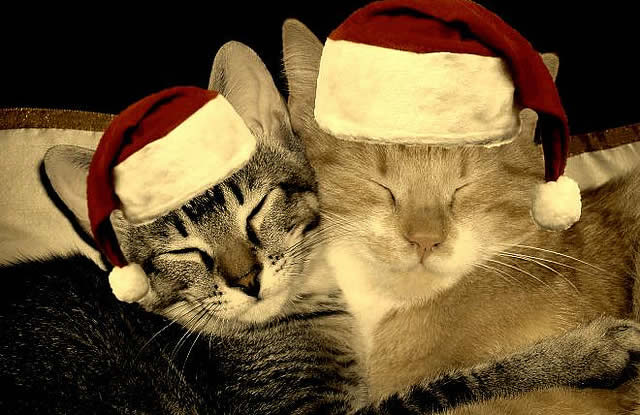 Preparing for Christmas? Is your Christmas safe for all family members? Keep your cat safe this Christmas by prevention and observing your cat's behaviour.
1. If you have lights on your Christmas tree
Make sure your cat does not chew the chords or pull the lights down easily – place the chords leading to the tree behind places your cat can't get to, such as the lounge room TV table or the couch pressed up against the wall. Make sure, with a little tugging, that the lights are wrapped around tightly enough.
2. Cat playing with Christmas tree tinsel or bubbles?
Whist this may be cute as your wild one carries the tinsel throughout the house or simply annoying, tinsel can easily become a chocking hazard and usually at the least, leads to throwing up! Keep tinsel tightly wrapped around the tree and not on the lowest and easily accessible level. As for your pretty bubbles, place them higher up and well wrapped tightly on each part they are placed to. Prevent any smashing they may cause when coming down!
3. Whilst string is a fun and cheap present for your cat
Always supervise when the cat has access to it or try a toy designed for cat time play, as string can wrap around, tighten and harm your cat. It can stuck on something and pull on your cat, it can suck in the throat and block the air ways when playing goes wrong.
4. If you have kittens in your Christmas room
And you don't want to place your tree up high, for example on a table which the kittens can not reach yet, then place a barrier around the tree similar to protecting it from a human baby, so that kittens can not mess up your presents or get tangled and harmed playing in the shiny new play things you call the Christmas decorations.
5. Christmas crackers that go BOOM
These are fun and traditional, however if your cat does not like thunder or fireworks, chances are that this will upset your cat too. Place the cat in another room before using these. If you have kittens around, make sure they do not sustain hearing damage or a new phobia, place them in a calm quiet room.
6. Christmas feast?
Cooked bones and poisonous ingredients don't go down well with kittens or cats. The bones in a Christmas turkey, chicken or any other meat can easily splinter and become logged in the throat, not only causing the air way to be blocked but also causing tears in the esophagus, which can lead to major health issues and even death. The best alternative is just feed your kittens or cat as per usual.
7. A cat designed meal
Whilst pudding and other delicious goods are so nice to us and can attract the attention of our pets, remember that most of them contain one or two ingredients that can cause many health issues and even death from poisoning. The best alternative is having your pet in another room and feed as usual for the night, so others do not feed the pet of you either.
Good luck with your pet's health and Merry Christmas to all!
Keep your cat safe during Christmas! Subscribe to Ozzi Cat Magazine here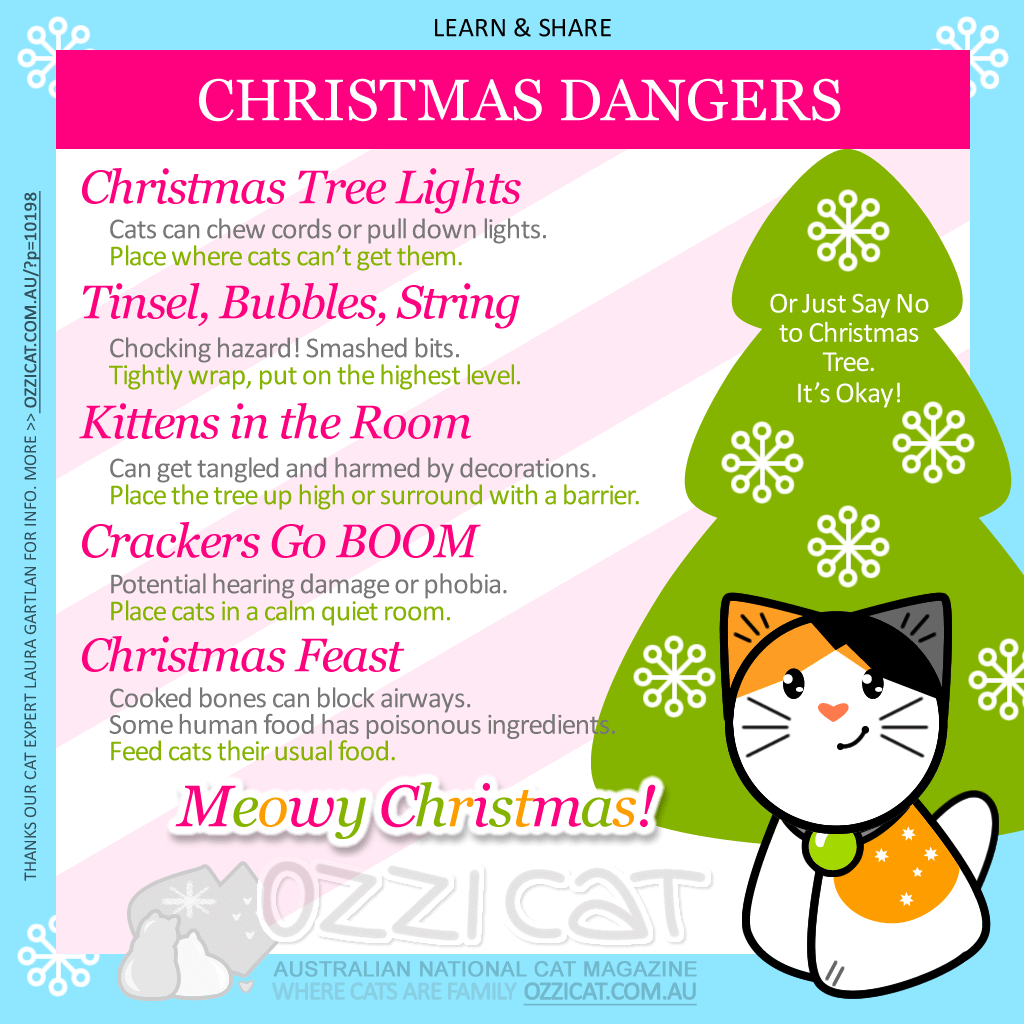 Share With Cat Parents and Cat Lovers!