One Reason Why to Keep Cats Inside on a Hot Day's Night
When the weather is hot during the day, it may get cooler at night. A few cat owners let their cats go outside. More and more cat owners build enclosures for their cats or make a cat-proof fence. Some house cats still roam without supervision, especially in rural areas.
For a roaming cat there are many reasons why it's better to keep the cat inside on a hot day's night. Among them, there is one reason that will help you to make a difference as a cat owner. Here is what that is.
Today on TV "The Project" showed a video of a cute possum who got into somebody's backyard and found a small pool. The poor thing enjoying the water, drifting on its back with legs up, when the house owner found him and shoot a cute video.
Later, a lovely lady from Wildlife Victoria shared how stretched their resources are now. You can imagine a wave of calls about the injured, burned, dehydrated and needing help wildlife animals they get on days when the temperatures are above +40C. She said many bats have already severely suffered from this hot weather, along with other Australian wild animals, and many have died.
She kindly asked cat owners to assist and be kind to our Australian wildlife. Animals suffering from a hot weather are severely dehydrated and many can barely move. Dehydrated and exhausted are not able to escape. Please keep your cats indoors or make sure they are in an enclosure and cannot roam. This will greatly help our suffering Aussie animals this hot summer.
I was greatly impressed by what the lady from Wildlife Victoria said. It's such an obvious thing, but how often do we think about obvious things? Inspired by the topic aired on "The Project", by the lady from Wildlife Victoria, and following the Ozzi Cat mission, I created an infographics, or an educational poster if you like, to remind us, cat owners, about one little kind gesture that we can make, which will make a great difference in our beloved Australia – Keep the cats inside on a hot day's night.
Please share this poster with all cat owners you know. Feel free to place it on your web site (as an unchanged picture). Print it and put in places where you see an information board. More cat owners are informed and follow the right thing, the better our Aussie cat world will be for everyone – for them, for us, for cats, and for our Australian wildlife. Thank you dearly!
"Cat Owner, Help Wildlife!" Educational Poster
Click on the "Cat Owner, Help Wildlife!" poster to see in full size and for downloading: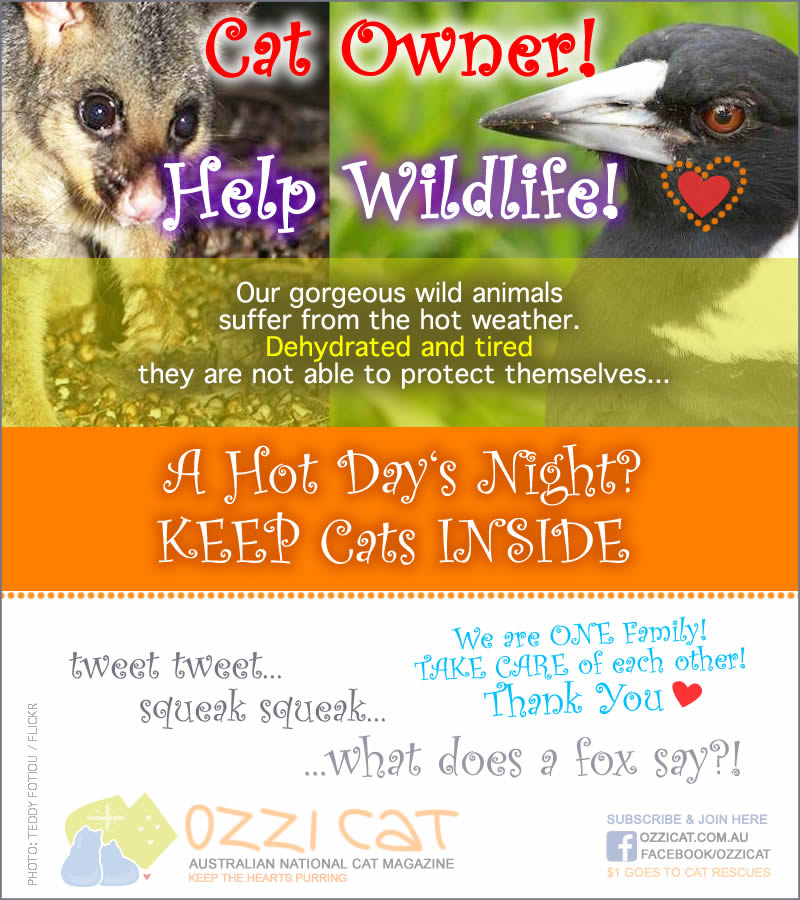 PS: If you found an animal who suffers from a hot weather, call Wildlife Victoria (or a similar organisation in your state). If it does not work, carefully place the animal to a cool calm place so it can rest. Do it with care, use towels to get animal if needed.
Share With Cat Parents and Cat Lovers!
Tagged advocacy, cats, education, help, hot, indoors, infographics, inside, night, poster, protection, resource, save, weather, wildlife