Cat Product: Reduce Pet Stress With New Rufus & Coco Anxiety Aid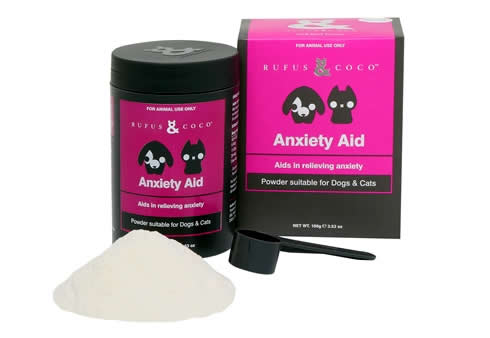 Anxiety levels in pets are on the rise, and not just because Summer's here with its barrage of new people and places, parties, loud music, hot weather and kennels contributing to pet worry. Even lower quality dog foods could be exacerbating anxiety, as they frequently contain a large quantity of corn which is thought to decrease the level of serotonin in the brain.
Anxiety Signs
Telling anxiety signs in cats and dogs include physical symptoms and behaviour changes such as refusing food, pulling or chewing on fur, barking or miaowing excessively, and acting aggressively.
How To Relieve Anxiety
To help relieve anxiety, Rufus & Coco has developed Anxiety Aid – a professionally formulated dietary supplement for dogs and cats. Fast acting and effective, this palatable powder contains Tryptophan, an essential amino acid which converts to serotonin once consumed. Serotonin regulates mood, pain and arousal levels, helps sleep and impulse control, and does not easily benefit in pill form.
Other important ingredients include natural B group vitamins, antioxidants, vitamins A, C and E and Magnesium Oxide, to help maintain emotional balance during stressful situations, to support the nervous system, maintain optimum digestive balance and to assist sound sleep.
Most vets agree that animal behaviour problems are on the rise. A recent Australian study quotes 65 percent of Labrador owners reporting that their pet showed some type of problem behaviour!
A large international study has found the most common complaint from dog owners is pet anxiety disorders with up to 23 percent of dogs experiencing anxiety caused by loud noises such as fireworks and thunderstorms.
Rufus & Coco Anxiety Aid is 100 percent natural, drug free and proudly made in Australia to strict laboratory conditions. For best results, a daily dose is recommended, however it can also be taken up to 60 minutes prior to a stressful event.
Directions for use
Follow the dosage/weight directions on the label. Mix the appropriate amount of the powder well into your pet's moist food, or simply sprinkle over dry food and make sure it's all eaten up.
Share With Cat Parents and Cat Lovers!
Tagged aid, Anxiety, health, product, reduce, Rufus & Coco, stress, supplements, vitamins