Giveaway & Product Review: Kimochis Cat Toy & "Cat's Not-So-Purfect Sandcastle" Book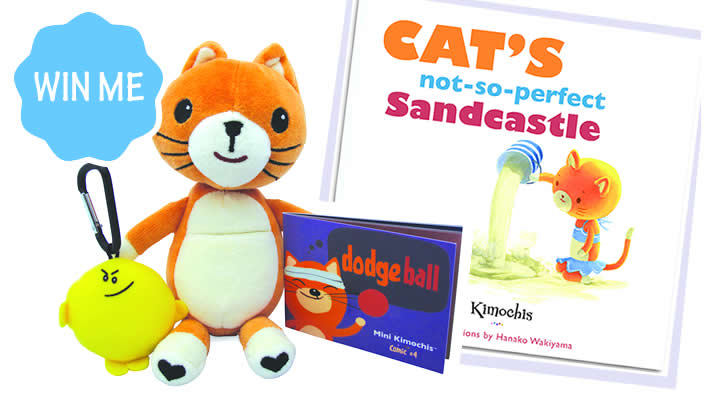 Have you heard about plush, educational toys designed to help kids identify? Those that understand and manage their feelings in a fun, comfortable way? It's Kimochis®! Awesome educational toys that are fun, educating, and helpful at the same time.
Today Kimochis® team kindly offers you, a loyal Ozzi Cat friend, one of their awesome toys – a Mini Cat PLUS a "Cat's Not-So-Perfect Sandcastle" Book (I read that book, it is awesome!). Read below about Kimochis® and find out how you can WIN a Mini Cat and the book.
What is Kimochis®?
Kimochis (pronounced as KEY.MO.CHEE) means "feelings" in Japanese. For the different social and emotional challenges our children face at school, at home, among friends or on their own, these multi award-winning educational toys are designed to get children talking, promoting strong parent-child, teacher-child and child to child connections. Kimochis® encourage kids to express themselves as they learn about appropriate feelings-driven behaviours and how to manage the feelings Kimochis® teach, whether that be mad, sad, left out,brave, uncomfortable, jealous, frustrated, silly and beyond.
Meet "Cat", a bright orange, plush fur "toy with a purpose"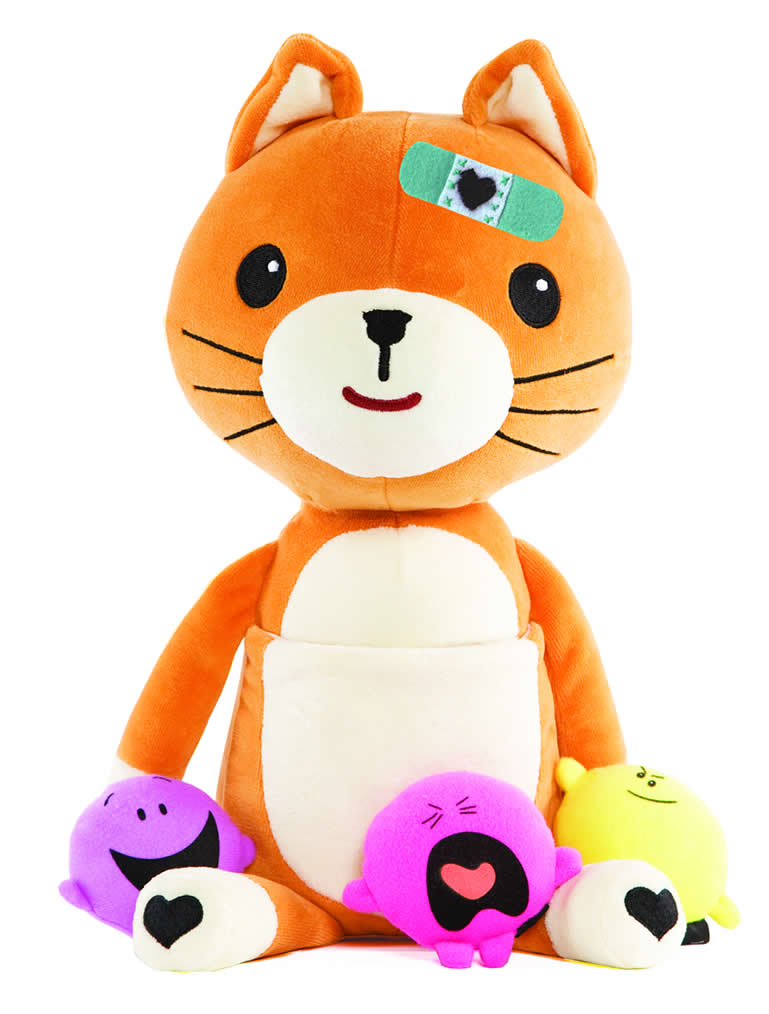 Cat is curious. A born leader, Cat is a little bossy and likes to get her own way, which can lead to confrontations. Cat's a perfectionist and needs to learn to be a team player. Like her Kimochis® pals, three main feeling cushions live in her pouch: in Cat's case, it's 'Happy', 'Cranky' and 'Curious'. Cat's curiosity and crankiness gets her caught in catfights. That's why she also comes with five bandages to help heal her physical and emotional wounds.
Mini Kimochis® "Cat"
Children will also love a Mini Kimochis® "Cat". It is a 15cm character for helping them to express themselves. It comes with a fun comic book and a feeling cushion on a keychain (for being "emotionally attached"!)
(Ozzi Cat Magazine Review) "Cat's Not-So-Perfect Sandcastle" Book Review
The lovable cat comes with an awesome book "Cat's Not-So-Perfect Sandcastle". The picture book tells a story of a cat who builds a sandcastle. She wants it to be purfect! Who does not? What is happening next makes you think whether things should be ideally perfect or making something "good enough" is enough. It's a lovely book with adorable pictures, very easy and pleasurable to read. I wish I had this book in my childhood! It helps kids to understand how to deal with challenges.
"Cat's Not-So-Perfect Sandcastle" Book:
OZZI CAT RECOMMENDED
Jump to the Kimochis® web-site to see the whole range of educational and fun toys, or visit them on Facebook (tell that Ozzi Cat Magazine sent you!), or check them out on Twitter.
WIN ME: Mini Cat plus The Cat Book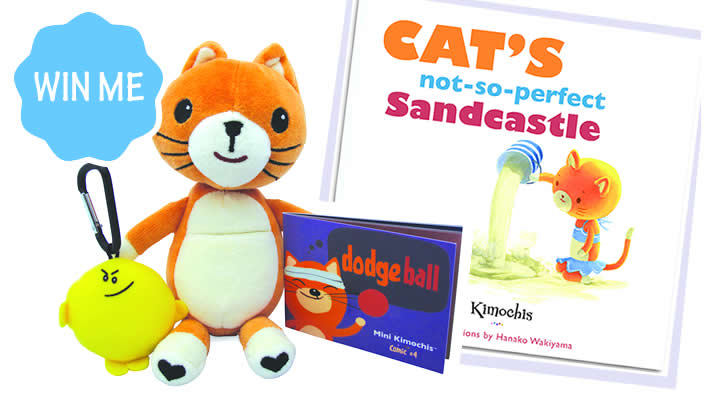 To win one set that includes a Mini Cat (RRP$29.95) and the "Cat's Not-So-Perfect Sandcastle" Book (RRP $24.95) for yourself or for somebody you care about and want to surprise::
Tell in comments:


Why do you think being emotionally intelligent is more important than having a high IQ?

Double your chance to win right now – buy the Ozzi Cat Magazine Issue #3. Why? Because when you buy the Ozzi Cat magazine you support cats in need (a dollar from your copy goes to a cat rescue), and we want to say Thank You for supporting them. So double your chance to win right now – buy Ozzi Cat mag Issue3 (or for more convenience – purchase the annual subscription so you are always the first to read it and it will be delivered to your door). (Yes, you still need to answer the question above.)

Entries are opened to everyone (Australian and international entries are welcome!). The winner will be chosen at random.

Hurry, this giveaway offer ends on APRIL 30.

Share With Cat Parents and Cat Lovers!

Tagged book, Cat's Not-So-Purfect Sandcastle, education, feelings, giveaway, Kimochis, orange, product, review, toy, win