Atchoum: Cat With Excessive Hair On Face Due To Hypertrichosis Is Nice And Cuddly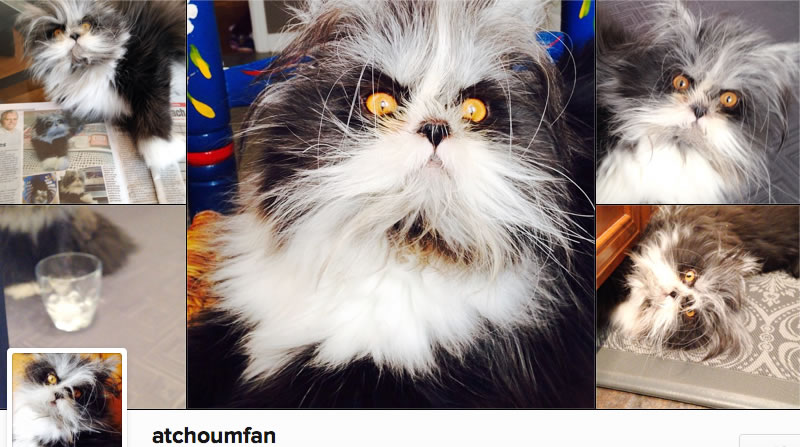 Another unusual looking cat is taking over the Internet. Meet the new Internet sensation, a 9-month-old cat Atchoum (Sneezy) from Quebec.
Some compare him with a mad scientist or a small dog, others are impressed by his eyes staring at you. For his owner Nathalie ('maman' in French) he is a lovable kitten.
Sneezy was born on May 12, 2014. The cat's unusual look, the excessive hair growth on his face, is due to hypertrichosis.
Hypertrichosis (in extensive cases known as a werewolf syndrome), is a hormonal disorder that makes an abnormal amount of hair grow over the body.
Unfortunately, hypertrichosis not only gave the kitty an unusual look, but also affected his paws. The claws were so large that it was difficult for the cat to move. He had to be de-clawed for medical reasons.
Video: Atchoum is like any other cat
The unusual looking kitty does not know about his special look and behaves just as any other sweet cat would do. Watch the videos:
Find Atchoum on his Facebook page – Tell him Ozzi Cat Magazine sent you!
https://www.facebook.com/pages/Atchoums-fan/972103262805506
Does Atchoum remind you Colonel Meow?
What other unusual looking cat do you know?
Share With Cat Parents and Cat Lovers!
Tagged Ambras syndrome, Atchoum, famous, hair, hypertrichosis, Sneezy, unusual, werewolf syndrome