3 Crazy Cat Hair Accessories. Made of Cat Fur – Joke or Cat Fashion?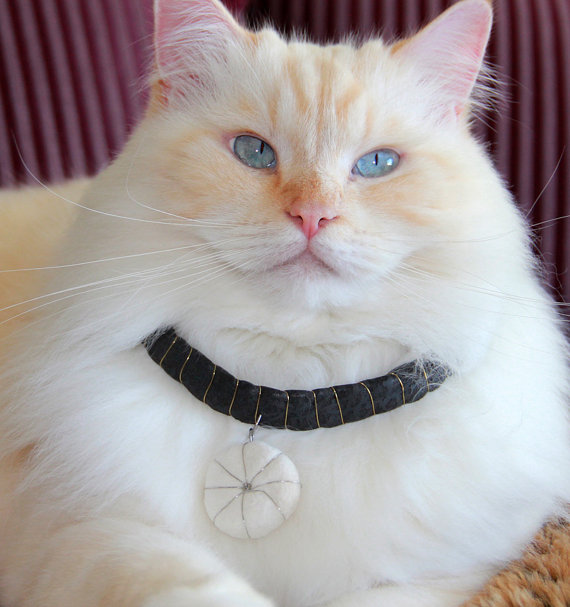 Cats warm hearts of cat owners and cat lovers. We love to pet our kitties, but sometimes the amount of fur from a beloved shredding cat surprises us. Although some cat lovers see a great opportunity in this – they create cat hair accessories. Is it a cat joke or cat fashion? Look at some examples and share your thoughts in comments.
1. Cat Fur Necklace
An artist, a cat lover and a cat mum of two, Flora Davis creates cat fur and metal jewellery – pendants, necklaces and earrings. All necklaces are created from one cat's fur, Gaia, a flame point Ragamuffin with thick and white with a salmon fur.
"His hair is more similar to rabbit than cat and needs to be combed at least once a week or it starts to mat." When Gaia was one year old, Flora started rolling balls made of his fur and giving the fur balls to the cat to play with. "He loved it! I toss a ball and he chases after it, batting it around the apartment."
How does Flora make hair balls? She grooms Gaia and "begin with a small handful of fluff and mold it into a starter ball. To this I mold more fluff around the edges, puff some wet breath onto it, which felts the hair, and then using both palms, I roll it back and forth until a tight solid ball forms."
Here us cat necklaces from Flora's shop (it's for humans). Each necklace comes with a Certificate of Authenticity: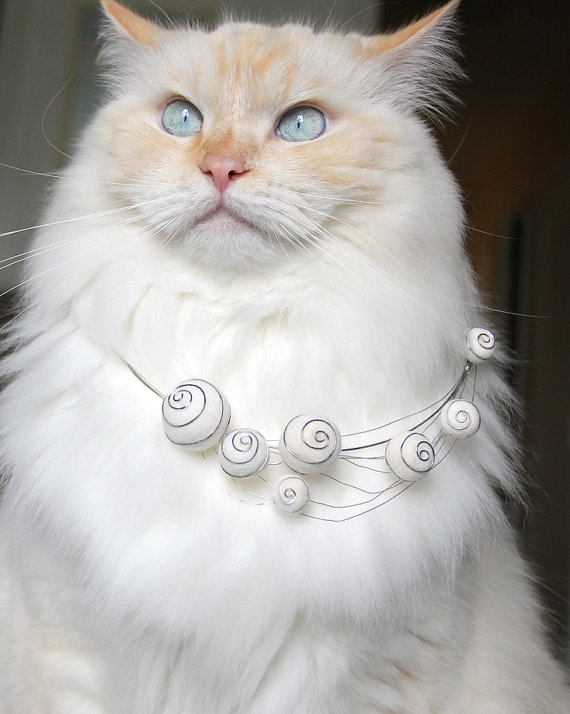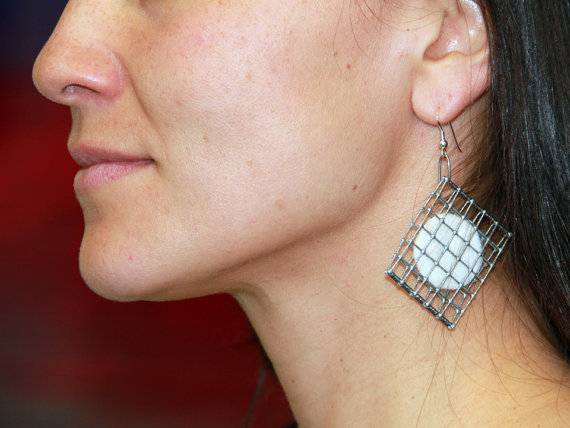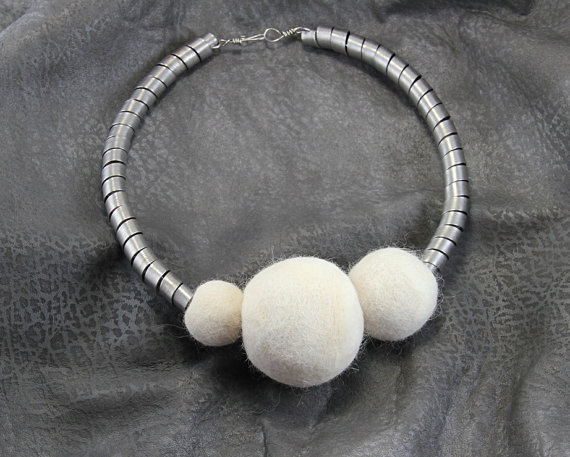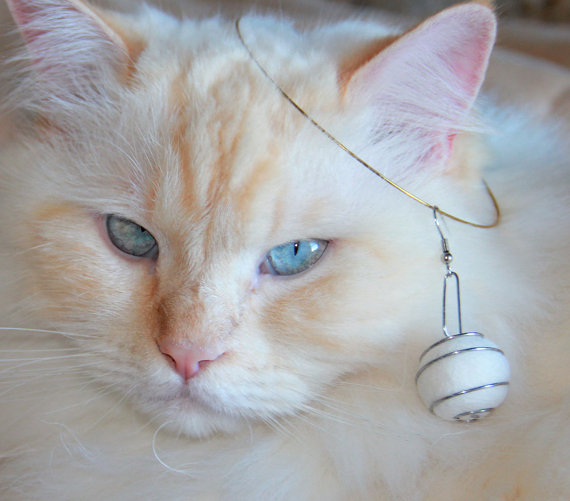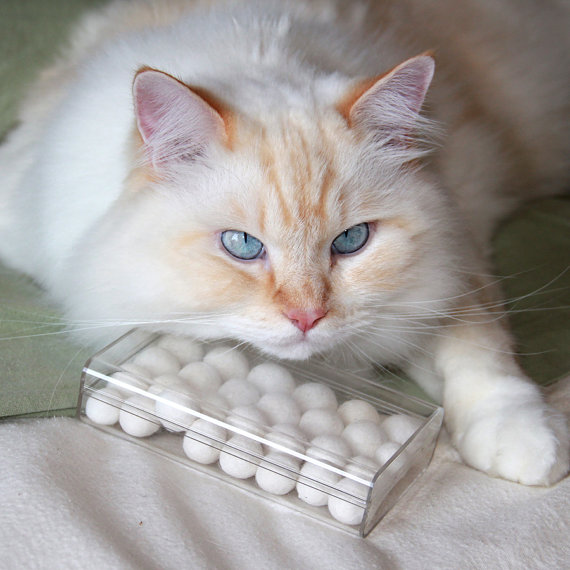 2. Cat Memories – Cat Lady Makes Bags and Purses Out of Cat Fur
A professional cat groomer uses shaved cat fur to create hand bags and purses. Danelle German borrowed a spinning wheel and turned her idea into a profitable addition to her cat grooming business. The cat groomer turns cat hair into a smooth silky yarn that used for creating hand bags. "I figured that if Angora bunny hair could made into a beautiful yarn, then surely I could do the same with cat hair."
Some people find this creepy, but many cat owner clients love the idea. The Charlie's cat mum says "This bag is made of Charlie's fur. This bag means a lot to me because when the time comes for Charlie to put to sleep, I will always have a little piece of him left behind".
Check out these bags made of cat fur at Danelle's Catty Shacks Creations (it looks like she does not produce bags anymore). Would you order a handbag made from your cat's fur?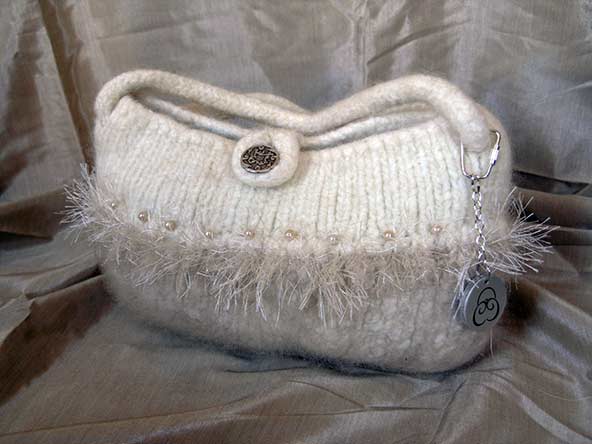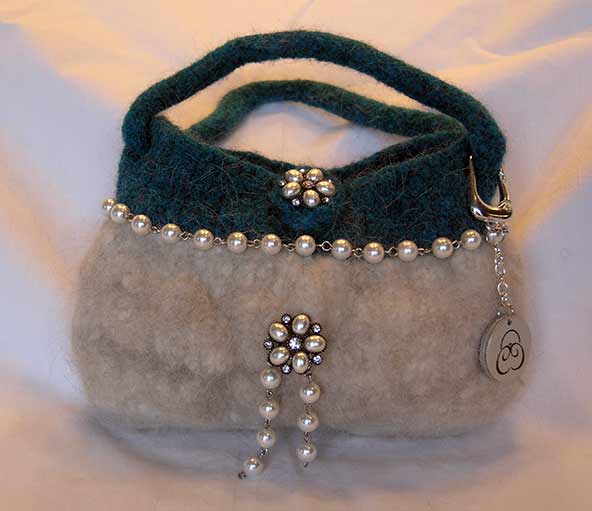 3. Wet Felting: Cat Hair Nest
Sean and Lauren's cat Tavarua became an inspiration for trying something new. Tavarua is an elderly long hair cat who needs frequent haircuts, especially in summer, so she does not develop dreads. Having an excess of fur the guys decided to try a new and a strange art medium – cat hair. Trimmed down the cat's long fur, they used wet felting to transform cat hair into a bird nest, which became a part of a larger art piece. They shared that "wet felting was great, messy, soapy, experimental fun".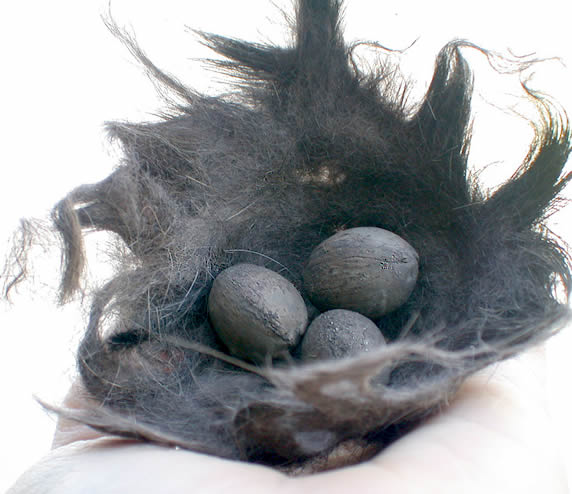 DIY – Make Cat Hair Accessories:
Furminator – The Best DeShedding Tool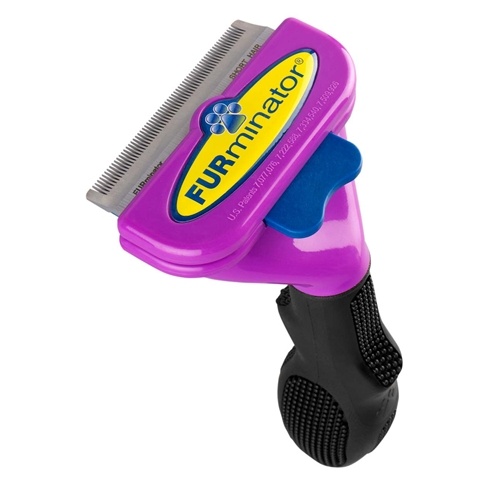 Furminator helps to stop cat shedding. Suitable for short hair cats. Effectively reduces hairballs, keeping your cat healthier and happier. educes shedding up to 90%. Stainless steel edge gently remove undercoat and loose hair. Guaranteed to reduce shedding better than any brush, rake or comb.
"Crafting with Cat Hair" DIY book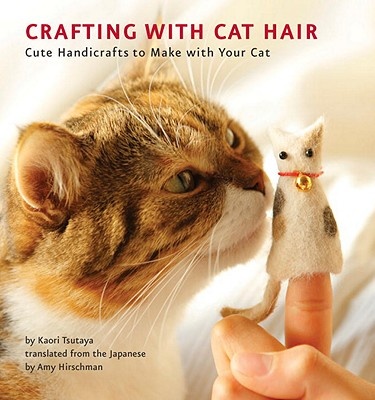 "Crafting with Cat Hair" DIY book shows how to transform stray clumps of fur into soft and adorable handicrafts. From kitty tote bags and finger puppets to fluffy cat toys, picture frames, and more, these projects are cat-friendly, eco-friendly, and require no special equipment or training."
Which cat hair accessory is your favourite?
Share in comments. To get updates from our Aussie cat blog, sign up for our free eMeowsLetter here.
Share With Cat Parents and Cat Lovers!
Tagged accessories, craft, DIY, earring, fashion, fur, furminator, grooming, hair, hobby, jewellery, necklace, pendant, product