Giveaway: Rufus & Coco Diamante Bow Collar. 5 Cat People WIN!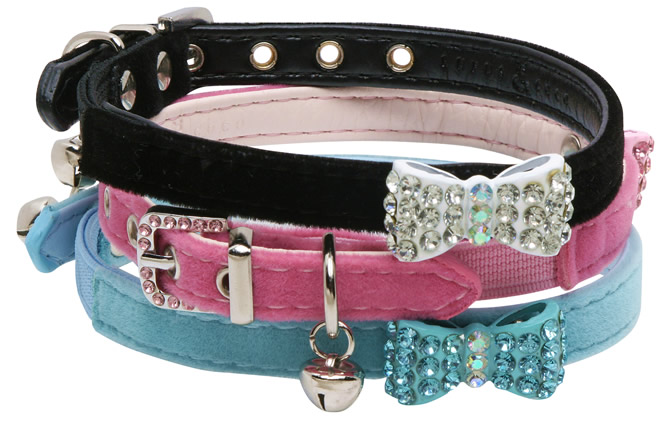 A fantastic giveaway this week!
5 lucky cat people
will win a
Diamante Bow collar
from
Rufus & Coco
(RRP
$12.99
each)
The Rufus & Coco Diamante Bow collar is a beautiful little accessory for the puss in one's life.
Tres elegant, it adds fashionable bling just in time for the party season!
In pink, a light aqua blue or black, they are finished in suede to add to the luxe look. And the sparkly diamantes are not just on the bow but on the buckle as well!
If you'd like to win one of 5 of these rather fetching, French-looking cat accessories, just check "How To WIN?" details below.
Or you can find them in Woolworths for $12.99 each, in the pet section along with some other great Rufus & Coco things for puss… like the Elasticised Litter Tray Liner. That's a smart idea! The elastic helps it stay in place while puss fusses around, and makes removing used litter so much more mess-free too!
You can see a full range of Rufus & Coco products exclusive to Woolworths at http://shop.rufusandcoco.com.au/c-91-woolworths-exclusive.aspx
How To WIN? (5 People Win)
It's easy! To enter, just:
GOOD LUCK!
Entries are opened from Monday 16th October until midnight Sunday 21th October. A winner will be chosen on 22nd October.
5 lucky cat people will win! Will it be you or may be your friend?
Participate & Share around! Good luck!
Giveaway Small Print
The prize will be delivered to an Australian address only
You don't need to buy anything to participate and get the prize
The prize will be delivered to the winner for free
Your colour preference will be considered, however the final colour of the prize you receive will be decided by Rufus & Coco depending on availability
The winner will be chosen at random using random.org
The winner contact details will be made available to the Rufus & Coco representative for the purposes of sending out the prize
If the winner does not provide their shipping address within 1 month after the winner announcement, a new winner can be chosen
The prize will be shipped to the winner by Rufus & Coco in 1 week after receiving the winner's shipping details
Congratulation to Winners!
Share With Cat Parents and Cat Lovers!
Tagged accessory, Diamante Bow Collar, gift, giveaway, Litter Tray Liner, product, Rufus & Coco, Woolworths