Giveaway Winners of Rufus & Coco Diamante Bow Collar Giveaway!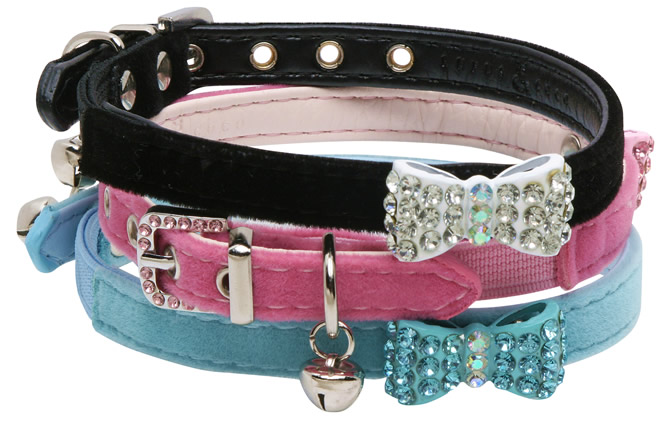 What a fantastic giveaway we had!
5 Diamante Bow Collars (RRP $12.99 each) kindly sponsored by Rufus & Coco.
Thank you everyone who participated and shared their preferred colour and the Rufus & Coco product they liked or would like to have!
I used random.org to pick the winners and…
5 lucky Winners are:
Janine B
with a comment: "I love all these pretty cat collars but the Diamonte Bow is my favourite and I love all the colours.. I will be 4 this month.. you know my Mum saved my life and I would love to look all pretty for her… love Milly"
Bianca J
with a comment: "I have not had one of these snazzy collars for my cats as yet but would love to win one. I use the colours of collar to distinguish between my 2 black cats at a glance and their present collars are getting faded. I'd love to have them all have matching ones and there are 3 colours and i have 3 cats"
Ewa G
our awesome reader who expressed the desire to participate
Melissa K
with a comment: "What a lovely range! I absolutely love the Diamante Bow Cat Collar and Cat ID Tag and Bell, they would look purrrrfect on my little girl."
Trish W
with a comment: "I just love the diamonte cat collars! My cat, Cole, is a boy, so the black one would be preferable, and I think it would look so gorgeous, like he is wearing a little silver bow tie!!"
Congratulations guys!
Dear Winners,
I will be contacting you about the postal address which Rufus & Coco needs to send you the prize. Feel free to
send me your postal address right now
.
xx Natalie
PS: It would be lovely to see a photo of how your cat looks with the Diamante Bow Collar! Send the photo once you make one!
Dear all Participants,
Don't worry if you missed this one! Check the local Woolworths if they have Diamante Bow Collars. It will be in the pet section along with some other great Rufus & Coco things.
We will have more giveaways.
(
Let me know
what you would like to get for your cat and I will try to organise that!)
Thank you Everyone and Congratulations to the Winners!
Share With Cat Parents and Cat Lovers!
Tagged accessory, Diamante Bow Collar, gift, giveaway, Litter Tray Liner, product, Rufus & Coco, winner, Woolworths